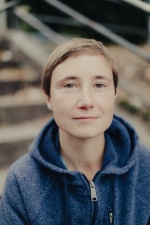 Jacobia Dahm is a freelance photographer based in Berlin, with a focus on portraiture and reportage, and frequently on assignment for national and international newspapers and organizations. She studied photojournalism at the International Center of Photography (ICP) in New York between 2013-2014. Her work in the past has focused on children's social development, the lives of refugees in their new home countries, the visiting trips of families who live with incarceration in the US, the female mine workers in Rwanda, underprivileged youth of Berlin, and the current corona crisis in Europe. Jacobia Dahm has given talks and spent time as artist in residence at numerous US universities. She has been living in Berlin since 2016.
Recent Posts by Jacobia Dahm
A series of stories focusing on those speaking out to bring justice in European courts for a regime accused of war crimes. Judges called the series "a case study in thorough, humane, and complete reporting." They applauded Amos for "swiftly and skillfully relating the background and current situation of each person she profiles, describing but not lingering on the traumatic situations they have endured, and then focusing on their resilience and the action to which their personal histories have spurred them." Originally broadcasted by NPR on September 24, 2019.