Eduardo Castillo
Mexico and Central America Bureau Chief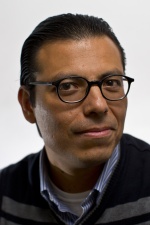 E. Eduardo Castillo is acting Bureau Chief for The Associated Press in Mexico and Central America. He joined the AP in 2003 in Mexico, where he has covered every major news event in the country since then, from the war on drugs to two presidential elections. He has covered overseas international summits and major events in the hemisphere, like the aftermath of Hurricane Katrina, the death of Venezuela's president Hugo Chávez and the beginning of a new era for Cuba and the U.S. In 2006 he won the National Association of Hispanic Journalists (NAHJ) Breaking News award for his Spanish-language coverage of the effects of Hurricane Katrina on Latinos and Latin American immigrants. He studied journalism at the National Autonomous University of Mexico.
Recent Posts by Eduardo Castillo
This comprehensive, interactive multimedia series in Spanish and English tells the stories of those in and around Iguala, Mexico, who had lost family members to kidnappings and killings, living in a purgatory of silence for years, and their quest for answers and justice. Judges described "The Other Disappeared" as a "tour de force," reported with "incredible depth, rigor and compassion." Originally published by The Associated Press between September - December, 2015.