"The Story Behind these Hands: Finding Their Way Out"
Judges described this multimedia feature story in the York Daily Record (PA) as "moving" and "compassionate." It explores the lasting impact of trauma on one community nine years after the 2003 shooting at Red Lion Junior High that left the principal and shooter dead. Originally published in April, 2012. An interactive version of this story can be found here.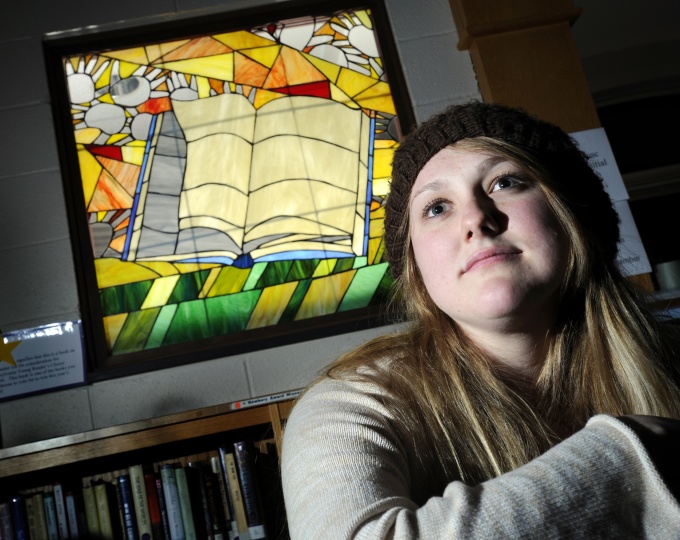 York, PA - Mindy Bennett dreams of the day.
She will pack her things.
She will pull onto Broadway and turn south on Main Street. She will reach Interstate 83 and head for Baltimore, where a new life waits.
She will leave Red Lion, the old cigar factory town in southeastern York County where she was raised. She'd been a basketball player. She'd dreamed of being a model. She'd had her first kiss there. But she also will leave behind April 24, 2003, and the moment that, for almost a decade, has made leaving impossible.
A steady flow of antidepressants, psychiatrists and psychologists helped Bennett learn to talk again about that day.
Maybe a firecracker had snapped, or a balloon had popped, or, perhaps, somebody pulled off a practical joke. Then she saw the blood on her principal's chest and knew.
As a 14-year-old eighth-grader at Red Lion Area Junior High School, Bennett faced a choice that would have paralyzed an adult.
Do you stop to help a dying man?
Or do you step over him to save your own life?
 * * *
Grant Becker went to a party not far from his house.
A couple of girls there had graduated a year ahead of Becker. Everybody got to talking about the old times, and then the conversation fell to April 24, 2003.
Jimmy Sheets, the girls said. What a psycho. The kid had shot up the school.
Becker had been in the cafeteria that day, not them. He had heard the pistol snap, had seen the blank expression on his friend's face in the last moments before he'd taken his own life.
That wasn't Jimmy. Jimmy was a clown. A sports fan. A kid, just like Becker.
Becker doesn't question Jimmy's character. He only questions why.
What was inside Jimmy that allowed him to kill someone?
Becker wonders: Is it also inside of me? 
* * *
Kim Preske toured the cafeteria with her therapist.
Here, five years earlier, was where Jimmy had been standing.
He took a .44-caliber gun from his book bag here.
Dr. Eugene Segro, the principal, was standing here when he was shot. Jimmy placed the .44 on a chair, reached into the book bag and retrieved a .22. Pressed the barrel to his brown hair. Pulled the trigger.
But there had been something else. An errant shot had struck the floor here.
An errant shot?
Yes. As Jimmy lowered his arm after shooting the principal, the gun had gone off. The bullet hadn't hit anyone and had ricocheted into the ceiling.
Preske believed she shouldn't have been affected. She should not have had nightmares, the play-rewind-repeat of the hundreds of children running from the building. She shouldn't have lost sleep, shouldn't have felt like she had to quit her job.
She should have been able to forget the errant shot.
After all, Preske told herself over and over, she'd just been a sub on April 24, 2003.
Why wasn't she over it by now?
The interruption
Before the sun set that day, two people had died.
Hundreds of children saw what happened and realized the gunman was a playmate.
Parents worried. And as news spread through the town, people hung banners that said "I believe in Red Lion" as though belief was all that kept Red Lion from dissolving.
Nine years later, most members of Red Lion Area School District's Class of 2007 have moved on. Others took longer to break free of the trauma. Some are still trapped.
Dr. Allen Miller, director of behavioral health services for WellSpan, oversaw the 50 or so mental-health and social workers who arrived to help Red Lion within two hours of the shooting. Over the past nine years, some witnesses managed to process the violence and others couldn't, he said.
Their fight-or-flight reflexes would have been working overtime that day. Intellect and reason give way to instinct during a traumatic event, and the shift can leave a residue -- for weeks afterward, trauma can plague dreams or cause uneasiness in crowds. It usually goes away in about a month.
However, for some -- experts say as much as 8 percent of the total population -- those feelings don't fade.
When the debilitating effects of trauma exposure linger, doctors call it post-traumatic stress disorder -- an indiscriminate illness from which mental toughness or soundness of mind offer no protection. PTSD is not cowardice. It has a definite physiology, doctors say.
Children are more at risk to different kinds of trauma -- particularly school shootings, according to the U.S. Department of Veterans Affairs, which is considered a pre-eminent authority on PTSD. Seventy-seven percent of children who witness a school shooting will develop PTSD, according to the VA.
To help shepherd the Class of 2007 through its recovery, Red Lion rallied. The district trucked in dozens of therapists, planted group therapy sessions all over town and identified those who seemed more likely than others to develop long-term problems.
It helped hundreds of people. Even witnesses who never sought professional help said they felt reassured by the district's response.
"It felt good just knowing that help was there if I needed it," said Nick Webb, who had been sitting next to Jimmy when he stood and fired his first shot. Webb said he never sought help, and any effects from the trauma he felt disappeared within weeks. Others, like Randy Boyd, say it never affected them at all.
But getting psychiatric assistance to everyone who needed it was virtually impossible, Miller said. Participation in much of what was available was voluntary. It had to be, because forcing people to talk before they're ready can make their problems worse.
Some people who developed trauma-related illnesses such as post-traumatic stress disorder started exhibiting symptoms within months.
Others didn't. Or the symptoms were hard to identify. Some kept their nightmares and personality changes under wraps or resorted to drugs or alcohol.
Many people don't discuss their struggles, publicly. That does not necessarily imply an underlying problem, said Holly Orcutt, associate professor of psychology at Northern Illinois University. Orcutt performed a study of PTSD among witnesses of a shooting at her school. She said if discussing something or seeing media coverage causes someone serious damage or harm, then a serious psychological issue might be at play.
In 2010, Denise Wagner, who'd been a teacher at the junior high school, published a children's book called "I Went to School to Teach Today." Wagner's book tells the story of an unnamed act of school violence and how students and teachers reacted.
"We need to take the time to open this horrid door," Wagner wrote. "We can let out the darkness and violence will be no more!"
At first, Wagner agreed to speak about her book.
Later, she called and canceled.
"I just had a chance to speak with some professional teachers that I worked with at the junior high," she explained in a voicemail, "and administration has asked us not to be a part of this piece you're putting together. I'm very sorry, but, professionally, I wouldn't be able to do it."
The district's administration said it had informed the faculty that they were permitted to speak if they wanted to. Still, Wagner declined.
That's how it went. Of the roughly 70 former students and their families the York Daily Record/Sunday News attempted to interview, many declined to speak on the record. Several parents explained that their son or daughter -- some now parents themselves -- didn't want to relive the day.
In some cases, parents said their child had received or was still receiving therapy; talking about the day would throw them into a depression.
Sometimes, parents said their son or daughter was fine and would be willing to talk, and later the witness would decline. And some parents warned their child had been devastated, but, when questioned, the son or daughter claimed no damage.
Among the members of the Class of 2007 who agreed to speak, levels of cooperation waned. Men and women who started out speaking candidly later stopped returning phone calls, text messages or emails.
Segro's widow, Lynne Segro, declined to comment for the story. Jimmy's stepfather and mother also declined to be interviewed.
After the tragedy, Red Lion Area School District moved on, creating memorials, such as a display in the cafeteria of 1,000 handprints from students who had been in the junior high that day and the yearly 5K run named in honor of Segro.
"Every year there are kids who graduate from Red Lion that go to college, they get jobs, they go on with their lives," Miller said. "And then there are other people . . . whose lives were affected to the degree that they weren't able to go on with their lives in what one would say was a normal trajectory that they were on the day before that incident occurred. That it was an interruption to their life."
And there are those who, regardless of their best efforts and most fervent desires, remain trapped by April 24, 2003. Though they ran from the cafeteria, they have never been able to make it out the door.
* * *
'It stays with you'
That Thursday morning, Jimmy wore a black, imitation leather jacket over a green Jerzees T-shirt and brown, camouflage boots. He carried a backpack. On the school bus that morning, he listened to music through headphones attached to a compact disc player.
Every morning, eighth-graders gathered in the cafeteria ahead of the opening bell. Steve Bare watched Jimmy, his friend and football teammate, sit down at his usual seat. He seemed out of sorts. He usually clowned around. He was the kind of kid who would spray a buddy in the face with a water bottle for laughs. On bad days, he might sulk.
April 24, 2003, seemed to be one of those days.
His classmates streamed off buses through the glass doors and into the school. Bennett, a tall girl with long brown hair, sat with her friends in the cheerleader squad at a table next to Jimmy's and cooed over someone's baby pictures.
Becker, a multisport athlete, was three tables away in freshly washed sneakers.
Fun Day was coming -- the day in May when carnival games on school grounds held classes at bay. Then, three months of freedom.
As the clock rounded 7:30 a.m., Jimmy held his backpack between his knees.
Down the hall, Preske, a substitute with eyes toward a teaching career, readied her classroom for language arts. She had thought of going to the cafeteria, but something stopped her.
In the cafeteria, Heather Gisiner, a girl with a heart-shaped face, and Josh Campbell, a 15-year-old who had been held back a year, took their places at the wood-stained, circular tables.
Chad Waltemyer sat down next to Jimmy.
Jimmy opened his backpack. He showed Waltemyer what was inside.
A pistol.
* * *
 "It became something real after the screaming," Gisiner said. "For about 15 seconds, everybody froze, and then everyone started going in different directions."
* * *
Bennett stood a few feet from a door. All around her, classmates poured through exits or became pinned against walls by fleeing forms.
Between Bennett and the door lay the body of her principal.
What could she do? Try to stop the bleeding? Drag Segro to safety? Stay with him until paramedics arrived?
Then she heard another shot. 
* * *
 Becker slid out of his chair onto the floor. Then, he stood and ran.
He arrived at the exit first.
Gisiner stood frozen until a friend grabbed her hand and pulled her out the door.
Campbell fled through the exit doors. Waltemyer ran up a flight of stairs. Bare and a friend dashed through the kitchen.
Becker hurried toward Edgar Moore Elementary School. When he got there, he realized he'd stepped out of his sneaker.
* * *
 Preske heard three shots. A boy came tearing into her classroom. He sat at a desk and tried to catch his breath. He told her what he'd seen.
As she talked to the boy, Preske heard voices and feet and a roar. Outside her door, children flooded the hallway.
"It was a tsunami," she said.
Six more children ducked into Preske's room. Preske shut off the lights, and she and the students huddled in a corner. They sat quietly for 15 minutes. Then, Preske heard someone knocking on a door down the hall. She opened her door a crack and peeked. A teacher told her it was over.
* * *
 Bennett climbed aboard a school bus just outside the building. Other children sat on the benches and filled the aisles. There was no room for Bennett to sit. She lay down on her classmates' legs.
Rumors ran wild. Dr. Segro had shot himself in the leg, one boy said.
Bennett knew that wasn't true. She began to cry. 
* * *
 Becker joined other students at the high school auditorium.
Campbell, Bare and Waltemyer wound up there, too. For nearly four hours, police questioned Waltemyer, who had been sitting next to Jimmy and heard what might have been his last words.
"I think his exact words were, 'Should I shoot the principal?'" Waltemyer said.
Gisiner and her friend had left school grounds for her friend's house. Later, Gisiner's mother drove her back to the school so she could check on a friend.
At the auditorium, everyone seemed shocked. Some children cried.
Becker didn't start crying until his mother arrived to pick him up.
* * *
After parents came for her students, Preske walked back to the junior high school to get her things and head home.
On the way, she began to cry.
Counselors from WellSpan had been dispatched to the school. Preske spoke with a woman who gave her a hotline number and told her to call it if she felt panicked. Preske drove home, exhausted.
She tried to go to bed, but, when she began to doze, the tsunami roared in her ears: the children running away from the cafeteria past her doorway and down the hall.
Why had she stopped at the cafeteria doors that morning? Why hadn't she gone in?
She couldn't sleep.
* * *
Bennett sat in the auditorium and wept. Her mother arrived and took her to work. Then they went home.
The next two days "were probably the worst," Bennett said.
She couldn't eat. When she tried to sleep, it played over and over again, the sound of the pistol snap and then the sickening moments where she stood waiting to be killed, the only way out blocked by her dying principal.
Bennett wanted to feel safe. There was only one room in the house for that -- the bathroom. It was the only room with a locking door.
"I didn't want anyone to come get me," she said.
She lay down on the cold floor and waited for sleep that never came. 
* * *
The day after the shooting, Becker went to Massachusetts for a basketball tournament. What had happened in Red Lion seemed like a bad dream.
The junior high already had held an open house for families. More than 1,000 people -- students, parents and residents -- went to the high school auditorium. They were angry, worried and fearful. Miller arranged meetings with individual students, teachers and entire families.
Any one of them could have developed a long-term psychological issue, Miller said. They didn't have to be in the cafeteria when the shots were fired.
The district and other local organizations held activities for the kids, such as group meetings and art therapy. All of it was voluntary.
Gisiner went to a group therapy session with her friends.
She'd been having nightmares.
On Monday, April 28, mourners buried Jimmy in a plot at Susquehanna Memorial Gardens. The same day, Segro was laid to rest at an undisclosed location.
When Becker returned from his trip, classes were in full swing.
"It was strange," he said. "It was strangely normal."
There was a counselor in every homeroom. Becker, his friends and the counselors spoke about what happened.
Preske returned to teach. Everything had changed. Colleagues who had been so friendly before, she said, now seldom spoke with one another.
Counselors from WellSpan and Lincoln Intermediate Unit were on hand the first few weeks. "I was a frequent flier," Preske said.
She worked at the district throughout the next year.
She gave up trying to sleep at night. The night brought the sounds of that day and the questions. Instead, after work ended in the afternoon, she would go home and catch a few hours on the couch while it was still light outside, often with her elementary-school-aged son sitting next to her.
* * *
When the junior high reopened the Tuesday after the shooting, teachers poured black paint into trays and invited the kids to walk into the cafeteria and make handprints on the wall.
Bennett couldn't go back in.
One time, later, she tried. She felt sick and nearly dropped her tray. She ate with the faculty in an adjoining room after that.
When Bennett moved on to high school, counselors checked on her frequently.
Eventually, a high school dance was scheduled in the junior high cafeteria. Bennett didn't want to go, but her friends talked her into it.
When she arrived, she felt nervous. They served cupcakes on a table. The table was positioned where she had seen Segro that day. Bennett had to leave. 
* * *
When school began again in the fall, a basketball coach kept regular tabs on Becker.
The two spoke informally about Becker's life in general and eventually the coach asked him about how he felt in regard to the shooting.
He felt confused. He could make peace with the fact that it had happened, but Becker never understood why. Why did Jimmy do it?
In ninth grade, Bare and a group of boys he'd been sitting close to that day, or who'd been close friends with Jimmy, gathered in a classroom at the high school nearly once a week to talk. A counselor helped lead discussions about how everyone felt.
"Guilty," Bare said. "We all felt like we shoulda seen it coming. We were his friends."
One boy in particular, the boy Bare fled with that day, seemed to Bare to be consumed with feelings of guilt. He is among the people who chose not to speak publicly, saying it was too painful to talk.
For his part, Bare said the bad feelings began to subside within that first year. "When the media coverage started to go away, I realized I could go on with my life," he said.
An art class designed and installed two stained-glass windows in the junior high library as a tribute to Segro. Gisiner was one of the artists who helped with the design.
"It made me feel good about things," she recalled.
Gisiner's nightmares continued for months. She never replayed the event; instead, random dreams were interrupted by an anonymous gunman.
Loud noises disturbed her. If a car backfired or a balloon popped unexpectedly, Gisiner burst into tears.
See some of the ways Red Lion remembers Eugene Segro. 
* * *
Preske became convinced she should have gone to the cafeteria that day. That shot had been meant for her. She should be dead.
By the time Preske taught her final class at the junior high, she had become "a Nazi," she said. Once lenient and fun loving, Preske said she now sent students to the office for the smallest offenses.
"I couldn't trust my kids any more," she said.
Gone was any talk of becoming a full-time educator. She quit teaching in 2006.
She became angry. She seldom left home. She thought about suicide. She'd drive herself to the grocery store and go inside, only to emerge a moment later in tears.
* * *
Bennett had dental surgery. The dentist prescribed Vicodin for the pain.
One day, she took an entire bottle, along with other pills.
Doctors admitted her to the psychiatric ward of York Hospital. She stayed several days. Bennett remembers mingling with men and women who mumbled to themselves.
Bennett was suffering from depression, her doctors said. They prescribed antidepressants. The first variety made her sleepy, so they changed her dosage.
A friend advised her to stop taking her pills. She stopped and suffered a relapse.
* * *
As a student at Lebanon Valley College, Becker sat in a crowded arena listening to a Journey cover band. A speaker shorted out.
Becker felt a sharp pain in his chest. He became aware of the people all around him. He remembers feeling trapped, as though he had to get outside into the fresh air.
It had happened before. At parties, when a balloon popped, for example.
In Red Lion, Campbell developed a cocaine problem. One night, he nearly died of an overdose. He said he has since stopped using illegal drugs.
Plenty of factors led to his drug abuse, he said. But could what he saw that day be a factor? Who knows?
That day, he said, "stays with you. It messed with my head. It's not every day you see someone murdered."
* * *
Nearly six years after the shooting, Preske's son entered the eighth grade at Red Lion Area Junior High School. Preske found herself attending track and field events at the school, wearing Red Lion's colors -- yellow and black. Her son sat in the same classrooms where Jimmy had once sat.
Preske didn't weep. She didn't force her son to go to another school.
"I was physically there," she said. "But I felt nothing. And that was when I had had enough."
* * *
'What our voices really sounded like'
On June 8, 2007, Red Lion Area High School seniors and their families gathered on Horn Field for graduation.
Four years earlier, the students' weeping, horrified faces had been national news. Now, they were heading out into the world. Gina Arakelian was about to serve her country in the military. Students such as Nick Webb, who'd been sitting next to the boy who shot his principal, were college bound.
Graduating senior Libby Spangler addressed the crowd.
"People would ask, 'Where do you go to school?' and you would say, 'Red Lion,'" she said. "And they would stare at you.
"The nation looked at us and said, 'See what happened in little Red Lion?'" Spangler continued. "Some bashed us for not taking more precautions, and others praised us for how we handled the situation. . . . We wanted to share with the nation what our voices really sounded like. . . .
"Don't be afraid of what your voice has to say. Just speak up. 
* * *
The monster in the closet
A barking, lunging German shepherd pushed visitors back from the front door of Bennett's yellow-sided two-story home on Broadway in Red Lion.
Bennett is close to 6 feet tall. Her hair, mahogany in her junior high yearbook photo, is blond.
When she agreed to be photographed, Bennett went through her things and found two bottles of the depression medication she no longer takes.
At first, she would not bring the bottles into the room. She double checked -- nothing was to be written indicating she still was taking the pills. Once reassured, she produced the bottles.
She speaks about the day and what followed without hesitation and with a touch of gallows humor. She's been over it and over it. Talking about it feels good, she says.
After Bennett graduated, she went to Lebanon Valley College and attempted to major in psychology. But her illness made her feel insecure, so she dropped out and moved back home with her parents.
About two years ago, Bennett began seeing a new psychiatrist. Other therapists asked her to recount April 24, 2003.
She got sick of it. What was the point? "Read a newspaper if you want that," Bennett said. Her new doctor, for the first time, asked her to delve into how she felt.
That day, her dying principal blocked her only way out of the cafeteria. Near her, Jimmy fired his gun a second time.
This was the moment within the moment -- the object of her nightmares that kept replaying over and over.
Do you stop to help a dying man? Or step over him to save your own life?
Bennett had stepped over her principal and run out the door.
For years, she believed she should have stopped to help Segro, as if, at 14, she alone among hundreds of scattering children held sway over the man's life.
Bennett quit antidepressants a year and a half ago and hasn't had a relapse.
She works several double-shifts a week as a waitress at the Hawk's Gunning Club in Springettsbury Township. Recently she began applying to schools in the Baltimore area. She wants to take a job as an X-ray technician.
That would mean leaving home. Bennett feels strong enough. Now.
"I'm doing a lot better," she said.
* * *
A few years ago, a couple of Becker's co-workers were playing a prank on a girl. They were sneaking up behind her and popping balloons. The girl seemed to have an unnaturally histrionic reaction to loud noises.
Becker knew why.
Horrified, he told the pranksters to stop.
The girl had been his classmate. The Daily Record/Sunday News spoke with the girl's parents. They said the shooting caused her too much pain to talk.
If, like Becker, the girl struggled with finding a reason for the tragedy, there were few answers.
On the morning of April 24, 2003, Jimmy entered the cafeteria with three guns and 700 rounds of ammunition.
Police determined Jimmy was depressed, but they were never able to figure out why he shot Segro.
However, they developed a theory -- that Jimmy had intended to wave guns to show off that morning but never meant to hurt anyone. If that theory is true, the gun went off by accident, and Jimmy, overwrought, took his own life.
The first time Becker heard the theory, he looked at the floor. He stood silently.
On the wood-paneled walls of the basement of his parents' house -- where Becker now lives -- are photos and clippings of his athletic career. Walk down a hallway from the area with the TV to the laundry room and you can watch Becker grow up in uniform.
Jimmy is in many of the photos.
Could it all have been an accident? "I guess I could buy that to an extent," he said.
Several days later, Becker said he hadn't stopped thinking about the theory. It was the first time he heard a plausible answer about why Jimmy had killed someone.
"It just makes sense to me," he said.
You don't have to go far in Red Lion to hear a different theory or rumor about what happened that day. The less the town talked about what had occurred, the more opinions and stories about how the tragedy had occurred took flight.
Another of Jimmy's teammates, Bare, doesn't buy the accident theory. After he fired the shots, Jimmy's face seemed devoid of emotion. Still, Bare felt he could read something. Jimmy meant to fire the gun at Segro, Bare said. But, when it happened, "he couldn't believe he'd chosen that road."
Today, Bare lives with his wife and young son in a rancher in Delta. He works long hours.
His wife had been in the cafeteria that day, but they'd never discussed the shooting. Bare said he would ask her how she felt about what she had seen.
Later, Bare said his wife wanted no part of this story. Then, he stopped returning phone calls.
To Becker, Jimmy is a litmus test. When he feels stressed or when things are going badly, Becker thinks about what an awful place the junior high school cafeteria must have seemed that morning to his friend. How everything must have collapsed in on him.
Then Becker looks within himself. Could things ever get that bad?
"Jimmy Sheets," he said, "is the epitome of a bad day. 
* * *
"You want to talk about my monster in the closet?" Preske said recently at a diner. She laughed, grimly. She has an easy smile, a high-pitched, playful voice.
"Grief is like a Twinkie," she said, "because no matter how long you have grief for it's always still fresh when you open it."
Propped on the chair next to her were two canvas rectangles. One depicts a multicolored series of lines spiraling in on one another.
"This is what trauma looks like," she said.
The other is a collage of old newspaper clippings, paystubs and construction paper. One clipping is a photo of her back as she embraces a girl whose hands cover her face.
"These are all pieces of that first day," Preske said. She points to a headline that says "Disbelief and Deep Anguish."
Preske calls the big parts of life "pieces." There's the substitute teacher piece, the Jimmy Sheets piece, the fear piece, the PTSD piece, the guilt and trauma piece. Preske has spent most of the last decade trying to make these pieces fit into ... something. An explanation. A life.
In 2008, Preske had had enough. At her husband's insistence, she saw a doctor. She was diagnosed with post-traumatic stress disorder. Preske knew she had it early on but felt unworthy. She'd been a sub. She was an adult. She hadn't been in the room.
Three and a half years of therapy, collages and poems later, Preske says the nightmares have subsided.
And now, Preske is pursuing another college degree -- this time in trauma therapy. Her dream is to one day start a nonprofit to help people suffering from trauma-related illnesses.
She speaks of what happened, reverently, the way some might speak about Jesus.
"Trauma is an AMAZING organism," she says, smiling. The shooting "happened to everyone. It's like an epicenter."
But then the town stopped talking about it, she said. Warning signs went ignored, and some people may have developed acute trauma-related illnesses that she believes could have been stemmed or lessened with treatment.
To help with her therapy, Preske sought police records and said she was denied access to files about the shooting. York Area Regional Police, which keeps the 6-inch thick file on the shooting, said they offered Preske to work with her therapist to give her access to portions of the file. Preske never returned a phone call, they said.
The town was eager to leave the shooting in the past. Most people have, Miller said. But for others, like Preske, moving on was never possible.
"I think we all talk behind our hands -- those of us that have survived," she says. "... I've always wanted to sit down and say, 'Hey this isn't my story, you're not saying my story. Please stop speaking for me.'
"For eight years, everyone's been talking for me, mental-health professionals have been talking for me, my bosses, my district. I never had a voice. I just feel like my voice, as an employee, we lost our voice. I lost my voice. I lost my own opinion."
* * *
Reunion
One day in February, three students returned to the junior high school for photographs.
All three said they'd put the day behind them.
Waltemyer arrived first. The yellow band of the handprint display in the cafeteria glowed to his right as he walked in the door.
The last time he'd set foot in Red Lion Area Junior High School was a few weeks after the shooting. He left the district for York County School of Technology after that. Today, he works as a landscaper.
He'd been one of the lucky ones, he said. The shooting never haunted him. He'd managed to let go.
Now, back at Red Lion, he glanced around corners and exhaled through his teeth.
"It's weird," he said. "This is where it all went down."
Gisiner and her boyfriend arrived next. She didn't recognize Waltemyer. She hadn't been in the school since the installation of the stained glass windows in the Dr. Eugene Segro Memorial Library.
Campbell arrived next. He shook hands with Gisiner and Waltemyer and reminisced about wrestling.
Gisiner went off to the library for photos in front of the stained glass windows she helped create. Campbell and Waltemyer walked into the cafeteria.
"It looks exactly the same!" Campbell said.
Waltemyer couldn't remember the handprints. More than 1,000 black hands smudged the walls.
Both men pointed out where they'd sat that day. Segro had fallen near a row of cash registers.
As Campbell and Waltemyer spoke, Gisiner walked down the hallway toward the exit. Something caught her eye. She stopped and stood in the cafeteria doorway.
Gisiner squinted. She took two steps. She raised her hand and pressed it to the wall.
The print disappeared beneath her hand.
Was that hers?
Gisiner nodded.
How could she remember? It had been nine years.
"This is as far as I was willing to come into the room," she said.
Gisiner went no farther. She said goodbye to Waltemyer and Campbell, turned and walked out the door.
---
Recognizing PTSD - Sidebar
From "Finding Their Way Out," in the York Daily Record, 2013 Dart Award Honorable Mention
Symptoms of post traumatic stress disorder usually start within three months of a traumatic event. In a small number of cases, though, PTSD symptoms may not appear until years after the event.
Symptoms generally are grouped into three types, listed below, with possible symptoms for each:

Intrusive memories:
--- Flashbacks, or reliving the traumatic event for minutes or even days at a time;
--- Upsetting dreams about the event.

Avoidance and emotional numbing:
--- Trying to avoid thinking or talking about the traumatic event;
--- Feeling emotionally numb;
--- Avoiding activities you once enjoyed;
--- Hopelessness about the future;
--- Memory problems;
--- Trouble concentrating;
--- Difficulty maintaining close relationships.

Anxiety and increased emotional arousal (hyperarousal):
--- Irritability or anger;
--- Overwhelming guilt or shame;
--- Self-destructive behavior, such as drinking too much;
--- Trouble sleeping;
--- Being easily startled or frightened;
--- Hearing or seeing things that aren't there.

Symptoms can come and go. You might have more symptoms when things are stressful, in general, or when you run into reminders of what you went through. You might hear a car backfire and relive combat experiences, for instance. Or you might see a report on the news about a rape and feel overcome by memories of your own assault.
-- Source: Mayoclinic.com
How to get help
If you feel as though you can't get past a traumatic event, talk to your primary care physician about it, advised Dr. Allen Miller, director of behavioral health at WellSpan.
Short of that, he recommended talking it over with someone you trust, if you feel ready.
If you feel you have nowhere to turn, a number of websites are available to help you gauge whether you should seek professional help.
--- PTSD quiz
--- Understanding PTSD
--- Recognizing PTSD
---
About "Finding Their Way Out" - York Daily Record
From "Finding Their Way Out," in the York Daily Record, 2013 Dart Award Honorable Mention
In 2011, two people who had experienced the Red Lion school shooting eight years earlier independently approached the York Daily Record/Sunday News and said they wanted to talk about what happened, how they had coped and the effect they believed the shooting had on the Red Lion community.
They said others would want to help tell the story of the shooting's aftermath.
That's where this story began. Reporter Bill Landauer created a list of members from the Class of 2007 and started calling and visiting them. Visual journalist Jason Plotkin joined him. Instead of focusing on the events of that day, Landauer and Plotkin wanted to talk to people about their lives since then. Those stories could show others who were struggling that they are not alone.
Red Lion Area School Supt. Scott Deisley told school staff they could talk to us, if they wished, and he allowed us to photograph students at the school. Some people we talked to said they understood and even supported the idea of the newspaper doing this story, but they didn't want to participate. Others questioned what good a newspaper story would do and declined to talk. Some objected to the paper writing about the shooting again.

Others, including Jimmy Sheets' parents and Eugene Segro's widow, Lynne, said they didn't want to talk. We respected their wishes.
Several people decided to tell their stories in depth.
In all, Landauer and Plotkin spoke with dozens of former students, as well as members of the Red Lion Area Junior High School staff, trauma experts and police.
This story is written from those interviews, information from York Daily Record/Sunday News archives, public records and online resources.