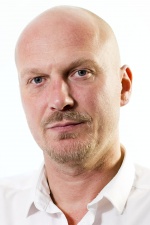 Jason Parkinson is a freelance video journalist who has covered protests and unrest for the past 12 years. His subject interests include refugees, human and civil rights, press freedom, immigration, racism, fascism and terrorism. Parkinson was nominated finalist in the Rory Peck News Awards for coverage of the Egyptian revolution in 2011 and for the London riots in 2012. He also writes news features and opinion pieces. Parkinson studied at the London School of Journalism from 2001 to 2004.
Recent Posts by Jason Parkinson
Last month, a massive fire tore through the Grenfell Tower in North Kensington, London, killing at least 80 people and injuring 70 more. Jason Parkinson, a freelance video journalist, arrived on the scene the next morning. Here, he reflects on his experience covering this tragedy. 

Journalists Alex Hannaford, Jess Hurd, Jason Parkinson and Raniah Salloum spoke with the Dart Center about the reporting challenges in covering stories of migration and refugees, and clinical psychologist Katy Robjant shared techniques for interviewing victims of trauma, as well as self-care tips for those covering the on-going crisis.