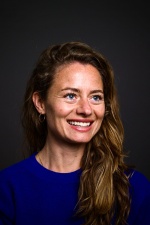 Jeanny Gering is Program Manager at Dart Centre Europe (currently on leave). She works as a freelance journalist for international broadcasters like the BBC, CBS and Arte. Jeanny is based in Berlin and graduated from City University, London with an MA in International Journalism. You can find her work at: www.jeannygering.com.
Recent Posts by Jeanny Gering
This report is the first to map in detail the risks that traumatic stress and moral injury pose to those working in documentary and factual TV. In releasing it, the Dart Centre is calling for informed policies around the management of traumatic content, greater awareness of mental health, and more attention on ethical and emotional challenges of working with vulnerable contributors. 

Covering terrorism presents myriad challenges for journalists. How can stories of victims and survivors contribute to the public's understanding of current issues while treating those left reeling with dignity and respect? What responsibility do journalists have in helping audiences understand the motivations of a perpetrator of violence? Here, three experts offer advice on covering traumatic experiences as they relate to radicalisation and terrorism.

Journalists Alex Renton, Katharine Quarmby and Olly Lambert spoke with the Dart Center about the challenges of reporting on child abuse, and trauma experts Sarah Heke and Shelagh Beckett shared tactics for interviewing victims of childhood trauma.

Journalists Alex Hannaford, Jess Hurd, Jason Parkinson and Raniah Salloum spoke with the Dart Center about the reporting challenges in covering stories of migration and refugees, and clinical psychologist Katy Robjant shared techniques for interviewing victims of trauma, as well as self-care tips for those covering the on-going crisis.