Jeanny Gering
Program Coordinator, Country Contact Germany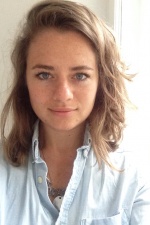 Jeanny Gering is program coordinator at Dart Centre Europe. She works as a freelance journalist for international broadcasters like the BBC, CBS and Arte. Jeanny is based in Berlin and graduated from City University, London with an MA in International Journalism. You can find her work at: www.jeannygering.com.
Recent Posts by Jeanny Gering
Journalists Alex Renton, Katharine Quarmby and Olly Lambert spoke with the Dart Center about the challenges of reporting on child abuse, and trauma experts Sarah Heke and Shelagh Beckett shared tactics for interviewing victims of childhood trauma.

Journalists Alex Hannaford, Jess Hurd, Jason Parkinson and Raniah Salloum spoke with the Dart Center about the reporting challenges in covering stories of migration and refugees, and clinical psychologist Katy Robjant shared techniques for interviewing victims of trauma, as well as self-care tips for those covering the on-going crisis.

Das Dart Centre Europe wird beim Deutsche Welle Global Media Forum in Bonn am 22. Juni einen Workshop leiten mit dem Titel: "Involuntary Journeys - how to interview refugees in a digital age." 

Der Absturz des Germanwings Fluges 4U9525 in den französischen Alpen am 24. März 2015 brachte alle 150 Menschen an Bord der Maschine ums Leben. Anhand des geborgenen Stimmrekorders konnte man feststellen, dass der Co-Pilot zum Zeitpunkt des Absturzes alleine im Cockpit war.