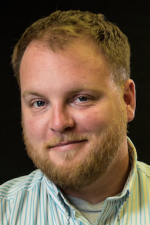 Thomas James Brennan is a retired Marine Corps sergeant who served in Iraq during the Second Battle of Fallujah, and as a squad leader in Afghanistan's Helmand province with the First Battalion, Eighth Marines. He was medically retired in December 2012 and is a member of the Military Order of the Purple Heart. Since 2012, he has turned to journalism and in 2016 founded The War Horse, a nonprofit investigative newsroom. In March 2017 he broke the nude photo sharing scandal in the military, forcing Pentagon and Congressional investigations that have changed legislation about sexual exploitation across the Department of Defense. Brennan profiled Medal of Honor recipient Kyle Carpenter for Vanity Fair and has been a regular contributor to The New York Times At War blog. His work for At War earned him a 2013 Honorable Mention from the Dart Center at Columbia University Graduate School of Journalism.
Brennan was the military affairs reporter at The Daily News from early 2013 through mid-2014, when he was accepted to the Stabile Center for Investigative Journalism at Columbia's Graduate School of Journalism. He earned his Masters in Journalism in May 2015. He won the 2014 American Legion Fourth Estate Award for exposing how government sequestration in 2013 hindered mental health care at Camp Lejeune, N.C. and at U.S. military bases worldwide, prompting then-secretary of Defense Chuck Hagel to restore staffing and treatment to full capacity across the Department of Defense.  Brennan is based in Jacksonville, N.C.
Recent Posts by Thomas J. Brennan
Brennan, who suffered a traumatic brain injury in Afghanistan and was diagnosed with PTSD upon returning home, offers a uniquely personal and clear-eyed account of military culture and life as a veteran. Judges called Brennan's blogging "fresh," "powerful" and "profound." Brennan's contributions to the "At War" blog were originally published in the New York Times in 2012.