The Children of Central City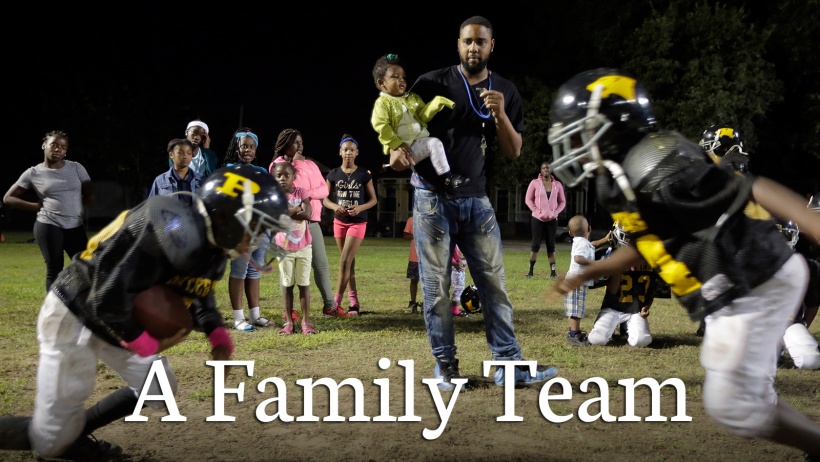 How a Central City couple plans to save their neighborhood — one football team at a time
Two months before his 6th birthday, Edgarson Shawn Scott saw his first dead body.  
He was seated on the front stoop of his family's home in the Magnolia projects that day in July 1994, waiting for his older brother Bryant Johnson to bring back his bicycle. He heard gunshots, not uncommon for life in a Central City public housing development, and followed his mother upstairs to a neighbor's apartment.   
There, from the window overlooking the courtyard, he saw his brother lying on the pavement.   
For some time after, Scott could not sleep or eat, the images of that day replaying in his mind. He refused to leave the house, even to attend the funeral, innately aware that the cycle of retaliatory violence could end in his own death.  
"That was in my mind every day, every day: They're going to kill us," remembered Scott, now 29. "It's something for a 5-year-old to know all of this. I had all these emotions in my head."  
There would be other scars left by neighborhood violence: a cousin shot dead outside a corner store, his bloody remains discovered by an 8-year-old Scott; a best friend gunned down 10 years later, the bullets narrowly missing Scott.   
He had no one to turn to for support. His father, though living in the Magnolia, abandoned the family, and his mother's drug addiction forced Scott and his younger brother to fend for themselves.  
"My life was kind of rough," he said. "You had to be a man before you make 11."  
Those early years steeled Scott's resolve to use his time and experience to offer neighborhood children an alternative to life on the streets. With little resources, Scott and his wife settled on starting a football team for 9- and 10-year-olds at Central City's A.L. Davis Park.   
"I'm trying to take their minds, their focus off guns and fighting," Scott said in October, weeks into his first season as head coach of the Davis Park Panthers. "When we're on that field, it's all about football."

Panthers coach Edgarson Shawn Scott talks about growing up in Central City, and the challenges of trying to shield his young players from neighborhood violence.
It's nearly dark at A.L. Davis Park as Domisheka Hankton strides across the field one September day, daughter Callie, 1, clutched in her arms and son Harlem, 2, toddling along nearby.   
She yells for her husband. The team parents' meeting is about to start and Scott is needed. Assistant coach Claude Dixon prepares to finish practice as Scott scoops up his 3-year-old son Tony, who had been glued to his dad's side for most of the day's practice, and heads inside the park's small office.  
The meeting's agenda is short. It's Scott's 29th birthday, and there's cake on the table by the side wall. But first, Hankton encourages the parents and grandparents  – seven in total – to support their kids by attending practices and Saturday games, and possibly organizing a fundraiser so the players will have gear.  
Later, Hankton admits to being frustrated with the lack of parental involvement. Some can't be at practice or games because of work or another child's extracurricular activity, she acknowledges. Others, though, "just want a babysitter."  
"They're not involved because they were young having children and they want to have fun," she said. "They didn't have a childhood."  
Domisheka Hankton kisses her daughter, Callie Scott at her Central City home.
Like her husband, Hankton, a Central City native, never knew her father. He was shot dead when she was 2.
"I only saw one picture of my dad in my whole entire life," she said. "I never asked my mom who he was or what he did."
Had he been around, she says, she might have earned a high school diploma and a college degree. She could have been a nurse, like she wanted, instead of a dollar store cashier.
Instead, his absence created a void she filled with anger.
"If somebody looked at me wrong I was ready to fight," she says.
Her rage only grew as her notorious last name made headlines around New Orleans. Her cousin is convicted drug kingpin Telly Hankton, whom New Orleans officials once labeled the city's Public Enemy No. 1. Currently serving two life sentences, he ruled Central City's drug market through deadly force, authorities have said, aided by some family members. At least seven relatives received prison sentences in state or federal prosecutions.
"That took a toll on me," Domisheka Hankton said. "It stopped a lot of us getting jobs. I used to go on job interviews – I knew I could get the job. I couldn't get it because my last name."
With the Panthers football team, she sees a chance to show people that the Hankton family is about more than her cousin's legacy.
"You still have good people out here," she said. "I'm a Hankton. I want them to see every Hankton is not bad."
Domisheka Hankton hugs her son, Twan, during the A.L. Davis Park Panthers football team's season-ending banquet in Central City.
Time has helped ease her pain. So, too, has becoming a mother. But Hankton, 27, is worried about how her 10-year-old son, Twan, will deal with the family's history. She once tried to hide news stories from him, or evade his questions about the things other kids at school said about his family.  
"Mama, Telly got life? What did he do?" she remembered him asking one day.  
Eventually, she had to answer.  
"I told him, you can't make bad decisions in life," she said. "Whatever you do, it's going to follow you."  
Still, Twan shows flashes of the same quick temper she had at his age, and both she and Scott have fielded more than one phone call from Twan's school – KIPP Central City Primary – regarding a fight he had with a classmate.  
"It's in the genes," Scott jokes, drawing a laugh and a playful shove from his wife, seated next to him on the couch inside the couple's three-bedroom home in Central City.  
Edgarson Scott and his wife, Domisheka Hankton, at their home in Central City.
Both Scott and Hankton reduce the impacts of their own childhood trauma to a choice: Let it consume you, or rise above it. Neither is aware of the growing body of research that links trauma – be it from neighborhood violence or poverty or the loss of a parent – to changes in a child's brain development. Those changes can lead to behavioral problems, and can leave kids at greater risk for health issues like heart disease or diabetes.   
Research also shows how the toxic stress caused by repeated trauma can be transferred in the womb, from mother to fetus.  
The information is something of a revelation to Hankton, who remarks: "Twan is me all over again."  
Twan Hankton plays a game in his room at his Central City home.
The family tapped into Twan's love of football as a way to keep him occupied and out of trouble. To do that, Scott and Hankton turned to the New Orleans Recreation Development Commission's youth football league: 85 teams from parks across the city. Absent from that list was A.L. Davis Park, in the heart of Central City, four blocks from the couple's home.  
At one time, teams from A.L. Davis won league championships. But finding players proved difficult among a pool of parents leery of the park's reputation for violence and gang activity.
Scott and Hankton initially brought Twan to play at Harrell Park, at Claiborne Avenue and Leonidas Street, 3 miles from home. Without a car, the distance proved too great at times. Scott's brother stepped up to help with rides when he could, but Twan missed practices and games.  
So, last spring, Scott walked over to A.L. Davis Park and spoke with the park facilitator and former Panthers coach Jerome Temple, better known as New Orleans bounce rap pioneer DJ Jubilee, about restarting the park football program with a team of 9- and 10-year-olds.
"I wanted to start with little kids," Scott said. "If I can get them when they're 9 and 10, by the time they get up there I hope they can take what I gave them and go to college."  
He filled the team mostly with neighborhood kids, Twan's friends who came by the house every day to play catch in a vacant lot across the street, and kids whose parents knew Scott or his wife. The team grew from 10 to a roster of 29.
"What's better than coaching football and teaching little kids?" he said. "When I was younger, I didn't have anyone to teach me. They came at me with football. I might have went one day, but I didn't have anyone to push me."  
Coach Edgarson Scott gives instructions to a player during the A.L. Davis Park Panthers football practice in Central City.
In Harmony Oaks, the front doors are painted in muted colors, the balcony railings are in gleaming white, and the lawns are all carefully manicured. This sprawling development of apartments and townhouses across Washington Avenue from A.L. Davis Park is a stark contrast from the brick and concrete Scott saw growing up in the Magnolia public housing development, which, prior to its post-Katrina demolition, once occupied that patch of Central City.
His parents were dealing with their own problems. So Scott's oldest brother, Bryant Johnson, acted as his defacto father figure until the 24-year-old was fatally shot in July 1994, one of 424 people killed in what would become the most murderous year in New Orleans' history. Two months later, Scott's second-oldest brother, Larry Johnson, was arrested following a shootout in the Magnolia that left a 3-year-old boy dead, struck by a stray bullet while playing in his front room.  
At the time, Larry Johnson told authorities the gun battle was retaliation for the death of his older brother. He eventually pleaded guilty to manslaughter and was sentenced to 25 years in prison.  
With his older sister living in another state, Scott was left to look after himself and his younger brother Rafael, two years his junior. The family eventually left the Magnolia and moved to an apartment across Louisiana Avenue. Cousins and other relatives would help with bills and food. Scott enrolled at what is now called Lawrence D. Crocker College Prep, and played in the band. For a short time, it seemed as though the trauma of his early years would subside.  
Then came Hurricane Katrina and the federal levee failures. The family evacuated to the Houston area, but stayed only a month before returning to New Orleans, first to the West Bank and then to the Uptown area.   
Coach Edgarson Scott takes a break from his wife Domisheka Hankton's birthday party in Central City.
As New Orleans residents like Scott's family returned to rebuild their homes and businesses after Katrina, the city's patchwork of street gangs returned to rebuild their drug trade. The resulting bloodshed hit Central City hard. The neighborhood had been ravaged by violence and poverty before the storm. After Katrina, it was one of the few parts of the city left relatively unscathed by floodwaters, making it an attractive landing point for both law-abiding citizens and criminals whose former neighborhoods were decimated.  
John Bryson is a former deputy superintendent in the New Orleans Police Department who after Katrina briefly led the 6th District that polices Central City. He recalled groups of teens found living in abandoned houses or FEMA trailers, their parents scattered in other states.  
"People were demanding drugs coming back and they were supplying them," said Bryson, 61, now retired from the NOPD. "Young kids. Some of their handlers, guys in their 30s, 40s and 50s, running these young kids selling drugs on the corner."  
The criminal justice system's ability to push back against the rising violence, already limited by years of mistrust prior to Katrina, was further weakened by the storm's damage.  
"We had no infrastructure, no crime lab, no forensics, nothing," Bryson recalled. "We had nothing for months."  
Midway through 2006, a quarter of all murders in New Orleans that year had taken place in Central City, earning it the ominous moniker: "the triangle of death." In a particularly violent stretch from April through July 2006, 15 people were shot dead in the neighborhood, 11 of them younger than 25.  
One of those victims, 16-year-old Joshua Jack, was Scott's best friend. Scott was with Jack and two other friends the night he was killed, playing dice on a porch near Loyola Avenue and Philip Street. They got up to leave, Scott said, and by the time they made it to the corner, a car sped up.  
Two men opened fire. The bullets that tore apart Jack's face that night in April narrowly missed Scott, who said he ran the second the shooting started.   
Back home, the overwhelming fear Scott felt after his brother's death 12 years earlier came rushing back. Once again, he refused to leave his house. Once again, he saw the image of a dead body when he closed his eyes.  
"I started acting like I was 5 again," he remembered. "I didn't want to go to the hood. I didn't bother with friends. I just wanted to work."  
Scott poured his attention into his job at a fast food restaurant. All the while, his mother's health worsened. She had been sick while the family was in Texas, hospitalized for at least two weeks. Now, she was practically bedridden. In April 2009, she passed away of a brain aneurysm at 54.  

Panthers team members practice at A.L. Davis Park in Central City.
Of the 29 kids listed on the Panthers' official football roster, only about 10 are in uniform and on the field by 6 p.m., a half hour after practice was supposed to start this day in September. The others are changing into their jerseys, hand-me-downs from an opposing team, or were just dropped off at the park, delayed by homework that needed finishing or a school band rehearsal that ran long.
Coaches Scott and Dixon fuss at their team to pay attention, tie their shoes and put on their helmets. They eventually corral the boys into something resembling a straight line, and with a piercing blow of his whistle, Scott starts practice.  
Over the course of a three-hour practice, Scott keeps one eye on his players and another on the nearby basketball court pavilion, centered along Lasalle Street and sandwiched between the park's pool and playground.   
"I'm looking for those boys with the guns," he later says. "I've always got to keep my eye over there to make sure my kids are safe."  
Safety is always a concern around the park. One day, with several players in earshot, three teenagers standing at the edge of the basketball court were overheard speaking openly of buying a $100 Glock gun. Hankton says she stopped a teenager in the park in July, shortly after the team's first practice, when she spotted a gun sticking out of his shirt.  
"He knows not to be in the park when those children are there," she says of the conversation that ensued.  
Central City beat cops say A.L. Davis Park continues to be a hub of activity for the Byrd Gang, also known as the Piff Gang – "Piff" being slang for strong marijuana – which operates out of nearby Harmony Oaks. Members of the gang include a man serving a 100-year prison sentence for his role in a 2014 shootingthat left two men wounded on the park basketball court. He and others are seen in YouTube videos claiming to be smoking marijuana in the park playground while young children play on a nearby swing set.  
Panthers head coach Edgarson Scott carries his son Tony on his shoulders during football practice at A.L. Davis Park in Central City.
Scott and Hankton say that kind of gang activity illustrates both how dangerous the park can be, and why the Panthers are about so much more than football. Next season, the couple hopes to expand the program: More teams, more age groups, more parent involvement. If they need to hire a police escort, so be it.   
Football, they say, is how they can return the park to families. It's how they can offer kids an alternative to the streets and an outlet for the trauma that comes with growing up in Central City.  
Says Scott: "When I first got into this, people told me: 'That's a bad park. All they do is shoot.' I came up in that park. I know how that park is. So, I was like, I'm going to do it, because if I don't do it, nobody else will."