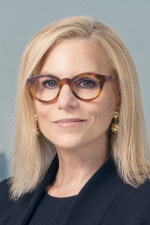 Dawn Ostroff is president, Condé Nast Entertainment (CNE), a company she helped found in 2011 when CondéNast decided to build a thriving digital video, film, and television business based on its iconic brands and assets.CNE currently produces over 5,000 videos annuallyacross 21 brands, garnering over 1 billion views a month, and has 35 active film projects and 30 television projects with Ostroff serving as a producer or executive producer. 
Prior to joining Condé Nast, Ostroff was president of entertainment for The CW broadcast network—a joint venture of CBS and Warner Bros. that she helped launch. Prior to that, she served as president of the UPN Network, executive vice president of entertainment at Lifetime Television and held senior roles at 20th Century Fox Television, Michael Jacobs Productions (at Disney) and the Kushner-Locke Company. She began her career working at several local channels in news as an on-air reporter and a producer.
Recent Posts by Dawn Ostroff
April 11, 2018 by

Neil Barsky

,

Jenny Carchman

,

Dawn Ostroff

,

David Remnick

,

Participant Media

,

Lindsey Megrue

,

Seth Bomse

,

Marley Cogan

,

Scott Morgan

,

David Jacobson

Employing the highest standards of video production, "We Are Witnesses" captures the enormity of the jail-court-prison complex, while keeping an intense focus on the individual lives affected and provoking dialogue around criminal justice reform. Judges praised its "innovative" approach to storytelling, exploring "multifaceted trauma" from "many different angles," and "refusing cliché at every level." The series was created by The Marshall Project in partnership with Participant Media, The New Yorker, and Condé Nast Entertainment, and ran on both The Marshall Project and The New Yorker websites.