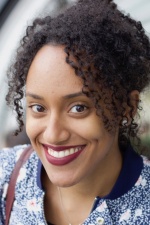 Marley Cogan is a documentary producer who has worked on numerous television and online documentaries. She previously worked as an associate producer on America Uprising, a short documentary series published on Refinery29, which explores protest movements and activism across the country. Prior to working on America Uprising, Marley was an AP on the Firelight Media documentary about President Barack Obama, Through the Fire: The Legacy of Barack Obama. Marley began her career in non-fiction storytelling working as an AP for the award-winning Marshall Project web series, We Are Witnesses. She is currently a co-producer for a four-hour EPIX documentary series exploring issues of economic, racial, and social inequality in the U.S. called America Divided. Marley is a graduate of Harvard University where she studied Sociology and Spanish.
Recent Posts by Marley Cogan
April 11, 2018 by

Neil Barsky

,

Jenny Carchman

,

Dawn Ostroff

,

David Remnick

,

Participant Media

,

Lindsey Megrue

,

Seth Bomse

,

Marley Cogan

,

Scott Morgan

,

David Jacobson

Employing the highest standards of video production, "We Are Witnesses" captures the enormity of the jail-court-prison complex, while keeping an intense focus on the individual lives affected and provoking dialogue around criminal justice reform. Judges praised its "innovative" approach to storytelling, exploring "multifaceted trauma" from "many different angles," and "refusing cliché at every level." The series was created by The Marshall Project in partnership with Participant Media, The New Yorker, and Condé Nast Entertainment, and ran on both The Marshall Project and The New Yorker websites.