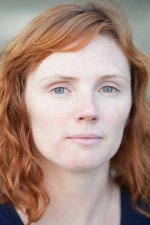 Lindsey Megrue is a creative producer and director with over a dozen years of experience creating documentary films for theatrical release and television broadcast. Most recently, she produced THIS IS HOME, a feature-length film about Syrian refugees resettling in Baltimore, which premiered at the 2018 Sundance Film Festival and won the Audience Award: World Cinema Documentary. She has worked on many critically acclaimed programs for PBS, including eight episodes of the award-winning series AMERICAN EXPERIENCE. She was a Field Producer for the three-part, six-hour, Emmy-nominated CANCER: THE EMPEROR OF ALL MALADIES. She co-produced KOCH, a feature-length documentary about former New York City Mayor Ed Koch, which opened theatrically in 2013 and broadcast on PBS's POV. In addition to her work in film and television, Lindsey also creates web content for prominent news organizations, including The New York Times, Retro Report and The Marshall Project. Lindsey has also directed for the highly rated PBS series FINDING YOUR ROOTS WITH HENRY LOUIS GATES, JR. She is a member of the Directors Guild of America, a 2017 Impact Partners Producing Fellow and a graduate of Smith College.
Recent Posts by Lindsey Megrue
April 11, 2018 by

Neil Barsky

,

Jenny Carchman

,

Dawn Ostroff

,

David Remnick

,

Participant Media

,

Lindsey Megrue

,

Seth Bomse

,

Marley Cogan

,

Scott Morgan

,

David Jacobson

Employing the highest standards of video production, "We Are Witnesses" captures the enormity of the jail-court-prison complex, while keeping an intense focus on the individual lives affected and provoking dialogue around criminal justice reform. Judges praised its "innovative" approach to storytelling, exploring "multifaceted trauma" from "many different angles," and "refusing cliché at every level." The series was created by The Marshall Project in partnership with Participant Media, The New Yorker, and Condé Nast Entertainment, and ran on both The Marshall Project and The New Yorker websites.