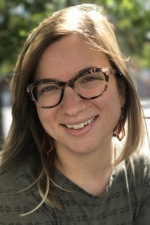 Juliet Hinely is a freelance story producer and sound designer based in Ypsilanti, Michigan. Prior to producing Believed, Juliet made interactive audio tours for Detour in San Francisco, produced comedic and educational podcasts for Audible, and edited and produced the mental health podcast Advice from Mom. She holds an MFA from the University of Michigan Stamps School of Art and Design with a focus in Sound and Story. Juliet also co-curates the live listening event series Radio Campfire, and hosts a small audio artist residency called The Listen Inn.
Recent Posts by Juliet Hinely
These two episodes of the ambitious podcast "Believed" – "The Parents" and "What Have You Done?" – focus on Larry Nassar's victims and their families, exploring the complicated, conflicted emotions that can persist when people are victimized by a seemingly known and trusted person. Judges recognized the "enormous trust" the reporters built with everyone they interviewed, allowing the survivors and parents to "reveal their deepest regrets and vulnerabilities," and calling the end result "intimate," "revelatory," and "profound." Originally published by Michigan Radio in January 2018.