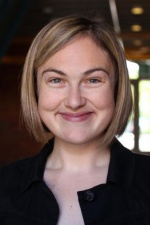 Zoe Clark is Michigan Radio's Program Director. In that role, Clark oversees all programming on the state's largest public radio station – including the station's award-winning newsroom, commentary, and daily news-magazine Stateside.
Clark also co-hosts, with Michigan Public Radio Network's Lansing Bureau Chief Rick Pluta,  It's Just Politics, a weekly look at Michigan politics airing Monday mornings on Morning Edition.
Clark previously produced Michigan Radio's Morning Edition, Jack Lessenberry's interviews and essays, and was the founder and executive producer of Stateside with Cynthia Canty.
Recent Posts by Zoe Clark
These two episodes of the ambitious podcast "Believed" – "The Parents" and "What Have You Done?" – focus on Larry Nassar's victims and their families, exploring the complicated, conflicted emotions that can persist when people are victimized by a seemingly known and trusted person. Judges recognized the "enormous trust" the reporters built with everyone they interviewed, allowing the survivors and parents to "reveal their deepest regrets and vulnerabilities," and calling the end result "intimate," "revelatory," and "profound." Originally published by Michigan Radio in January 2018.