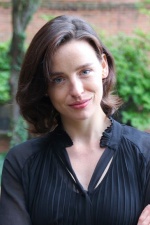 Kate Wells has been a reporter at Michigan Radio since 2012. She started covering the Larry Nassar sexual abuse case in 2016, and her reporting has been featured nationally on NPR. Her previous reporting runs the gamut, from the wrongful conviction of a 14-year-old boy in a quadruple homicide, to refugees building new lives in Michigan, to how swing voters helped Donald Trump turn the state red.
Kate was named "Young Journalist of the Year" by the Detroit chapter of the Society of Professional Journalists in 2017. Her reporting has also been recognized with awards from numerous news organizations, including the Michigan Associated Press, National Association of Black Journalists and the Association for Women in Communications
Recent Posts by Kate Wells
These two episodes of the ambitious podcast "Believed" – "The Parents" and "What Have You Done?" – focus on Larry Nassar's victims and their families, exploring the complicated, conflicted emotions that can persist when people are victimized by a seemingly known and trusted person. Judges recognized the "enormous trust" the reporters built with everyone they interviewed, allowing the survivors and parents to "reveal their deepest regrets and vulnerabilities," and calling the end result "intimate," "revelatory," and "profound." Originally published by Michigan Radio in January 2018.