Tragedias & Periodistas
The Spanish-language version of the Dart Center's 40-page guide to help journalists, photojournalists and editors report on violence while protecting both victims and themselves.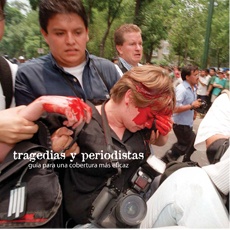 11 de septiembre 2001.
19 de abril 1995.
Todo mundo sabe lo que sucedió en estas dos importantes fechas. Pero tal vez usted recuerde también otras tragedias: El día en el que una tormenta mató a alguien en el área en que usted vive; el día en el que incendio mató a unos niños inocentes; el día en el que alguien asesinó a una persona que usted conoce.
Los reporteros, editores, periodistas y equipos de noticias estan involucrados en la cobertura de muchas tragedias en el transcurso de sus vidas; desde guerras, ataques terroristas y accidentes de aviación, hasta desastres naturales, incendios y asesinatos. Todas éstas teniendo víctimas, y afectando a varias comunidades, y creando memorias que perdurarán toda la vida.
Los acontecimientos sucedidos el 19 de abril de 1995 y el 11 de septiembre del 2001 están, lentamente, cambiando la cultura en la salas de redacción. Sin embargo para realizar una cobertura eficaz de tragedias de gran magnitud, los periodistas deben considerar tres áreas importantes:
Las víctimas. Sus muertes o lesiones crean un profundo efecto de dolor.
Después de los hechos ocurridos en Oklahoma City, Ed Kelley, el editor principal del periódico The Oklahoman durante esa época, dijo a su equipo que esta tragedia era en primer lugar, una historia a cerca de la gente.
"La mayoría de la gente que murió eran como nosotros", el escribió en un memorandum dirigido a la sala de redacción. "Vivían vidas decentes y productivas. Los niños que murieron como consecuencia del ataque tenían el potencial de vivir estas vidas también".
La comunidad. La manera en la que los periodistas cubren el evento probablemente tendrá un efecto en cómo reaccione la comunidad.
Chris Peck, presidente del Associated Press Managing Editors, dijo durante la convencion de APME el 11 de octubre del 2001 en Milwaukee:
"Nuestros periódicos, ayudaron a esta nación a entender lo que había sucedido en Nueva York y Washington, D.C. Nuestros periódicos sirvieron de centro común donde los ciudadanos vinieron a enterarse de la tragedia y a compartir sus preocupaciones, compasión y capacidad para hacer frente a lo sucedido".
Peck, editor del Spokesman Review en Spokane, Washington, añadió. "Nuestras páginas continúan uniendo a las comunidades. Nuestros reporteros, fotógrafos y editores poseen la única y valiosa capacidad que ha ayudado a una nación a comprender y considerar situaciones complejas y políticas públicas".
Los periodistas. Nadie está a salvo de tener una reacción humana.
Los periodistas se enfrentan a retos insólitos cuando cubren tragedias masivas o violentas. Éstos interactuan con víctimas que están experimentando un extrarordinario dolor. Los periodistas que cubren historias trágicas, en muchas ocasiones necesitan construir una pared que separe sus emociones personales de aquéllas de los sobrevivientes y otros testigos que entrevisten. Sin embargo, despúes de hablar con la gente que ha sufrido grandes pérdidas personales, ésta misma pared puede dificultar la necesidad que tienen los periodistas de reaccionar al hecho de estar expuesto a la tragedia.
Al Tompkins del Poynter Institute for Media Studies escribió en Poynter.org el 15 de septiembre del 2001 lo siguiente:
"Los reporteros, fotógrafos, ingenieros, equipo de sonido y productores muchas veces trabajan hombro con hombro con los miembros de los equipos de emergencia. Los síntomas de estrés traumático que los periodistas muestran son extraordinariamente similares a los mostrados por oficiales de policía y bomberos que trabajan en período inmediato posterior a la tragedia, sin embargo, los periodistas reciben poco apoyo emocional despés de haber mandado sus historias. Mientras a los trabajadores de seguridad pública se les ofrece sesiones informativas y orientación despúes de la tragedia, a los periodistas se les asigna la cobertura de otra historia".
En el futuro, sabemos que tendremos que enfrentarnos a muchas otras tragedias — más fechas que dejarán en las víctimas, comunidades y en nosotros mismos, huellas y memorias difíciles de borrar.
Los consejos prácticos que este folleto ofrece pueden ayudarle a enfrentar los retos en éstas importantes áreas de una manera más eficaz.