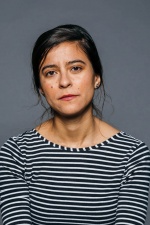 Andrea Patiño Contreras is an Emmy-nominated video journalist from Bogotá, Colombia. She is based in Boston and works for the features video team at Univision News Digital, where she produces, shoots and edits short documentaries. Most of her work revolves around questions of migration and mobility, and the Latino community in the U.S. and across Latin America. She has a BA in cultural anthropology from Duke University and an MA in Media and Journalism from the University of North Carolina at Chapel Hill.
Recent Posts by Andrea Patiño Contreras
This investigation and multimedia project examines the Trump administration's 'Remain in Mexico' policy and its impacts, including the profound mental health effects on people seeking asylum in the U.S. Judges described "Trapped in Mexico" as a "staggering reporting feat" that "balances insightful data with expansive visuals and hard-hitting reporting." Judges commented on the "unique sensitivity" of the video stories, and applauded the "slow pace of the storytelling, which mirrors the slow pace of the subjects' asylum cases." Originally published by Univision News Digital on November 19, 2020. En Español.