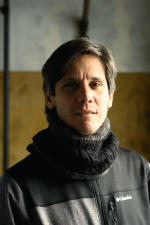 Mauricio Rodriguez Pons is a visual journalist and director of photography, passionate about the immense possibilities that visual language offers to tell stories. Venezuelan by birth, he features stories mainly about immigration and economic issues that affect the hispanic community in the United States. He has been awarded two News & Documentary Emmys, two Edward R. Murrow, a Webby Award, Hillman Prize, PDN Photo Annual, National Press Photographers Association Best of Photojournalism, Gabo Prize, King of Spain, Scripps Howard, among others.
Recent Posts by Mauricio Rodriguez Pons
This investigation and multimedia project examines the Trump administration's 'Remain in Mexico' policy and its impacts, including the profound mental health effects on people seeking asylum in the U.S. Judges described "Trapped in Mexico" as a "staggering reporting feat" that "balances insightful data with expansive visuals and hard-hitting reporting." Judges commented on the "unique sensitivity" of the video stories, and applauded the "slow pace of the storytelling, which mirrors the slow pace of the subjects' asylum cases." Originally published by Univision News Digital on November 19, 2020. En Español.