Case Closed
'I got a question'
By Rachel Dissell and Andrea Simakis • Originally published September 29, 2019
 
William Thomas sat at a wood table across from Detective Michael Moctezuma, his cuffed hands shackled to a chain belted around his waist. 
It was June 2018 when the detective finally interviewed Thomas in prison — nearly 13 months after Sandi had given Cleveland police her rapist's full name. 
Moctezuma told Thomas how he "inherited" the nearly three-year-old rape case. Thomas agreed to talk to him, waiving his right to a lawyer.
"What I'd like to do is show you a photo of someone and you can tell me if you recognize them or not," Moctezuma said.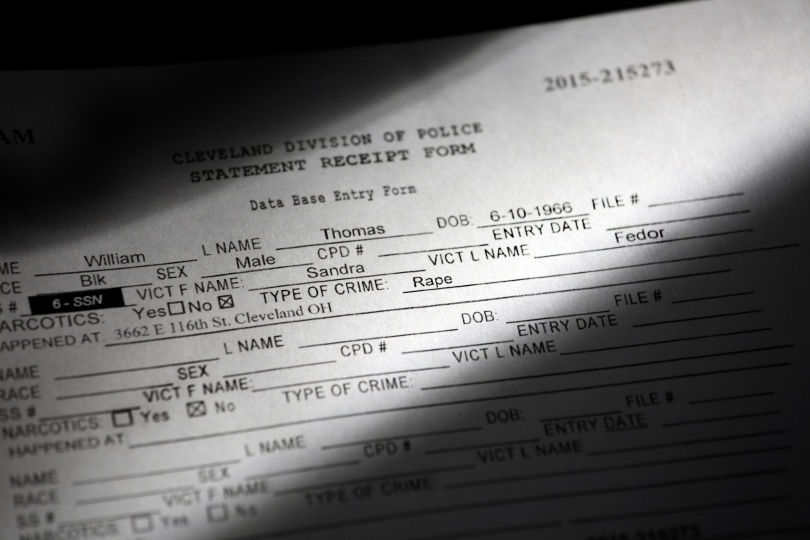 The detective slid a color print of Sandi's driver's license photo in front of Thomas.
Thomas leaned in, looked down through his wire-rimmed glasses and didn't hesitate: "Yes," he said. 
"Do you know this person's name?" Moctezuma asked. 
"I don't remember," Thomas replied.
Thomas' version of the story started the same way Sandi's did. They met through a mutual friend, Terrance.
But Thomas told the detective the purpose for the meeting was a "date." An exchange of drugs for sex. Not an unusual transaction in the neighborhoods where he hung out. 
"It's really something unspoken but known," Thomas explained. 
Thomas said he and Sandi drove around drinking and smoking pot before returning to his mother's house. 
His mother wasn't home, he said. Thomas said he gave Sandi some heroin to inject. 
"You guys had sex?" Moctezuma asked. 
"Yes," Thomas answered. 
Thomas said they fell asleep and Sandi woke up early in the morning, hysterical. "She ran out the side door, undressed."
"And why do you think that happened?" Moctezuma asked. 
Thomas said he figured that she was married and was probably supposed to be home at a certain time. 
"I guess she was in trouble," Thomas said.  
He tried to stop her, tried to talk to her, he told Moctezuma.
"At any time did you strike her?" Moctezuma asked.
"No."
During the interview, Moctezuma shared a simple sketch of Sandi's account. The detective didn't dive into the inconsistencies between Thomas' story and what Sandi told police - or what the evidence showed.
And there were many. 
Thomas mostly listened, blinking. He didn't react.
At one point, during one long pause as Moctezuma took notes, Thomas spoke up. 
"I got a question, though," Thomas said. "It took you all this long to find me?"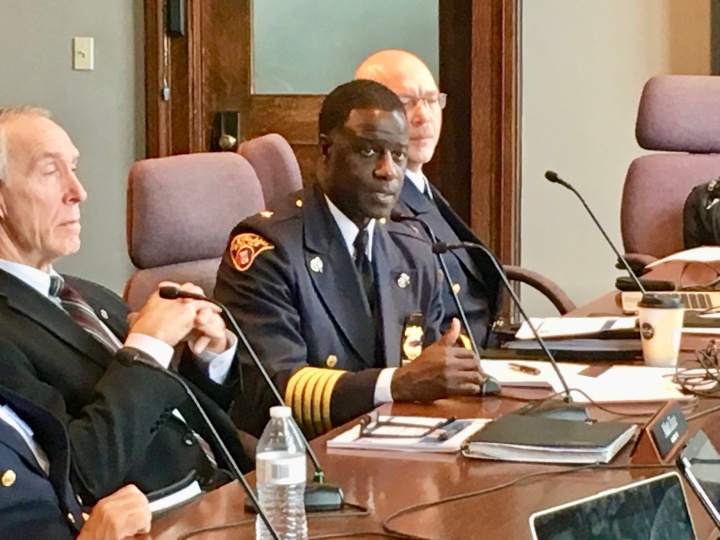 'This is not like TV'
Sandi once described the feeling of trying to get police to respond to her as "pushing against doors that wouldn't open, over and over again."
It's hard to imagine a better way to put it.
Cleveland police won't say why they did so little to find Sandi Fedor's rapist or why, once they knew who he was, it took them so long to question him. 
The department also won't allow any of the detectives who worked on Sandi's case to be interviewed, and if they speak without permission, they can be disciplined.  
The city insists that its supervisors review cases with detectives, but did not provide specifics on the process.
Mayor Frank Jackson and Chief Calvin Williams wouldn't agree to sit down and discuss chronic, well-documented problems in the sex crimes unit or long-term solutions. 
Instead, Chief Williams parroted assertions that sexual assault cases "remain a high priority" for the department.  "We hold our investigators to a very high standard," he said, in an email sent by a spokeswoman.
Williams said sexual assault cases are "very personal and emotional" and that investigators "remain committed to providing the highest level of service while remaining compassionate and understanding to victims and their families."
What is clear, whether the city acknowledges it or not, is that when Sandi reported her rape in 2015, the sex crimes unit was as overloaded and ill-equipped as it had been for decades.

The unit had only 13 full-time detectives to investigate 1,163 new reports of sexual assault and child abuse; 753 of those felony sex-assault cases.
Most of the cases reported that year never made it to court. 
Detectives in the unit may well be as committed and compassionate as Williams contends. But they are also swamped with tough cases, and when detectives in the unit are underwater, the stress of it can spill over into their work, into interviews with victims and witnesses.
The day Sandi and Gabe visited Detective Evans, almost two years after Sandi first reported her rape, they'd hoped the cop would take the evidence Sandi gathered and collar her rapist right away. Instead they were lectured.
"This is not like TV," she told them. "I get one case, I get five cases [the] next day. It's not one case, we have a bunch of cases. And it's just not me. It's 13 of us in there and you're talking about 13 people with over 1,000 cases, OK?"
Evans had a point. Not counting vacation and sick days, routine updates on policing techniques and time in court, that left her with an average of 14 hours to investigate each of the 88 sex crimes and child abuse cases she was assigned that year.
The detective's burnout was part of the reason Evans told Sandi and Gabe that she was leaving sex crimes. "That's why I'm ready to go," she confided. "It's very stressful for us, too."  
The third detective on Sandi's case, Michael Moctezuma, said the same thing to Sandi's friend Terrance, a potential witness. Moctezuma was the first detective to interview Terrance, more than three years after Sandi first gave police his phone number. 
"That's part my fault," the detective said during the recorded phone call. "We're overwhelmed with work. I had always had intentions on calling you, but it just fell through the cracks because of everything that I was involved with, with this investigation and others."
Those were the people Sandi had to rely on to put her rapist away. 
Details she shared with them became distorted, like in a game of Telephone, forcing Sandi to walk through her brutal assault again and again to correct the errors. In one interview, a detective peppers Sandi with questions she'd answered more than two years earlier. As she struggles to respond, she visibly shrinks in her chair, trying to ward off a flashback. The detective plows on.
Even her last name, Fedor, was misspelled five different ways in the detectives' reports: "Fendor," "Fender," "Fefor," "Fodor," "Fedora."
As Sandi left voicemail messages that were never returned in 2016 and 2017, supervisors from the unit were penning memos to police brass for more resources — begging for bodies and cars — so they could do their jobs. Sometimes a detective or two were added, but it was never enough to keep up with ones who left. 
Staffing was a "choke point," Lt. Daniel Ross wrote in a memo to his bosses. "This is not a complaint; it is a fact." 
In 2018, as Sandi waited for her rapist to be charged, Mayor Jackson held a City Hall news conference, calling the unit's most recent black eye "egregious." 
The city was disciplining another sex crimes detective, this time for failing to investigate 60 cases assigned to him as far back as 2014. The detective's supervisors were punished, too. What Jackson failed to mention is that one of those suspects raped another woman as the cases sat. Just like in Sandi's case. 
Flanked by Chief Williams and Michael McGrath, the city's safety director, Jackson blamed the cops for not following protocol and deflected suggestions of a systemic breakdown. The city had given the cops in the sex crimes unit "all of what we needed to give" for them to do their jobs, the mayor said.
But when a reporter questioned that contention, Jackson pushed back.
"It's not that simple," he said, adding that the chief has to balance the needs of all units, from sex crimes to homicide to car theft.
It was the same excuse the cops gave during the Voinovich era 30 years earlier.
Eight months after that 2018 news conference, a different detective was in trouble for stashing nearly 200 rape evidence kits in a storage room instead of sending them for testing. That detective was suspended for 25 days, a punishment his supervisors argued should be tempered by the enormity of his job: For two years he was responsible for submitting, transporting and logging 10,000 or more pieces of evidence from sex crimes, homicides and other crimes.
"It's incredibly frustrating," Sondra Miller, president & CEO of the Cleveland Rape Crisis Center, said on the heels of those two scandals. "This unit has not been made a priority." The squad, she added, "has no more resources to do this work than it did 10 years ago. Until that changes, I fear it is going to be 'Groundhog Day.'"
The breakdowns were almost unfathomable. The department had spent years following the Anthony Sowell murders emptying its evidence storage shelves of thousands of untested rape kits, many of them decades old. Most were collected before DNA testing was routine. 
Once tested, the evidence kits helped identify so many suspects that a task force was formed to review nearly 7,000 cases from Cleveland and the surrounding suburbs. The undertaking also offered a look at how cases were handled in the past and a roadmap for how to do better investigations today. 
Some of the cases would never have been solved without DNA testing. In others, hindsight helped. Reports that named the same suspect over the years pointed investigators to hundreds of serial rapists. 
But, in many cases, it seemed that the police hadn't really tried. The question was why.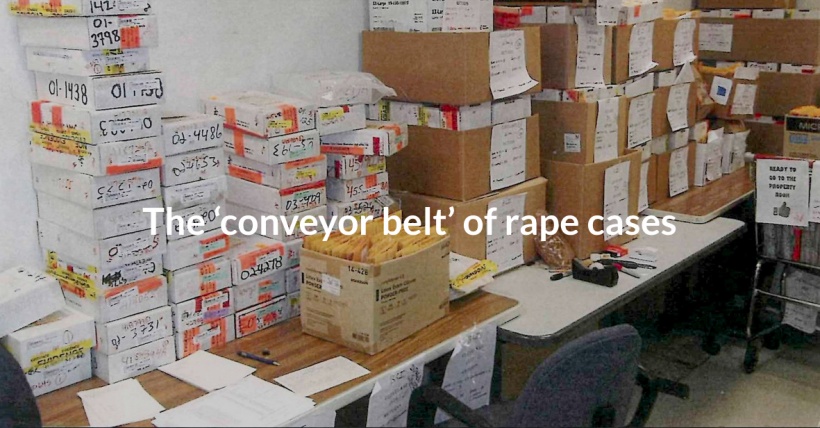 A team of researchers from Case Western Reserve University's Begun Center for Violence Prevention, Research and Education took a close look at hundreds of Cleveland's older, never-prosecuted rape cases.
Half of them were closed after a week or less. A quarter were open for a day or even just hours. 
Cleveland detectives had to contend with a "conveyor belt" of new reports, wrote Begun Center researchers in 2017.  If there was a "hiccup, difficulty or stall in a case, it would be shunted to the side" to keep the fresh cases rolling down the belt from piling up. 
Detectives weren't told "spend whatever time you need to get the bad guy," said professor Rachel Lovell, a senior Begun Center researcher. Instead, it was more like, "Get those cases off your plates because here is a new stack for you."
Cuyahoga County's Sexual Assault Kit Task Force, the group formed to tackle all those older cases, has been heralded as a national model. The initiative has identified more than 830 serial sex offenders and has resulted in indictments of 754 rape suspects, a jaw-dropping number compared to any other place in the country that has tested older rape kits. 
The task force, though, benefited from many things Cleveland's sex crimes unit — just on the next downtown block —  has never had: double the number of investigators and a close partnership with victim advocates who work alongside the detectives and prosecutors as they prepare rape cases for court.
Early on, it created a strict checklist to ensure investigations are thorough. And to keep investigators accountable to their supervisors, who know the public is watching. 
Just as crucially, investigators have, on average, almost three times longer to work cases than Detective Evans had to dig into Sandi's case. 
Cleveland detectives still don't respond to sex crime scenes except in what the department says are "extraordinary" circumstances. That's in part because the unit has no overnight shift to cover the hours when at least one-third of sexual assaults are reported. That was one of the recommended changes brushed off by the department after a national policing think tank reviewed the sex crimes unit's operations in 2013, in the aftermath of the Sowell case. Another forgotten post-Sowell promise: bringing in outside experts to regularly review the unit's case files.
Earlier this year, City Council members pushed Chief Williams about the unit's anemic staffing during a hearing. At the time, sex crimes had 14 detectives, not the 23 the chief had budgeted and nowhere near the 30 detectives needed to do thorough investigations, at least according to "a workload analysis" shared with council members. 
Williams sounded a familiar refrain, saying that he planned to add detectives to the unit just as soon as the next police academy class graduated. 
The city said in an August email that the unit has new leadership and the chief will make good on his promise to add new detectives, though it didn't say how many. As of Sept. 19, no new detectives had been added but a police spokeswoman said interviews were scheduled. 
The new detectives will get at least 40 hours of state training in investigations and sexual assault, the city said, instead of only the occasional seminars by rape crisis experts they get now. 
Standard training was something suggested six years ago by the policing think tank to replace the department's informal "on-the-job training" for sex crimes detectives.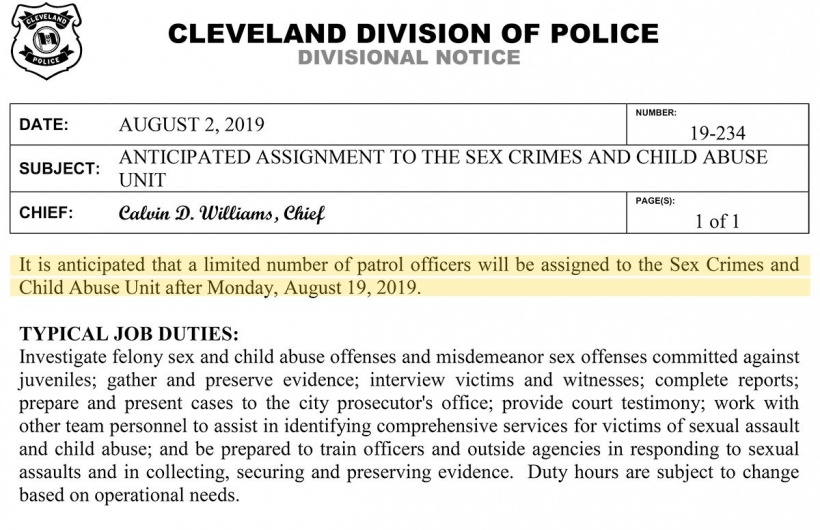 Cleveland is hardly the only city failing women like Sandi. Other cities have made public efforts to turn around deeply flawed sex-crimes investigations that result in few prosecutions, though reforms are hard fought and progress comes in fits and starts.
New Orleans and Baltimore, both faced with scathing reports that revealed bias and ineptitude, added new investigators to reduce crushing caseloads. New Orleans detectives were given checklists and told to document each investigative step they took. Baltimore's department made it policy to respond to the scene of every sexual assault call. Even then, federal officials found that victim-blaming persisted among its detectives.
In Philadelphia, which instituted reforms almost two decades ago, an independent group still reads hundreds of sex-crimes files each year and questions the department about how cases are handled to add a layer of public accountability.  
Experiences elsewhere show that while resources and training matter, such oversight is just as pivotal, said Lovell, the Begun Center researcher.
Without sweeping, lasting change, reports like Sandi's will continue to speed down the rape-case conveyor belt.
Many victims walk away, resigned to numbing their pain, looking over their shoulders and hoping nobody else gets hurt. 
Others, like Sandi, risk sanity and safety by taking on the burden of investigating their own rapes. It probably happens more than we think, said Lovell. 
In one case Lovell and her colleagues looked at recently, a victim was able to provide police with a first name of her rapist and the location of her attack. But without his full name, first and last, authorities told her the case couldn't move forward. 
So, the woman went back to the house to get her rapist's last name from the mailbox. He was home. He grabbed her, beat her and held her captive for almost half a day before she escaped.