Denied Justice
If victims had been drinking, police are less likely to assign assault cases to detectives, interview witnesses or forward for charges.
Joanna Howe woke up in her bed, naked and uncertain how she got there.
Her friend's wedding in October 2016 had been a rare night out for the 40-year-old single mom studying to be a preschool teacher. She planned to have a good time. She took a Lyft ride to the event and recalled telling the bartender, after a couple of beers and glasses of wine, not to worry, she would use the service to get home, too.
Her last memory from the night was unsettling: Trying to pronounce the name of a man standing over her as she was lying down. She wasn't injured, but knew something was wrong. She never slept nude and her apartment door had been left unlocked.
"It was more of an emotional feeling of wrongness," Howe said.
She suspected her Lyft driver had come into her apartment and raped her. She called the Roseville police.
Over the next year Howe confronted a stark reality faced by many women who report being raped in Minnesota: Their already slight chance of getting justice plummets if they were drinking.
Police are less likely to interview witnesses, assign cases to a detective or forward them to a prosecutor for possible criminal charges, according to a Star Tribune analysis of more than 1,000 sexual assault cases from 2015 and 2016.
When cases involving alcohol do reach prosecutors, suspects are much less likely to be charged with a crime or convicted. When a victim is sober, records show, prosecutors charge about 15 percent of the sex assaults. When a victim is intoxicated, that rate drops to 8 percent.
In cases where the victim was drinking, only 1 in 20 sex assaults resulted in a conviction — about half the overall conviction rate for sex assaults.
"That's just unacceptable," said Rep. Marion O'Neill, a Maple Lake Republican who sits on the Minnesota House Public Safety Committee, after reviewing the Star Tribune's findings. "I feel like what I'm looking at are rapists getting a free pass, and I want to know why."
Minnesota's laws on drinking and consent may be partly to blame for the problem, prosecutors say. Suspects can claim the sex was consensual unless the victim was "physically helpless" and the perpetrator knew it.
But a bigger reason may be attitudes and beliefs, among law enforcement investigators and society, that make it easier to doubt the credibility of victims.
"I have not ever met a cop who said, 'I don't care about sexual assault or sexual violence,'" said Inver Grove Heights Police Chief Paul Schnell. "The problem becomes all the filters that get applied to that."
If investigators, prosecutors and juries are looking for an ideal set of facts, Schnell added, "it's going to be very difficult for us to move a case forward because rarely do you have the ideal fact set."
In Brooklyn Park, a woman reported being raped by an ex-boyfriend after a night of partying two weeks earlier. She showed police a text message from the man that said: "I f---d you the other night when you were passed out, a couple of times. I enjoy using you."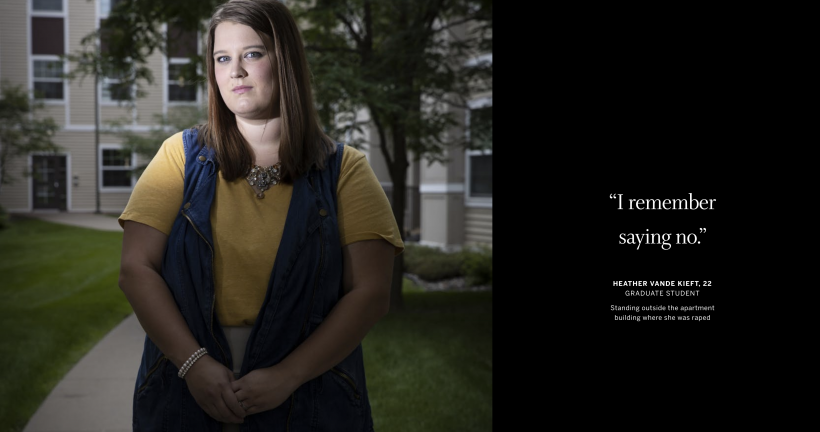 Heather Vande Kieft was an 18-year-old college freshman having drinks with friends at her St. Paul apartment in 2014. She was drunk and went to bed. Her next memory is of three men she met earlier in the night entering her room. She said that as she drifted in and out of consciousness, one stole her money, another held her down and the third raped her.
"I remember they were all laughing," she said. "I remember saying no."
When police arrived, "You could tell they were annoyed to be there," Vande Kieft said. A few days later, a detective called and met her at her building. Toward the end of the interview, she recalled the investigator telling her, "I bet you regret not being more careful."
Using a photograph and surveillance video from the apartment building, police identified a suspect. His DNA matched the results from Vande Kieft's rape exam. According to Vande Kieft's case file, he was a suspect in an another sexual assault. His criminal record showed three convictions for domestic violence, including a 2013 case where he choked and beat a woman on the back of her head.
According to the case file, the suspect initially lied and said he had no involvement with Vande Kieft. When the investigator told him about the DNA, he said the sex was consensual.
Vande Kieft was told charges wouldn't be filed. She was never told the suspect's name.
"I couldn't believe that criminals were believed over somebody that didn't even have a speeding ticket," she said.
St. Paul police said the investigator worked the case "incredibly hard," and reviewed it again after the Ramsey County Attorney declined to prosecute.
"If the victim had expressed concerns with the way she was treated, the department would have responded and done everything possible to address her needs," spokesman Mike Ernster said.
 
About one third of the sexual assault cases examined by the Star Tribune involve victims who were drinking or using drugs. Often, the victim lacks a clear recollection of what occurred, but is adamant that she would not have consented to sex.
"How could I consent if I don't remember anything?" said Howe.
Her best friend, Micah Desormeaux, was with her when a Roseville patrol officer arrived at Howe's apartment.
From the start, Howe and Desormeaux said, they felt the officer did not believe Howe's account. "He kept saying 'I just need to be the devil's advocate,' " Desormeaux recalled.
Howe said the officer asked whether she could have met someone at the reception who then came over. He suggested that perhaps the Lyft driver helped her walk up to her apartment, she said, and asked whether she might have just taken off her clothes while asleep.
"I don't feel like the officer thought that there was anything to investigate," Howe said.
The police report in Howe's case, obtained by the Star Tribune, does not contain a transcript of the interview with Howe. The officer wrote that Howe "admitted" to drinking that night.
The officer collected Howe's bedding and clothes, then she and Desormeaux drove to the hospital for a rape exam.
Back home, Howe got an e-mail from Lyft, saying her phone had been recovered from her driver's car. She also found a receipt from her ride home that included a photo of her driver. It was the same man she remembered standing over her.
She called the officer who took her rape report. He met the Lyft driver at a mall parking lot and retrieved the phone, but asked nothing about the alleged rape, according to the case file.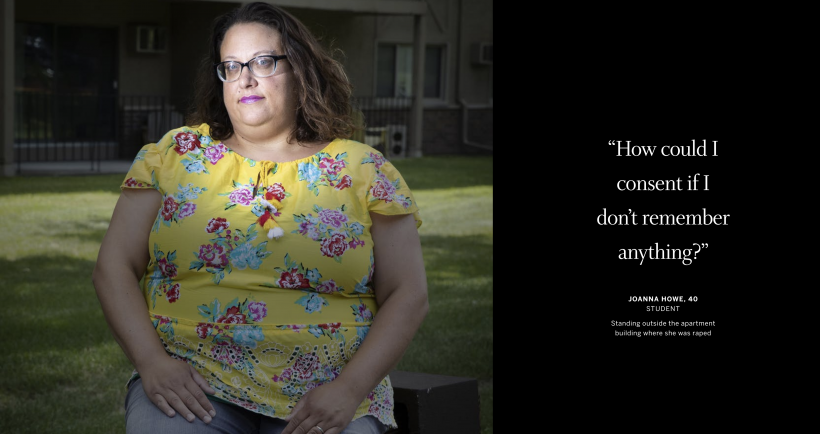 Prosecutors say sexual assault cases where the victim is drunk or high are the most difficult ones to prove.
One obstacle is that juries often blame victims, said Julie Germann, a former Olmsted County prosecutor.
"Juries have an expectation of what a 'real rape' looks like. It still looks like the bad guy jumping out of the bushes," even though most rapes involve acquaintances, Germann said. "When you stray away from that, it's a hurdle."
Minnesota's laws also make it easy for a suspect to claim that the victim agreed to have sex, even if she was blacking out, stumbling drunk or had no memory of consenting.
Ramsey County Attorney John Choi said it would be easier to win prosecutions if Minnesota law specifically said it's illegal to have sex with a person who was too intoxicated to consent.
Current law, Choi said, requires that "you have situations where somebody is literally, physically unable to communicate that nonconsent. Do you know how narrow that is?"
At least seven states, including Wisconsin, outlaw having intercourse with a person who is too intoxicated to consent. California makes it a crime when a victim cannot consent due to "any intoxicating or anesthetic substance." Wisconsin prohibits sexual contact "with a person who is under the influence of an intoxicant to a degree which renders that person incapable of giving consent."
The high bar posed by Minnesota law means police and prosecutors must work intoxication cases even harder to gather evidence that would corroborate a victim's account. Yet the belief that juries won't convict when the victim was drunk can deter law enforcement officers from vigorously investigating those cases, Germann said, making it less likely that the rapists will be held accountable.
"When law enforcement sees alcohol, that's often where a case ends," said Jude Foster, a program coordinator with the Minnesota Coalition Against Sexual Assault.
That is borne out in hundreds of cases reviewed by the Star Tribune.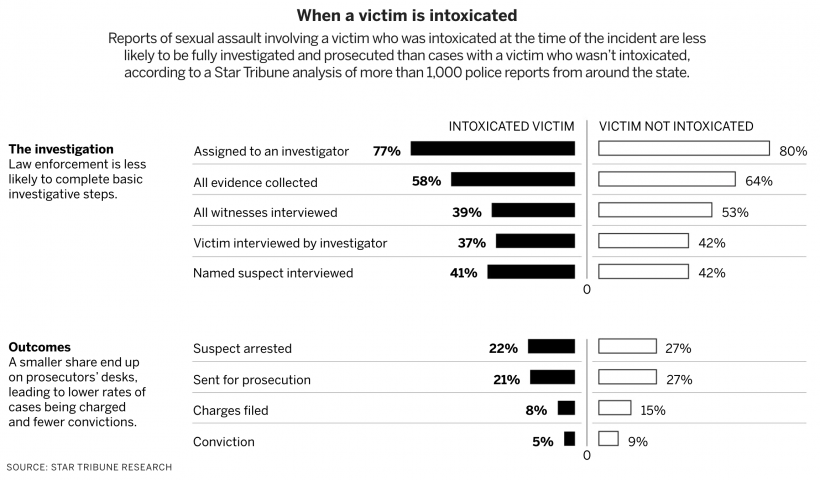 In Waseca County, a 19-year-old woman said she called the sheriff to report that she was sexually assaulted by a friend she was staying with. The deputy asked whether she had been drinking. She said yes. He gave her a ticket for underage consumption, records show.
"I felt defeated," the woman said.
A 19-year-old woman out drinking with friends told St. Paul police in 2015 that she vomited and drifted in and out of consciousness as she was raped by two men in the group and awoke bleeding the next day. The investigator closed the case without contacting the suspects, according to the police report, saying the men "would have reasonably believed she was acting in a consensual manner."
A Mankato woman woke up in her bathroom, vomiting. Her last memory from the previous night at a downtown bar was accepting a drink from a stranger who said something about dropping a pill in her glass. A roommate later saw her on the couch at home, with a half-dressed man on top of her. He moved to the floor after she confronted him. When the two women found a used condom in their apartment trash, they called police.
The women provided similar descriptions of the man. So did another friend who had driven the woman and the man home from the bar.
When police met with the suspect, he denied being at the bar or with the woman. He said his roommate could vouch for him, and said he "would think about" providing a DNA sample, according to an officer's report. Records from the 2016 case show that police never collected the suspect's DNA, interviewed witnesses at the bar or tested the victim's rape kit.
Weeks later, police closed the case. Public Safety Director Todd Miller said it was because the woman did not want to go forward. "Sometimes we see cases where a victim is drinking and makes a bad decision and wants to cover it up. … and [they] say, 'Let's report this and say it wasn't my fault,' " Miller said.
Police records give no indication that the victim stopped cooperating, or that investigators believed the report was false. The Star Tribune was unable to locate the woman because data privacy laws require police to redact the names of victims in sex assault cases.