Denied Justice
Click here to watch video interviews with women who describe their experiences reporting sexual assaults to police in Minnesota – and how that has affected their lives.
SERIES ELEMENTS:
---
Part 1: When Rape is Reported and Nothing Happens
Brooke Morath barely saw the man who attacked her.
He lunged from the dark early one morning in Minneapolis, blinding her with pepper spray as she scraped snow off her car. Then he tackled her face down onto the frozen ground and raped her.
Bleeding, her eyes burning, Morath staggered to a friend's house and banged on a window for help, pleading for someone to call 911.
Over the next few hours, the University of Minnesota pre-med student did everything she could to help investigators. She went to the hospital for a sexual assault exam. To preserve possible evidence, she didn't shower or wash her clothing. When police officers arrived, she answered their questions calmly. An investigator assured Morath that her case was his top priority.
Within days, however, she began to have doubts. She discovered that the police crime alert for her rape listed an inaccurate address. And that officers had missed three nearby businesses while canvassing the neighborhood for surveillance video. Eventually, she said, police stopped returning her calls.
That was two years ago.
Today, Morath has lost hope that police will ever find the man who raped her, and she worries that he is still preying on other women.
"It's a terrifying, humiliating and defeating feeling," she said. "It shouldn't be this hard for a victim."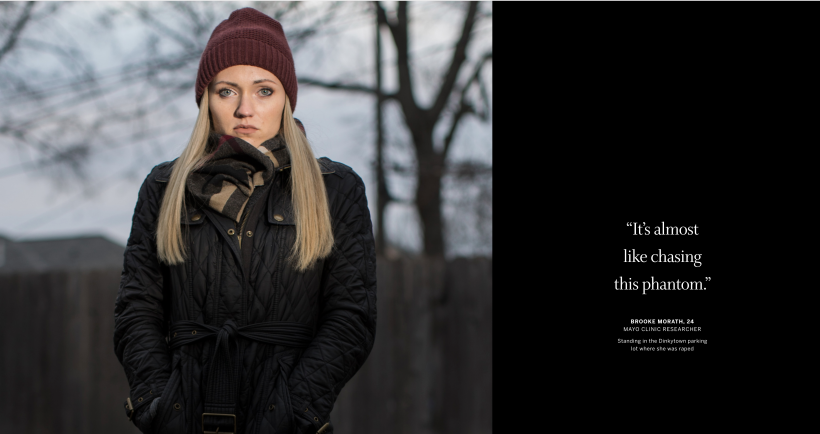 A Star Tribune review of more than 1,000 sexual assault cases, filed around the state in a recent two-year period, reveals chronic errors and investigative failings by Minnesota's largest law enforcement agencies, including those in Minneapolis and St. Paul.
In almost a quarter of the cases, records show, police never assigned an investigator.
In about one-third of them, the investigator never interviewed the victim.
In half the cases, police failed to interview potential witnesses.
Most of the cases — about 75 percent, including violent rapes by strangers — were never forwarded to prosecutors for criminal charges. Overall, fewer than one in 10 reported sexual assaults produced a conviction, records show.
Victims see it as a stark betrayal.
"I still struggle to feel safe," said Morath, who is now 24. "Not only because I don't know the identity of my rapist, but because I don't trust the law enforcement officer assigned to my case."
The failure to vigorously investigate sexual assaults is endangering women across Minnesota.
The Star Tribune identified more than 50 cases in which the suspect was someone who had been named, charged or even convicted in a prior sexual assault. Yet these men were rarely arrested when they turned up a second or third time in a police report.
Some committed more assaults before police finally caught up to them.
The 1,000 cases obtained so far amount to about half of all the records sought by the Star Tribune from the 20 law enforcement agencies that reported the most sexual assaults in 2015 and 2016, including Moorhead, Duluth and Mankato. Hundreds of records that were requested months ago have yet to be provided. The request to the Minneapolis Police Department, for example, is now more than a year old. It still has not been completed.
The Star Tribune also asked 13 veteran investigators from across the country to review more than 160 of the Minnesota case files. Combined, they found that police adequately handled just one in five cases.
"If homicides were handled this way, people would be appalled," said retired Sgt. Elizabeth Donegan, who led sex crimes investigations in Austin, Texas.
In Duluth, a college student reported a rape, then, after hearing nothing for several days, she said she drove to the police station to demand an investigation. She told police there were bloody sheets and a condom at the suspect's home. Her case was assigned to an investigator, according to Duluth police, but her case file shows no sign that officers ever collected that evidence. Her suspect was never charged.
In Mankato, an 18-year-old woman told police that she had been raped by a 46-year-old man. The suspect told an officer that the sex was consensual, even though the woman was a vulnerable adult who lived in a group home. The police never assigned an investigator, and the case file gives no indication that police ever searched the man's apartment or collected evidence. An officer wrote, "At this time there are no further known leads to follow for this case," and suspended the investigation.
Sgt. Richard Mankewich, a former supervisor for the Orange County, Fla., sex crimes squad, reviewed the file and asked, "Seriously, this is the best they can do?"
In Chisholm, a mental health counselor named Katie Finch reported she was raped by a friend after they ran into each other at a popular downtown bar. She said the officer who took her report told her a detective would follow up. No one ever did. Two years later, after the Star Tribune inquired about her case, she said an officer called, apologized and said her case somehow never made it to an investigator's desk. It has been reopened.
"I felt like I wasn't important at all," she said.
Most of the women who spoke with the Star Tribune said police rarely gave them updates on their cases. Finch's is one of at least five cases reopened by police or prosecutors since the Star Tribune began inquiring about them.
Asked to comment on the Star Tribune's findings, the head of the Minnesota Chiefs of Police Association said they are "not acceptable."
"I think there's no doubt that law enforcement and prosecution … need to look in the mirror and say, 'what can we do better collectively?' " said Andy Skoogman, the association's executive director.
Skoogman said the cases show how hard it is to hold rapists accountable, but he added that they also show the need for better police training and standards.
Nate Gove, director of the state board that licenses law enforcement officers, said the Star Tribune's findings concerned him but "were not surprising, given the complexity of these cases."
Gove also said most law enforcement agencies lack the time and money to fully investigate every case.
"Would I like to see every case fully investigated?" Gove said. "Yes, of course. But we don't have the resources for that."

Brooke Morath kept her car at a small parking lot about two blocks from her Dinkytown apartment. She was going to pick up a friend at the Megabus stop when, just after midnight on a Sunday in March 2015, a stranger attacked her.
Minneapolis police responded quickly to the 911 call. Morath recalls Dinkytown being lit up with red and blue flashing lights from squad cars. Officers secured the scene and impounded her car, hoping to find fingerprints or traces of DNA. They searched the icy ground for clues. One officer traced a set of a man's footprints through the snow.
Taking her to a quiet room in her friend's house, they questioned her gently, then helped her to an ambulance for a trip to the hospital and a sexual assault exam.
"V1 was crying, shaking and needed assistance standing up," the officers wrote. "She was bleeding from her nose."
Later that same day, Morath had a formal interview with the investigator assigned to her case, Sgt. Brian Carlson. She said she answered his questions carefully, but came away feeling that he was just ticking off boxes rather than really listening to her story.
"I was never given the opportunity to provide a complete, uninterrupted narrative," she said. The interview, she added, felt "interrupted and controlled."
Donegan, the Texas investigator, agreed. She said the transcript read more like an "interrogation" than a victim interview. She singled out one of Carlson's questions: "Is everything you've told me true and accurate?"
That, Donegan said, "tells the victim right off: You might be lying to me."
Morath soon developed more doubts about the investigation. Carlson told her he had found nothing useful on surveillance videos from the neighborhood, including one from a Target Express she had passed that night. When she questioned this, they discovered he was looking at the wrong time stamp, she said. The correct one shows a hooded man following Morath down the sidewalk.
 
Caught on camera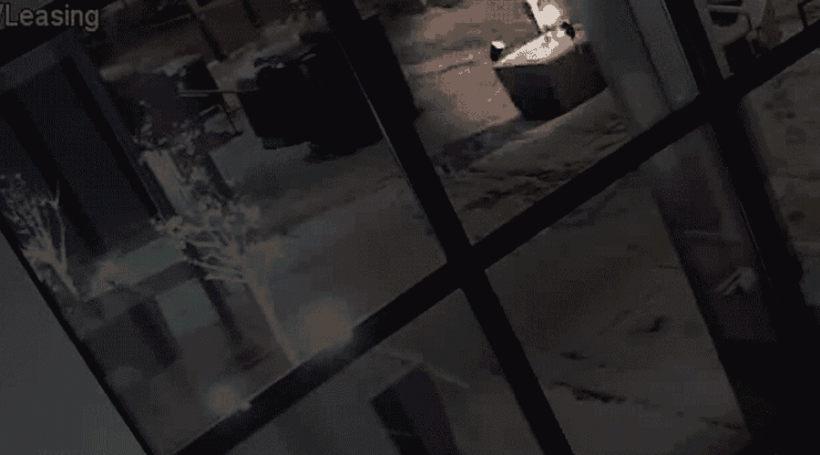 A few days later, she said, at her request, she and Carlson visited three stores directly across from her building to see whether they had surveillance video showing the same thing.
It was too late. The merchants told her they kept surveillance tapes for only 24 hours, and Morath said police hadn't asked in time.
After that, Morath said, Carlson's calls grew less frequent and then stopped. Frustrated by the lack of progress, she took the extraordinary step of beginning her own investigation. Using the Target surveillance video, she calculated the height of her suspect and constructed a more accurate timeline of the night's events. She researched other assaults in southeast Minneapolis, and eventually came across the case of Daniel Drill-Mellum, a former U student accused in two other rapes.
When Morath saw his mug shot, her heart stopped: He looked like the man who had attacked her.
In January 2016, Carlson called to say they had a suspect and were testing his DNA against evidence from her clothing. The match came back negative, and Morath was crushed. But as Carlson described the suspect, she realized the man and his misconduct bore no resemblance to the man who assaulted her, and she urged Carlson to run a DNA test on Drill-Mellum as well.
A month later, Morath said, Carlson called to say that test was negative.
"That was the last time I heard from him about the investigation," she said.
Without telling Morath, records show, the Minneapolis police stopped investigating her case.
In late 2017, the Star Tribune obtained a copy of Morath's police file as part of a broad public-records request for closed sex assault cases. Her name, like those of all the victims in the cases reviewed by the Star Tribune, was blacked out. When Morath contacted the Star Tribune about her case and reviewed her file, she learned new details. She saw that a tipster had reported seeing a man resembling her suspect the day after her rape, but that police never called him back. The report also notes that Carlson requested a DNA lab test for Drill-Mellum, but doesn't say whether the results ever came back.
Morath grew more curious. In March 2018, three years after her rape, she asked the police for a copy of her file.
To her surprise, she said, an officer told her they had just reopened her case — and wouldn't let her see her records or a copy of the DNA test.
Carlson retired from the MPD in June after 17 years working in sex crimes.
"I've investigated hundreds and hundreds of cases," he said. "I probably spent more time on this case than I did on any other case I worked."
Carlson recalled the investigation much the way Morath did but said he would have to consult department records to address Morath's specific concerns. "We really wanted to get the guy and hold him accountable," he said.

Police and prosecutors say sexual assault can be a difficult crime to investigate. It frequently involves friends, acquaintances or drinking, all of which can cloud the question of consent.
"You often have little or no physical evidence. You have most times no eyewitnesses," said Jeff Schoeberl, an Anoka County detective and president of the Minnesota Sex Crimes Investigators Association. "Can I convince 12 people unanimously to take the victim's account?"
Few Minnesota law enforcement agencies require the kind of training that would help officers surmount these challenges.
The International Association of Chiefs of Police has developed a lengthy set of best practices for sexual assault investigations. They include assigning all credible reports to a detective, conducting detailed interviews of the victim and any known suspect, and collecting all potential physical evidence. Convictions are much more likely when police take these steps, according to the Star Tribune's analysis.
Some states now require that officers who investigate sex crimes complete special training, but Minnesota does not. The Minnesota Peace Officer Standards and Training Board, the agency responsible for setting professional standards, requires law enforcement agencies to have clear, written protocols for a wide range of crimes and situations, including domestic violence and school bus altercations. On sexual assault, the board is silent.
Gove, the board's executive director, said he would need a directive from the Legislature to require statewide standards for sexual assault investigations.
"I've not seen the appetite," Gove said.

Russell Strand, a former investigator with the U.S. Army, said he was "appalled" by 20 cases he reviewed at the Star Tribune's request.
"Quite frankly, I am getting frustrated reading them because most are so horrible," said Strand, now a consultant and trainer in Arizona.
In one Minneapolis case, a teenage girl said she was raped during an after-prom party, that other partygoers saw the assault, and that the suspect later contacted her on social media. According to the investigator's file, police closed the case without interviewing the suspect or issuing a search warrant for his social media accounts.
"It is beyond me why these investigators are working in this unit," said Donegan, the Texas investigator.
In a July 2015 case, a woman in Minneapolis reported that a stranger had climbed through a second-floor balcony door one night, cut off her bra and underwear, put a knife to her throat and raped her.
Responding officers found shoe prints on the house and a knife in the front yard, and noted that friends had been on the front porch during the attack. Police never identified or interviewed the friends, according to the case file. They closed the case after a DNA test found no match in the state or national offender registry.
"It looks to me like the MPD either lacked the resources or desire to investigate this terrifying stranger rape of a woman in her home," said retired Rochester detective Elisa Umpierre. "Shameful."
Minneapolis police declined to comment on its handling of any specific case but released a statement saying: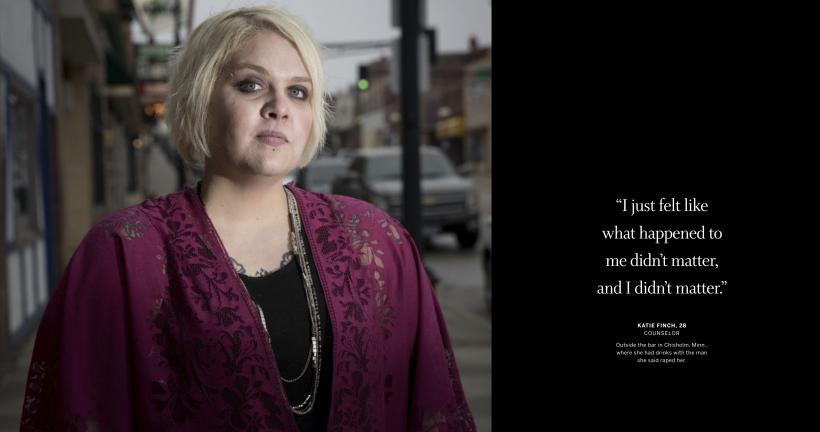 Haweyo Shuriye sat on a stoop, her face bruised and bloody, as she told officers about her attack in October 2015. A man she knew had punched and strangled her until she passed out in a friend's basement in north Minneapolis. She awoke to find herself naked and the man unzipping his pants.
Her file shows that a detective tried unsuccessfully to call her, then sent a letter saying she should call him within two weeks or he would close the case. Shuriye said she never got a call or a letter; she said she didn't know her case was closed until she spoke with a reporter.
As far as police were concerned, Shuriye had stopped cooperating with the investigation. That happened in about one-third of the cases reviewed by the Star Tribune; in most of them, the police closed the investigation for lack of cooperation.
Some victims drop out because they fear their attacker. Others say they would rather heal and move on.
But high dropout rates can also signal mistakes by the police, said Anne Munch, a former Colorado prosecutor and consultant to the U.S. Department of Justice. Victims, she said, "can feel that their cases are not being thoroughly investigated ... Or they are made to feel like they are the suspect instead of the victim."
In January 2016, Sarah Ortega called police in Winona and said her ex-boyfriend had raped her the night before. She said he pushed into her home, yanked her hair so hard that she saw stars, struck her on the head and said, "I know you like it rough."
Ortega said the officer who took her statement asked whether she did like rough sex. Ortega, and a friend who sat with her, both said they felt the officer was casting doubt on her account.
"I felt like I was the one being investigated," said Ortega, who works at a St. Paul nonprofit and plans to enter graduate school in the fall.
Two officers interviewed the suspect, a student, and wrote that he told them he was carrying a heavy course load and getting good grades. "We encouraged him to focus on that part of his life," they wrote. "He agreed." They warned him to stay away from Ortega and forwarded the case to the county prosecutor. The suspect was never charged.
Winona police did not respond to requests for comment.
In November 2016, a St. Paul woman wearing a walking boot and using a cane stopped for a drink after a Minnesota Wild hockey game. As she made her way home, according to her case file, a man dragged her into an alley and raped her as she screamed for help.
The case file shows that a St. Paul investigator interviewed the woman by phone the next day and asked why she hadn't used her cane to fight the man off. When she said she never thought about it, the officer asked whether she had been drunk.
Asked whether those questions were appropriate, police spokesman Sgt. Mike Ernster said the level of intoxication can help police determine how vulnerable a victim was. "Also," he said, "investigators want victims to feel empowered and know that hitting the suspect with an object in self-defense would have been appropriate."
Three months later, the detective left the woman a message saying the lab had found semen in her rape kit and they wanted to test her boyfriend. She never called back. The detective wrote that she couldn't proceed without the victim's cooperation.
St. Paul Police Chief Todd Axtell acknowledged recently that his department could improve its handling of sex crimes. In April, following a critical review by Ramsey County Attorney John Choi, Axtell said he would hire two new investigators and send detectives to specialized training. The department is also improving its ability to connect victims with advocates and making new efforts to contact victims who dropped out.
Asked about specific cases reviewed by the Star Tribune, the sex crime unit's commanding officer, Jim Falkowski, denied that they were mishandled. Falkowski said victims are the department's top priority, but that sexual assault cases are notoriously difficult to prove.
"We try to serve the victim as best as we possibly can, and sometimes probable cause just does not exist," he said.

Police assign an investigator to every murder, but that's not true with rape.
The Star Tribune identified more than 200 cases statewide in 2015 and 2016 where police never assigned an investigator.
Some departments said they lack the resources to pursue cases with weak evidence and little chance of a conviction. But case after case obtained by the Star Tribune show police choosing not to pursue leads even in cases with named suspects or extreme violence.
Amy Johnson, a mortgage auditor, called the Minneapolis police in the fall of 2015 to report that her daughter had been raped a few weeks earlier. The young woman is a vulnerable adult who suffers from severe anxiety and other mental health conditions. She had gone to the house of a man she was dating, and then to his basement. At first, she said, the sex was consensual, but then it turned violent and he raped her anally. Johnson said an officer at the Second Precinct took down the report and told her an investigator would respond soon.
A week passed. No one called.
Finally, Johnson called the sex crimes unit, where she was directed to Lt. Melissa Chiodo. Johnson said Chiodo told her there wouldn't be an investigation because the unit didn't have the manpower.
"Won't you even talk to him?" Johnson recalled asking.
In the police report, Chiodo wrote that she told Johnson: "We can't talk to people and scare them. Our job is to conduct an investigation and present the facts to secure charges if possible."
"It was like she meant nothing to them," Johnson said.
A Star Tribune examination of public records and victim interviews shows that, just two months earlier, another woman had accused the same man of raping her. She, too, said it happened in his basement.
The week after Johnson spoke with Chiodo, the suspect's ex-wife obtained a restraining order against him. She also accused him of a violent rape.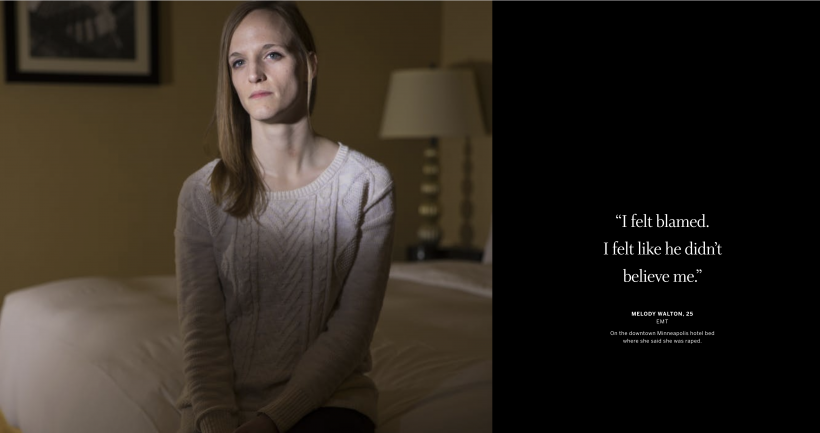 On a Sunday afternoon in August 2016, Melody Walton drove from Albertville, Minn., to the Twin Cities to visit her boyfriend. He had to attend a running clinic that evening, so she went out for a drink at a popular cocktail lounge in northeast Minneapolis.
Walton, who was 23 and training to be an EMT, was sipping a drink and reading "Being Mortal," Atul Gawande's book about end-of-life care, when a man sat down beside her. He said he was in town from Florida with a crew that set up concerts. They talked, and he ordered her a few drinks.
When closing time came, Walton told police, she realized she was too drunk to drive. The man offered to drive her car and take her downtown, where she hoped she could sober up at his hotel and wait for her boyfriend.
Once in the car, according to the police report, Walton had misgivings and texted her boyfriend for help. She said she had no intention of having sex with the man. A devout Christian, she planned to remain a virgin until she married her boyfriend.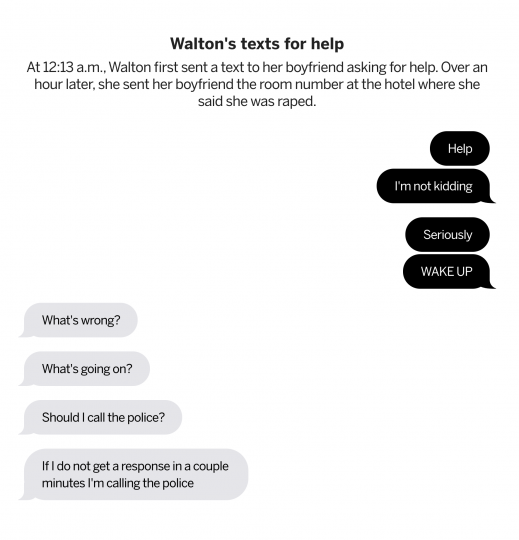 Walton said she began blacking out in the car and can't remember going up to the man's room. She has a clear memory that one of his co-workers walked in after they arrived, and that the suspect yelled at him to get out. At that point, she told police, she begged him to let her leave. Instead, she said, he raped her for more than an hour.
When the man finished, he threw Walton's clothes at her. She rushed from the room, dialing 911 and taking note of his room number. She ran down 11 flights of stairs and hid in an alley until her boyfriend arrived. They called police and went to the hospital.
When a police officer arrived, Walton said, one of his first questions was: Why were you at the bar drinking alone?
"I felt blamed," she said. "I felt like he didn't believe me."
The police report shows that the officer went back to the hotel, confirmed the suspect's room number and got his full name. But the report gives no indication that the officer went to the man's room or tried to interview him. No one from the police got the name of the suspect's co-worker or talked to him.
Walton said she began blacking out in the car and can't remember going up to the man's room. She has a clear memory that one of his co-workers walked in after they arrived, and that the suspect yelled at him to get out. At that point, she told police, she begged him to let her leave. Instead, she said, he raped her for more than an hour.
When the man finished, he threw Walton's clothes at her. She rushed from the room, dialing 911 and taking note of his room number. She ran down 11 flights of stairs and hid in an alley until her boyfriend arrived. They called police and went to the hospital.
When a police officer arrived, Walton said, one of his first questions was: Why were you at the bar drinking alone?
"I felt blamed," she said. "I felt like he didn't believe me."
The police report shows that the officer went back to the hotel, confirmed the suspect's room number and got his full name. But the report gives no indication that the officer went to the man's room or tried to interview him. No one from the police got the name of the suspect's co-worker or talked to him.
Staff writer Faiza Mahamud contributed to this report.
---
Part 2: How Repeat Rapists Slip by Police
Minnesota police have failed to investigate dozens of rape suspects even though they had been accused of, charged with or convicted of previous sexual assaults.
Bruised and terrified, Amber Mansfield sat in a hospital room and described her assault to two Minneapolis police officers.
The man she was seeing had flown into a rage, choked her, beaten her and threatened to kill her. Then he raped her.
Mansfield gave the police his address and his name: Keith Eugene Washington.
A simple background check would have shown that Washington was a convicted rapist with a long criminal record. And it would have shown that the state had designated him a dangerous sex offender.
Police checked none of that, according to the case file. Mansfield's case went nowhere.
Five months later, Washington was charged with attacking two other women in Minneapolis, just hours apart. Both had been choked until they blacked out and were left lying on the ground, partly undressed.
Only then did Minneapolis police check his background and realize they needed to hear Mansfield's account.
Today, three years later, the officer who oversaw the sex crimes unit acknowledges that Mansfield's case was mishandled.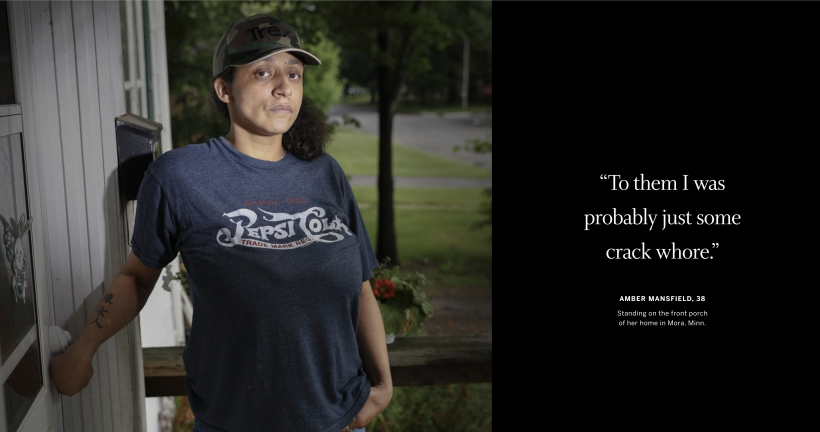 In late 2015, a young woman walked into a Duluth police station with her mother and said that, three months earlier, a friend's boyfriend had raped her on a couch after a party. Court documents show the suspect had pleaded guilty four years earlier in Wisconsin to fourth-degree sexual contact without consent. The Duluth officer noted that and forwarded the case to the department's sex crimes, abuse and neglect unit.
Duluth police said they closed the case for lack of evidence and because the victim declined to proceed. The case file, however, doesn't say she wanted to drop out or indicate that an investigator ever tried to question the suspect.
In October 2016, a Brooklyn Center woman told police she had been raped at a Motel 6 by a man she met on a dating site. Contacted by police, the man said he was innocent. Court records show that he had been convicted of criminal sexual assault in 2001 and charged in 2004, though those charges were later dismissed. There is no sign in the file that police examined that record. They sent the case to county prosecutors, who declined to charge him.
In 2016, a young woman going home from Uptown reported being raped, and possibly drugged and trafficked, after getting into what she thought was a ride-sharing car. A Minneapolis police detective wrote that she couldn't reach the victim for an interview and closed the case. Later, DNA results identified the suspect as a felon from Illinois — a man whose DNA had also turned up in a Brooklyn Park rape. The detective spoke with her counterpart in Brooklyn Park, and they agreed to contact one another if there were new developments. But she didn't reopen the case, contact the suspect or try to notify the victim of the DNA results, the file shows.
Minneapolis police reopened her case after inquiries by Star Tribune, but said they couldn't discuss it.
The FBI makes it easy for an officer to conduct quick criminal background checks through the National Crime Information Center database. So does the Minnesota Bureau of Criminal Apprehension, whose criminal history database includes predatory offender status.
But out of more than 1,000 sexual assault cases reviewed by the Star Tribune, police documented conducting a background check just 10 percent of the time.
Justin Boardman, a former police sex crimes investigator in Utah and a nationally known consultant, examined Mansfield's file at the Star Tribune's request. Failing to check a suspect's background is like doing "half an investigation,'' he said.
 
Sitting in her living room in Mora, Minn., her face framed by long brown curls jammed under a baseball cap, Mansfield seems at once street-smart yet vulnerable. Now a 38-year-old single mom, she said she knew Washington growing up in north Minneapolis. She hung out with his brothers, she said, recalling with a smile how they went to all-night skating parties at the Rhythmland Roller Rink in northeast Minneapolis.
Eventually they lost touch.
Washington's adult criminal record begins at 18, with charges that included assault, robbery and drug possession. In 2000, he was convicted of first-degree rape after he repeatedly choked a woman in her home, assaulting her while her children watched.
Mansfield had her own scrapes with the law. By 30, she had convictions for drug possession, receiving stolen property and one for prostitution. Most reflected her own bad choices, she said: "Wrong place, wrong time, wrong people."
When she became pregnant, life changed. Mansfield said she wanted to be a good mother: She got sober and made a new start in Windom, Minn., where her father owned a small house. A few years later she began seeing a therapist for the anxiety and depression that she had battled for years.
One day in 2011 her phone rang. It was Washington, calling from prison. Mansfield said she took his call and found him to be engaging and intelligent. They began exchanging photos and letters, and talked frequently.
Washington got out of prison in May 2015. Authorities designated him a Level 3 sex offender, considered the most dangerous and likely to reoffend, but did not impose supervision because Washington had completed his sentence.
Mansfield's relationship with Washington soon turned romantic. She said she never knew the truth about his rape conviction.
Her ordeal began on a July evening in 2015. In her account to police, Mansfield said she and Washington were standing outside his sister's apartment in north Minneapolis when her cellphone rang. Washington demanded to know who called. When she wouldn't tell him, he smashed her phone, took her car keys, pulled her inside and began beating her. He knocked her to the floor, she said, and placed his hands around her neck.
"This is where you die," she recalled him saying.
When she came to, she said Washington was crying. She begged him to take her to a hospital. He did, but warned her to tell the nurse that she was drunk and had hurt herself falling down. Spooked by the security guards, he made her leave without treatment and took her to his mother's house.
Limping and barely able to swallow, she went into a bedroom and lay down.
It was there, she said, that the rape took place. She lay frozen, too injured to fight and too frightened to scream.
"Nobody's coming to save me," she remembered thinking.
 
In early 2015, researchers at Case Western Reserve University in Ohio began a large study of untested rape kits to see what they might show about the behavior of rapists. Examining a subset of 433 rape kits from closed cases in the Cleveland area, they documented a startling pattern: More than half the assaults were linked to repeat rapists.
Today, it's widely accepted in law enforcement that most sexual assaults are committed by repeat offenders.
Rachel Lovell, one of the lead researchers, said she was "astonished" by the extent of the damage caused by these predators. She said the findings hold lessons for the way police investigate rape. "Law enforcement should likely start from the assumption that this person has committed another one," Lovell said.
That is how police approach most child sex crimes, said David Lisak, a retired University of Massachusetts psychologist widely known for his work training law enforcement officers. Rape investigators should do the same, he said, moving beyond the incident at hand to the suspects and their histories.
When the Case Western researchers looked closer, they noticed something else: Repeat rapists were much less methodical and more opportunistic than expected.
Lisak and other researchers said the only pattern is that repeat rapists prey on vulnerability in all its forms: Women who are intoxicated, mentally ill, lacking self-esteem or separated from their friends.
"If you're a cheetah on the savanna, you're picking off the weak to survive," said Boardman, the consultant. "It's the same with these guys."
A few days after the incident with Washington, a traumatized Mansfield drove to her sister's house, then picked up her daughter from her grandmother. Her sisters and her mental health caseworker persuaded her to file a police report and go to the hospital.
They were at North Memorial Medical Center when two Minneapolis police officers arrived. Mansfield and her sister said one of the officers treated her disrespectfully, asking what they felt were accusatory questions that made her feel like a criminal, not a victim.
"I wasn't very happy about a lot of things I did in my life, but I also was never ashamed of myself," she said. "It made me a great person in the end. But they kind of stripped me of that that day."
In their report, the officers noted that Mansfield's sister told them Washington had been in prison for criminal sexual conduct, but there is no mention that they checked his history. Reached recently, the officer who wrote the report said he couldn't recall running the background check, even though that would have been normal procedure. They gave Mansfield a blue card with resources for victims and said someone would be in touch.
Days went by and the police didn't call. But Washington did, she said. Police had gone to his mother's house looking for him, and he was furious. Over the next several days, Mansfield said, he called and texted constantly with threats against her life and her younger sister. She called police repeatedly for an update on the case, and filed for a harassment restraining order, writing in her petition that she feared he was "going to come to Windom and get me."
Mansfield said she was so frightened she stashed knives under her bed. When she finally reached the supervisor of the sex crimes unit, two weeks after the assault, her frustration boiled over. She said she was in such danger that they should drop the case if they weren't going to arrest Washington.
Mansfield's police file shows two brief entries in that period. The first one, undated, says only "cannot prove sexual assault." The second is dated August 10. In it, the sex crimes supervisor, Lt. Mike Sauro, wrote that Mansfield contacted him and "stated she did not want to go on with this investigation."
In an interview, Sauro said he doesn't remember that conversation, but explained the overall logic: "We've got 700 cases. If you don't want anything done, I'm not going to beg you."
In fact, there wasn't much of an investigation. Records show the department never assigned her case to a detective. No one visited the scene of the incident to find witnesses or collect evidence. No one questioned Washington.
"To them I was probably just some crack whore," Mansfield said. "They did nothing."
Mansfield and her daughter moved to Mora, a small town north of Minneapolis, to be closer to her foster mom. One night five months after her rape, her sister called. Turn on the news, she said. There, on the screen, was Washington's face. He had been arrested for assaulting two young women on the same night in the Uptown neighborhood of Minneapolis.
According to the police report, one of the women said she had gone out after midnight to get a few groceries, including cayenne pepper and strawberry sherbet. Walking home, she noticed a man in a leather jacket trailing her and saying he was new to the area. She tried calling her boyfriend, but he didn't answer. Suddenly the stranger grabbed her by the throat and dragged her into an alley. According to the police file, he kept saying, "You're not going to make it, you're not going to make it."
When she regained consciousness, she was lying in the mud, her pants and underwear pulled down her legs. Disoriented, she grabbed her shoes and ran. She flagged down a passerby, who called 911.
Officers were still on the scene when a second call came in. Just blocks away, a 28-year-old St. Paul woman had been found unconscious. She'd been waiting for a ride outside her sister's apartment when a man in a dark leather jacket approached and began asking for directions.
Then he began strangling her, the police report said.
A couple walking nearby saw the assault and called 911. When officers arrived, they found her lying unconscious on the ground, her shirt up and pants unzipped. Lying nearby, they noted, was a new container of cayenne pepper.
A few moments later, police spotted Washington crossing an intersection. He fit the description and was carrying a plastic grocery sack. Examining the bag, the officers found some slightly thawed strawberry sherbet. He also had one woman's ID and cellphones belonging to both victims.
Mansfield watched the television in disbelief.
"I felt just broken" for the two women, she said. "Right away I just knew, this happened because that officer didn't take my case seriously."
It wasn't long before Washington called Mansfield from jail. Frightened again, she called the Minneapolis police and unloaded: It's your fault that two more women were attacked, she said. To her surprise, she soon received a phone call from Minneapolis detective Stot Dunphy. He had been assigned to the Uptown assaults and had checked the paperwork on Washington.
He asked whether she was OK, Mansfield said, and apologized for the way police had handled her case.
One week after the Uptown attacks, Mansfield drove to Minneapolis for a police interview. "At that point I wasn't as much worried about my own [case], as I felt an obligation to make sure that these two other ladies got the justice that they needed to get," she said.
In February 2016, a grand jury indicted Washington on 13 felony counts of first-degree attempted rape, attempted second-degree criminal sexual conduct, aggravated robbery, first-degree assault, and kidnapping — all stemming from the two Uptown attacks.
In Mansfield's case, prosecutors charged Washington with first-degree rape.
Sauro, now retired, ran the sex crimes unit at the time of Mansfield's assault. He said he doesn't remember her report or the two Uptown cases, which occurred after he transferred out of the unit.
After the Star Tribune e-mailed him copies of the cases, he expressed regret.
"I'm highly confident that for whatever reason — whether it was my error or whatever — I did not know that he was a Level 3 sex offender, or I would have assigned the case [to an investigator], even if it was shaky," he said.
Sauro could not explain why he didn't know about Washington's past. The state Department of Corrections confirmed that it notified the Minneapolis police about Washington on May 5, 2015. A spokesman said Corrections followed up with a phone call. The state's one-page fact sheet on Washington, dated May 4, 2015, identifies him as a Risk Level Three.
Sauro said he doesn't know whether the officers who took Mansfield's report ran a check on Washington. He said he doesn't fault them if they didn't, because the Fourth Precinct is so chaotic: "Those guys are running from call to call."
Sauro also acknowledged that Mansfield's criminal record might have played a role in the decision to not assign her case to a detective.
Boardman, the retired Utah detective, said he can't understand that decision.
"Not assigning the case because they are not upstanding citizens?" Boardman said. "That's discrimination."
 
Washington's charging document


In December 2015, Hennepin County prosecutors charged Washington with attempted rape in connection with an assault in Minneapolis' Uptown neighborhood. While investigating that incident, Minneapolis police took a new interest in the rape report Amber Mansfield had filed a few months earlier.
In April 2016, Mansfield sat in a Hennepin County courtroom and stared down the man who had terrorized her. Washington was on trial for one of the Uptown assaults because one of the victims was not available to testify. Prosecutors wanted Mansfield's testimony to prove that he intended to commit rape.
Washington was convicted of several felonies, including first-degree robbery and two counts of attempted rape, and was sentenced to life in prison. That was reduced on appeal to 15 years, and he'll likely serve about 10.
After Washington's conviction, Mansfield and prosecutors agreed to dismiss the charges in her rape case. She reasoned that he was headed back to prison anyway. Just walking into the courtroom for the other trial, facing Washington and telling a jury the truth was redemptive, she said: "The look on his face … he couldn't believe it."
On a recent afternoon in Mora, the playful shouts of Mansfield's 8-year-old daughter and her friends drifted in from the leafy yard as she talked about her life now. She can't help feeling that if she'd just been a better person, without her troubled past, maybe police would have taken her rape more seriously. Maybe it could have spared the other women their horrific ordeals.
Her life has improved. Her daughter is thriving in school, and can pedal around town on her bicycle without fear of gunshots.
Mansfield said she's proud of all she has overcome, describing herself as "built for life." She said she regained some of the dignity that she felt the police had taken from her.
"I feel like I gained it back by doing what I needed to do for these ladies … to make sure that they knew they were safe and he was gone," she said. "I gained … some pride, a whole lot of pride."
Then tears spilled onto her cheeks.
"I can tell my daughter … that out of horrible things I still got something good out of it."
---
Part 3: How Alcohol Foils Rape Investigations
If victims had been drinking, police are less likely to assign assault cases to detectives, interview witnesses or forward for charges.
Joanna Howe woke up in her bed, naked and uncertain how she got there.
Her friend's wedding in October 2016 had been a rare night out for the 40-year-old single mom studying to be a preschool teacher. She planned to have a good time. She took a Lyft ride to the event and recalled telling the bartender, after a couple of beers and glasses of wine, not to worry, she would use the service to get home, too.
Her last memory from the night was unsettling: Trying to pronounce the name of a man standing over her as she was lying down. She wasn't injured, but knew something was wrong. She never slept nude and her apartment door had been left unlocked.
"It was more of an emotional feeling of wrongness," Howe said.
She suspected her Lyft driver had come into her apartment and raped her. She called the Roseville police.
Over the next year Howe confronted a stark reality faced by many women who report being raped in Minnesota: Their already slight chance of getting justice plummets if they were drinking.
Police are less likely to interview witnesses, assign cases to a detective or forward them to a prosecutor for possible criminal charges, according to a Star Tribune analysis of more than 1,000 sexual assault cases from 2015 and 2016.
When cases involving alcohol do reach prosecutors, suspects are much less likely to be charged with a crime or convicted. When a victim is sober, records show, prosecutors charge about 15 percent of the sex assaults. When a victim is intoxicated, that rate drops to 8 percent.
In cases where the victim was drinking, only 1 in 20 sex assaults resulted in a conviction — about half the overall conviction rate for sex assaults.
"That's just unacceptable," said Rep. Marion O'Neill, a Maple Lake Republican who sits on the Minnesota House Public Safety Committee, after reviewing the Star Tribune's findings. "I feel like what I'm looking at are rapists getting a free pass, and I want to know why."
Minnesota's laws on drinking and consent may be partly to blame for the problem, prosecutors say. Suspects can claim the sex was consensual unless the victim was "physically helpless" and the perpetrator knew it.
But a bigger reason may be attitudes and beliefs, among law enforcement investigators and society, that make it easier to doubt the credibility of victims.
"I have not ever met a cop who said, 'I don't care about sexual assault or sexual violence,'" said Inver Grove Heights Police Chief Paul Schnell. "The problem becomes all the filters that get applied to that."
If investigators, prosecutors and juries are looking for an ideal set of facts, Schnell added, "it's going to be very difficult for us to move a case forward because rarely do you have the ideal fact set."
In Brooklyn Park, a woman reported being raped by an ex-boyfriend after a night of partying two weeks earlier. She showed police a text message from the man that said: "I f---d you the other night when you were passed out, a couple of times. I enjoy using you."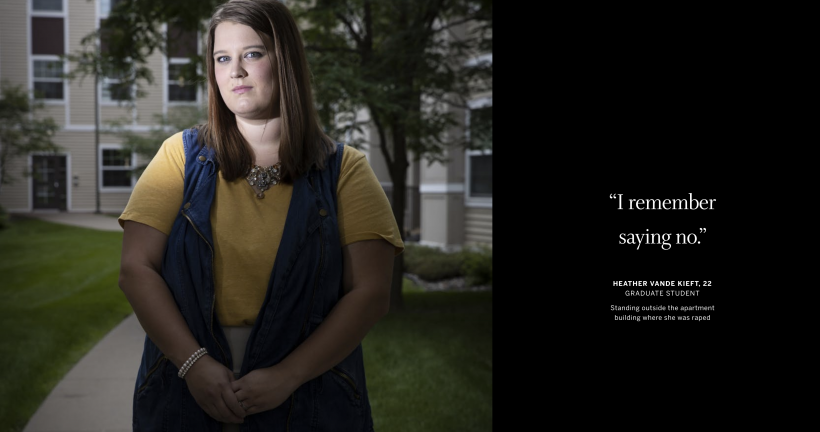 Heather Vande Kieft was an 18-year-old college freshman having drinks with friends at her St. Paul apartment in 2014. She was drunk and went to bed. Her next memory is of three men she met earlier in the night entering her room. She said that as she drifted in and out of consciousness, one stole her money, another held her down and the third raped her.
"I remember they were all laughing," she said. "I remember saying no."
When police arrived, "You could tell they were annoyed to be there," Vande Kieft said. A few days later, a detective called and met her at her building. Toward the end of the interview, she recalled the investigator telling her, "I bet you regret not being more careful."
Using a photograph and surveillance video from the apartment building, police identified a suspect. His DNA matched the results from Vande Kieft's rape exam. According to Vande Kieft's case file, he was a suspect in an another sexual assault. His criminal record showed three convictions for domestic violence, including a 2013 case where he choked and beat a woman on the back of her head.
According to the case file, the suspect initially lied and said he had no involvement with Vande Kieft. When the investigator told him about the DNA, he said the sex was consensual.
Vande Kieft was told charges wouldn't be filed. She was never told the suspect's name.
"I couldn't believe that criminals were believed over somebody that didn't even have a speeding ticket," she said.
St. Paul police said the investigator worked the case "incredibly hard," and reviewed it again after the Ramsey County Attorney declined to prosecute.
"If the victim had expressed concerns with the way she was treated, the department would have responded and done everything possible to address her needs," spokesman Mike Ernster said.
 
About one third of the sexual assault cases examined by the Star Tribune involve victims who were drinking or using drugs. Often, the victim lacks a clear recollection of what occurred, but is adamant that she would not have consented to sex.
"How could I consent if I don't remember anything?" said Howe.
Her best friend, Micah Desormeaux, was with her when a Roseville patrol officer arrived at Howe's apartment.
From the start, Howe and Desormeaux said, they felt the officer did not believe Howe's account. "He kept saying 'I just need to be the devil's advocate,' " Desormeaux recalled.
Howe said the officer asked whether she could have met someone at the reception who then came over. He suggested that perhaps the Lyft driver helped her walk up to her apartment, she said, and asked whether she might have just taken off her clothes while asleep.
"I don't feel like the officer thought that there was anything to investigate," Howe said.
The police report in Howe's case, obtained by the Star Tribune, does not contain a transcript of the interview with Howe. The officer wrote that Howe "admitted" to drinking that night.
The officer collected Howe's bedding and clothes, then she and Desormeaux drove to the hospital for a rape exam.
Back home, Howe got an e-mail from Lyft, saying her phone had been recovered from her driver's car. She also found a receipt from her ride home that included a photo of her driver. It was the same man she remembered standing over her.
She called the officer who took her rape report. He met the Lyft driver at a mall parking lot and retrieved the phone, but asked nothing about the alleged rape, according to the case file.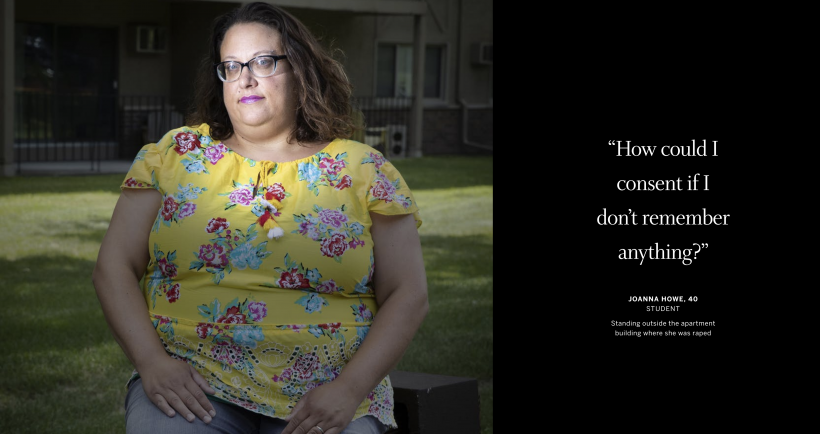 Prosecutors say sexual assault cases where the victim is drunk or high are the most difficult ones to prove.
One obstacle is that juries often blame victims, said Julie Germann, a former Olmsted County prosecutor.
"Juries have an expectation of what a 'real rape' looks like. It still looks like the bad guy jumping out of the bushes," even though most rapes involve acquaintances, Germann said. "When you stray away from that, it's a hurdle."
Minnesota's laws also make it easy for a suspect to claim that the victim agreed to have sex, even if she was blacking out, stumbling drunk or had no memory of consenting.
Ramsey County Attorney John Choi said it would be easier to win prosecutions if Minnesota law specifically said it's illegal to have sex with a person who was too intoxicated to consent.
Current law, Choi said, requires that "you have situations where somebody is literally, physically unable to communicate that nonconsent. Do you know how narrow that is?"
At least seven states, including Wisconsin, outlaw having intercourse with a person who is too intoxicated to consent. California makes it a crime when a victim cannot consent due to "any intoxicating or anesthetic substance." Wisconsin prohibits sexual contact "with a person who is under the influence of an intoxicant to a degree which renders that person incapable of giving consent."
The high bar posed by Minnesota law means police and prosecutors must work intoxication cases even harder to gather evidence that would corroborate a victim's account. Yet the belief that juries won't convict when the victim was drunk can deter law enforcement officers from vigorously investigating those cases, Germann said, making it less likely that the rapists will be held accountable.
"When law enforcement sees alcohol, that's often where a case ends," said Jude Foster, a program coordinator with the Minnesota Coalition Against Sexual Assault.
That is borne out in hundreds of cases reviewed by the Star Tribune.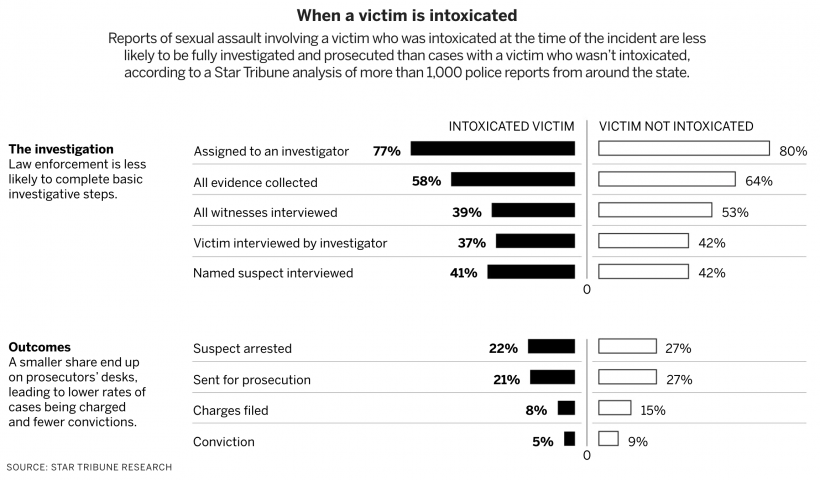 In Waseca County, a 19-year-old woman said she called the sheriff to report that she was sexually assaulted by a friend she was staying with. The deputy asked whether she had been drinking. She said yes. He gave her a ticket for underage consumption, records show.
"I felt defeated," the woman said.
A 19-year-old woman out drinking with friends told St. Paul police in 2015 that she vomited and drifted in and out of consciousness as she was raped by two men in the group and awoke bleeding the next day. The investigator closed the case without contacting the suspects, according to the police report, saying the men "would have reasonably believed she was acting in a consensual manner."
A Mankato woman woke up in her bathroom, vomiting. Her last memory from the previous night at a downtown bar was accepting a drink from a stranger who said something about dropping a pill in her glass. A roommate later saw her on the couch at home, with a half-dressed man on top of her. He moved to the floor after she confronted him. When the two women found a used condom in their apartment trash, they called police.
The women provided similar descriptions of the man. So did another friend who had driven the woman and the man home from the bar.
When police met with the suspect, he denied being at the bar or with the woman. He said his roommate could vouch for him, and said he "would think about" providing a DNA sample, according to an officer's report. Records from the 2016 case show that police never collected the suspect's DNA, interviewed witnesses at the bar or tested the victim's rape kit.
Weeks later, police closed the case. Public Safety Director Todd Miller said it was because the woman did not want to go forward. "Sometimes we see cases where a victim is drinking and makes a bad decision and wants to cover it up. … and [they] say, 'Let's report this and say it wasn't my fault,' " Miller said.
Police records give no indication that the victim stopped cooperating, or that investigators believed the report was false. The Star Tribune was unable to locate the woman because data privacy laws require police to redact the names of victims in sex assault cases.
---
Part 4: Police Overwhelmed and Undertrained

High turnover, thin staffing and poor training plague police departments' investigations of rapes and other sexual assaults
Bryan Schafer saw the struggle over and over in the Minneapolis Police Department: Too few investigators for too many rape cases, too many victims never getting justice.
Then he discovered it was not only a big-city problem.
When he became police chief in Hastings five years ago, Schafer learned that most of his officers had little or no training in investigating sexual assaults. Some said they were uncomfortable handling sex crimes and, given a choice, preferred a crime like burglary. An outside review of 86 Hastings sexual assault investigations showed the consequences: Less than one-quarter had resulted in criminal charges.
Schafer was shocked.
"How can we expect our officers to … do justice for the victim if they're not trained to do so?" he said. "This is not like having your TV stolen."
Scant or nonexistent training for police officers who investigate sexual assaults is a chronic problem across Minnesota. Most of the state's largest law enforcement agencies don't require it. Neither does the state board that oversees the licensing and training of police officers.
Constant turnover and thin ranks compound the problem.
In Minneapolis, the police sex crimes unit has had six different supervisors in the past decade, records show. Its six investigators handle twice as many cases as the 12 detectives in homicide.
St. Paul's family and sexual violence unit has had five commanders in the past five years. And not one of the nine investigators who worked in the unit in 2013 are still there now, records show.
Rape victims and their advocates say they are not surprised. Law enforcement agencies that are overworked and undertrained help explain why so few rapists in Minnesota are caught or punished. Stubborn and corrosive myths about rape, they say, shadow many investigations.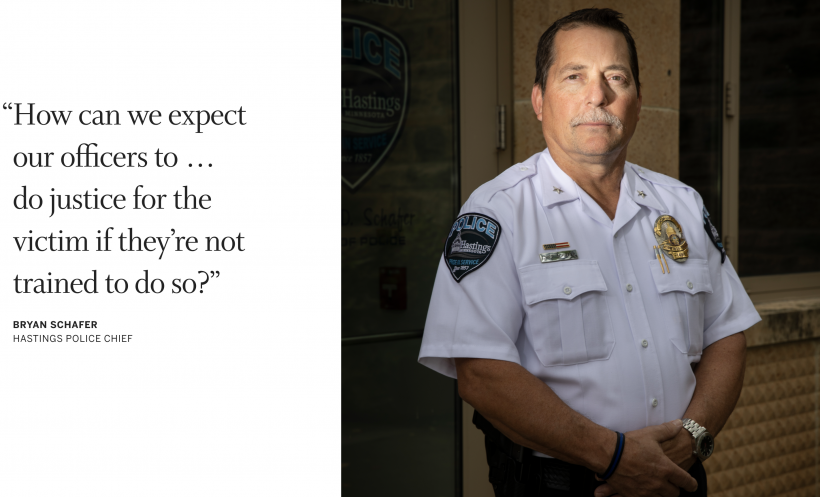 Lack of training appears to be a critical factor in hundreds of sexual assault investigations reviewed by the Star Tribune.
In 2016, a young woman told St. Paul police she had been raped by a colleague who drove her home after an evening of drinks with co-workers. She waited nine months to report the incident, the case file shows, but she brought police crucial pieces of evidence: a sexual assault exam performed at a local hospital, plus text messages and e-mail from the accused man admitting he knew how drunk she was that night.
Her case landed on the desk of sex crimes investigator Sgt. David McCabe.
In his 10 years with the St. Paul Police Department, McCabe has taken more than 1,000 hours of law enforcement training, according to personnel records obtained by the Star Tribune. The courses included emergency driving, use of firearms, crowd control and managing homicide scenes.
Investigating a sexual assault? Not one hour.
The case file shows that McCabe never interviewed the woman's co-workers about the night's events or sought a search warrant for the man's cellphone and computer. He never questioned the suspect in person, relying instead on a phone interview.
Ramsey County prosecutors, citing insufficient evidence, rejected the case.
The St. Paul Police Department said McCabe was not available for an interview, but spokesman Steve Linders defended the investigation. He said interviewing co-workers wouldn't have helped because both parties acknowledged they were all intoxicated, and that the investigator didn't appear to have probable cause for a search warrant. He said the nine-month reporting delay complicated the case and noted that the county prosecutor had no suggestion for further investigation. "It indicates that the investigator took the steps necessary to determine actually what occurred," he said.
Whether additional training would have helped is unclear, Linders said, but the department has identified gaps in training and is working hard to address them. In addition, Linders said the department last week assigned a new commander to work exclusively with the sex crimes unit, but he didn't dispute the high turnover of the past five years.
"We make assignment decisions based on experience, maximizing limited resources and making sure we are able to best meet the needs of both our community and our department," he said.
A Star Tribune review of more than 1,200 Minnesota sexual assault files found hundreds of other cases in which detectives failed to do basic police work, such as collecting evidence or questioning suspects in person.
Police officials say training can be costly. Small departments in particular have a hard time fitting classes into packed work schedules and finding officers to cover for missing colleagues, especially when the state already requires training in other subjects, such as firearms use.
But research by law enforcement groups confirms the value of training. When officers have specialized training in sex crimes, victims are less likely to drop out of investigations and prosecutors are more likely to file charges, according to the Police Executive Research Forum, the profession's leading policy arm.
Some states, such as New Jersey and Illinois, have adopted broad sexual assault training requirements for all police officers. Massachusetts has long required detectives to take a week long course to be certified as sexual assault investigators.
Minnesota requires police officers to hold at least a two-year college degree, but there are no classes devoted to sexual assault at some of the most popular programs, including Hennepin Technical College, Rasmussen College or Alexandria Technical & Community College. A Hennepin Technical College spokeswoman said instructors discuss sexual assault in various courses, such as "Police Report Writing & Interview," and "Police Response and Human Behavior."
In Hastings, Schafer sent all of his roughly two dozen officers to specialized training in sex crimes. Every new hire must complete at least three to four hours of outside training in the topic.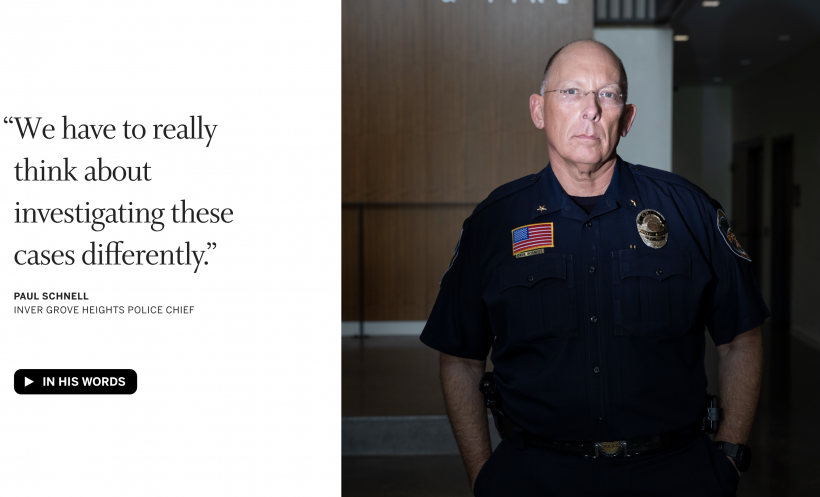 Smaller departments, too, struggle with staffing and training. Last spring, Ramsey County Attorney John Choi surveyed sex crimes detectives from six local jurisdictions while reviewing Ramsey County's handling of sex crimes. Twelve of the 15 detectives said their units were not adequately staffed to do their best work.
Of the 15 detectives, seven had only one course on sexual assault before they began handling investigations. Five had none.
Training records obtained by the Star Tribune from 20 law enforcement agencies indicate that many detectives will take, over the course of their careers, some continuing-education coursework in sexual assault investigations. But records show that the courses can be as brief as a one-hour webinar, and their instructors do not have to be accredited or credentialed by the state.
Minnesota's police licensing board has approved nearly 50 continuing education classes on sexual assault investigation. But since it began tracking participation two years ago, it has recorded only 29 of the state's 10,500-plus active peace officers taking one.
Lt. Mike Martin had no experience handling sex crimes when he was assigned to run the sex crimes unit of the Minneapolis Police Department in 2013. He specialized in criminal gangs.
Any doubt Martin may have had about the value of high-quality training vanished after he took his detectives for instruction in a new investigative approach called the Forensic Experiential Trauma Interview (FETI).
In FETI training, officers learn that a trauma such as rape can scramble the victim's recollection of an event and leave key details obscured. Detectives are taught to use open-ended questions or ask about sensory impressions to help unlock clues from a traumatic incident.
One of Martin's detectives soon put the training to work.
A woman had reported being raped at gunpoint by a stranger as she left a south Minneapolis bar. There was no DNA match from her sexual assault exam, and she had trouble recalling details because she had been drinking.
The detective asked the woman to recall any unusual sensory impressions during the assault, such as sounds or smells.
" 'I just keep remembering the smell of newly mown grass,' " she told him.
Examining the Uptown alley where the rape happened, detectives found a yard where the grass had indeed been freshly cut. Searching the grass, they found a cellphone that ultimately led them to the suspect and helped win a conviction, Martin said.

Veteran law enforcement officials and victim advocates warn that training alone won't produce better investigations. They say police executives must hold investigators accountable, commission outside audits of their work and change police culture.
Inver Grove Heights Police Chief Paul Schnell, who teaches courses on sexual assault, said that he's struck by the number of officers in his classes who believe most rape reports are false.
"If I go and ask a group of cops what percentage of sexual assault reports are false, they're going to tell me 60-90 percent," Schnell said.
Most credible studies put the figure at 5 percent or less.
Laura Goodman, a retired deputy police chief of Brooklyn Center and a former ombudsman for the Minnesota Office of Crime Victims, called the root problem gender bias.
"When you have a culture that there are good victims and bad victims, it's pretty easy to move to the next level, of not investigating cases," she said.
As Martin sees it, the problem in Minneapolis was that sexual assaults didn't command the same attention as other violent crimes. "Nobody calls in saying: 'Hey, there's a bunch of rapes occurring on my block, can you fix it?' " Martin said. "These are all the cases nobody talks about."
Martin also said that running the sex crimes unit was considered a dead-end assignment for command staff in Minneapolis — a posting he got after falling out of favor with the department's leadership. The unit's location on a lower floor of City Hall signals its status, he said.
"Homicide gets the windows. Robbery gets the windows. Sex crimes — you get a cubicle and a closet, basically," he said. "It was like the penalty box."
Training wasn't the only problem. Untested rape kits had piled up in the department's property room to the point that the refrigerators were full. The unit also had no operations manual, a document that would list best practices and protocols for investigations.
And although many of his investigators were very talented, he said, they were drowning in cases. Martin said he reviewed new reports every morning, assigning a detective to every case where it was clear that a crime had been committed. But the huge number of reports and the unit's size required him to choose carefully, he said, and if he chose wrong, no one above him reviewed the decision.
Martin said he did his best, but after a year in the unit he retired and took a job at the University of Minnesota.
His successor, Lt. Mike Sauro, said he didn't see the job as a dead end. Sauro, a 40-year veteran who during his career was fired and rehired twice for using excessive force, said sex offenses are heinous crimes and that he enjoyed "locking up bad guys."
Sauro, who has defended his unit's handling of sexual assault investigations, said detectives worked cases hard.
Even so, the sheer volume of cases meant that his job amounted to triage, said Sauro and other department veterans. For his part, Sauro wouldn't assign a case to a detective unless he believed it would succeed at trial.
That wasn't his only reason for rejecting cases. He acknowledged, for example, that one case probably got set aside because the victim had a criminal history. And if victims make "enough bad decisions," such as mixing prescription medications with alcohol, he said, there was little he could do to catch the perpetrator.
"If you assigned every case … the real victims would get no justice," Sauro said.
Veteran sex crimes investigators say that such sorting, known as "redlining," can endanger other women. Police files reviewed by the Star Tribune show dozens of rape cases in which police failed to investigate suspects even though they had been accused of, charged with or convicted of sexual assault in previous incidents — sometimes more than once.
"Police should not be trying the case on the street corner or at our desk and trying to figure out what a jury will think," said Mike Davis, a retired detective from the police department in Vancouver, Wash. "That is for a prosecutor."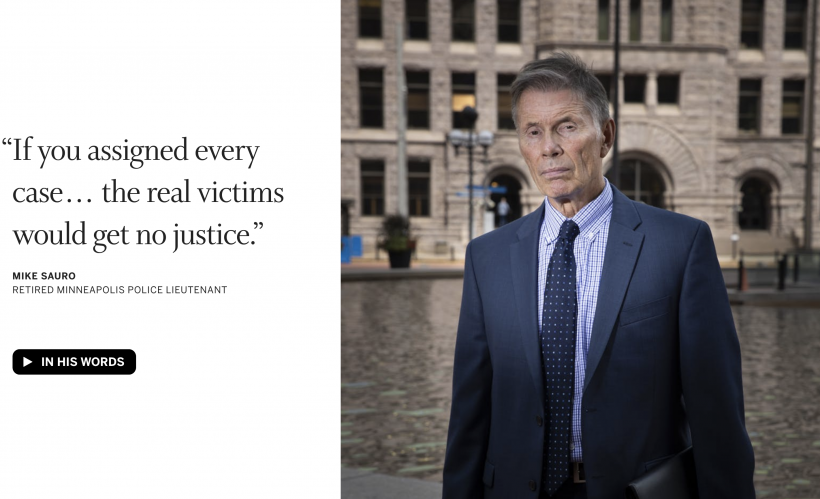 Top officials at the Minneapolis Police Department acknowledge problems in its handling of sexual assault cases. They say they are working to address them.
But Deputy Chief Eric Fors, who oversees the investigations bureau that houses the sex crimes unit, disputed the charge that sexual assaults receive lower priority, or that supervising the unit is a dog house assignment for command staff.
"There could be nothing further from the truth," Fors said in an interview.
"We want them to get justice. We want to see the right outcome, and we recognize that there have been instances where we haven't been our best. But … we're always moving forward, and our goal is to build the best system that serves them in the best way."
Last month, department officials announced that they will hire a full-time advocate to guide victims through the complex course of an investigation.
That position had been under consideration for months but was approved only after the Star Tribune published a story in July documenting pervasive breakdowns in sexual assault investigations in Minnesota.
Fors said he also wants to increase the unit's detective ranks, from six to at least 10, and get FETI training for the detectives who haven't had it.
After the Star Tribune reported that some three-fourths of sexual assault cases were never forwarded to a prosecutor, Hennepin County Attorney Mike Freeman announced changes too; he plans to station one of his attorneys inside the Minneapolis sex crimes unit to collaborate with detectives and help develop evidence. His office is awaiting county board approval to fill that position.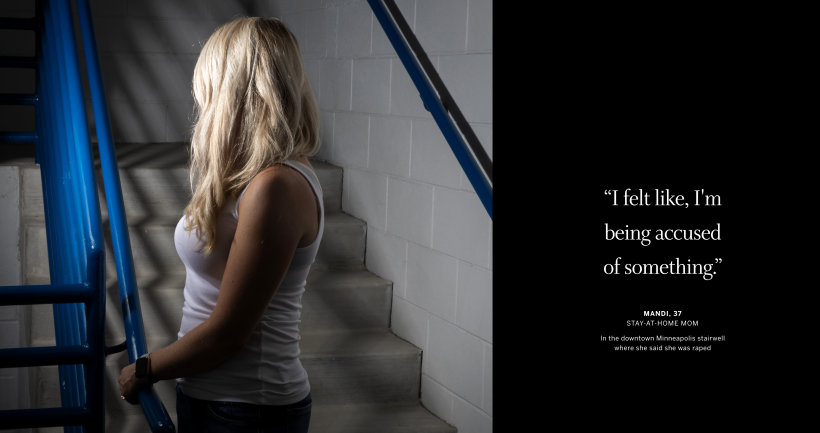 The promised reforms will come too late for some victims.
Last June, a 37-year-old woman from Minnesota's Iron Range reported being raped in a downtown Minneapolis parking ramp after a Twins game. Mandi, a married mother of two, asked that her surname not be used, but allowed the Star Tribune to review her police file.
She and a girlfriend had driven to the Twin Cities for the game and booked a hotel room for the night. They had a few drinks at the ballpark, and a few more afterward at a nearby bar, Cowboy Jack's, where they chatted with a group of young men.
That's where her memory fades, Mandi said in an interview. She said she woke up in a concrete stairwell, pinned to the steps, with one of the men raping her. In intense pain, she tried to push him off, she said. Passersby helped her back to her hotel, where she and her friend called police and went to the hospital for a sexual assault exam.
A few days later, as bruises formed across her body, she got a phone call from Minneapolis police investigator Sgt. Danyelle DeRose.
DeRose had joined the sex crimes unit just two days earlier. In a recording of the conversation obtained by the Star Tribune, DeRose seems to discourage Mandi from pursuing the case, saying there wasn't enough evidence for prosecutors. "At no point did you actually say 'Stop,' " she said.
When Mandi asks whether her sexual assault exam might show that she had been drugged, DeRose said that wasn't likely.
"Just to let you know, I'm new to the unit, but the person who's training me in — in five years has only had one case of drugs in the system," DeRose said, according to the tape.
Still, Mandi and her husband demanded an investigation.
The case file shows that DeRose telephoned the suspect, who said she had made romantic advances, had led him to the parking ramp and had engaged in consensual sex.
DeRose also contacted the operators of the parking ramps, but employees told her they couldn't find any surveillance video matching Mandi's account.
DeRose closed the case, writing that she lacked the evidence to send it to county prosecutors.
Catherine Johnson, a former sex crimes detective in Kansas City, Mo., who now trains federal agents, said she felt sick as she reviewed the case for the Star Tribune. She noted that the detective appeared not to have pulled the parking ramp surveillance video on her own, never interviewed bartenders at Cowboy Jack's, and did not question the suspect in person.
"Poor police work," Johnson said. "I think the majority of what happened … is a result of poor training."
Minneapolis police officials declined to discuss an individual case, but said that detectives strive to be straightforward with victims: "These can be very difficult and trying conversations for everyone involved," the department said. At the same time, it said, the promised changes in its practices "will go a long way toward improving … service for victims."
Mandi now realizes she won't get answers about that night — or about why the police investigation left her feeling accused and unimportant. "It could have been handled better," she said.
And she is resigned to the fact that her attacker will never be brought to justice.
---
Part 5: Rejected by the Prosecution

In Minnesota, half of sex assault cases police send to prosecutors never result in charges.
Hannah Traaseth told the deputies things she had been too afraid and ashamed to tell her father.
How she got into the car of a man she had never met before. How he and his friend had taken turns raping her, an experience so violent that she said she later texted a friend, "My body hurts."
Traaseth was 13. The men were 21.
Investigators in Wisconsin and Maplewood spent the next 8 months working the case, even though Traaseth, afraid for her safety, initially misled them on how she met the men and where the assault occurred. Still, detectives combed through her text messages and social media accounts to identify possible suspects, and Traaseth soon told them everything. Then they obtained warrants for Facebook accounts, arrested and questioned two men and took samples of their DNA, which matched the samples found on the teenager's underwear.
Police, convinced the evidence was strong enough to charge both men with rape, sent the case to the office of Ramsey County Attorney John Choi in May of 2016.
"We generally don't send cases over unless we think there's enough evidence," said David Kvam, a commander at the Maplewood Police Department.
Choi's office declined to charge the men, saying in a letter to the family that the teenager's "conflicting versions" of what happened that night made it unlikely they would win at trial.
"We strongly believe that no responsible prosecutor in the state of Minnesota would charge this case," Choi told the Star Tribune.
Bradley Traaseth, Hannah's father, begged Maplewood police to resubmit the case.
They did. Five months later, Choi's office again declined to press charges, citing the same reasons. In total, Choi's office would review the case four times, each time electing not to charge either of the men.
Bradley Traaseth is still furious.
"This should be an open-and-shut case," he said.
But most people accused of sexual assault in Minnesota won't ever face a reckoning in court.
In 2016, 481 people were convicted of felony-level sex assaults in Minnesota, the lowest total since 1983, according to data from the Minnesota Sentencing Guidelines Commission. Only 1 in 4 sexual assault cases in Minnesota is ever referred to a county attorney, according to a Star Tribune analysis of more than 1,300 sexual assault cases filed in 2015 and 2016.
Prosecutors reject half the cases police send them.
They reject cases that include DNA evidence, witnesses, and sometimes even confessions, records show. They rarely ask police to conduct additional investigations, case files show, and in interviews, victims say they are often never told why their assailant won't be charged with a crime.
To Hannah Traaseth, not filing charges against the two men in her case confirmed her worst thoughts about herself and that night.
That she deserved it. That it was her fault. That she was worthless.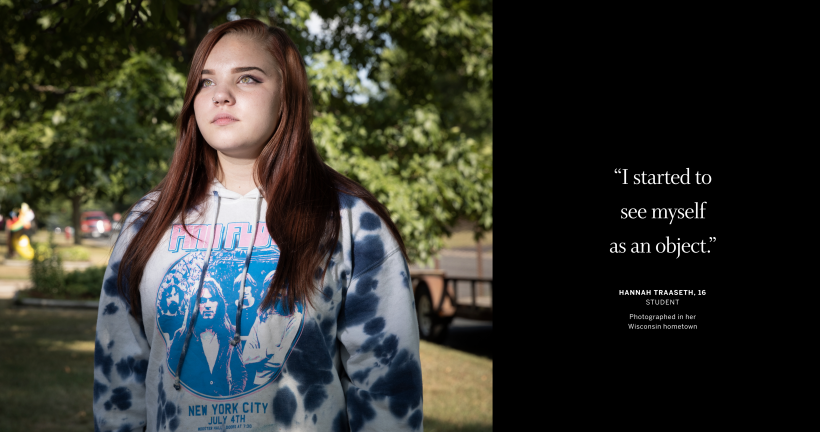 Other sex assault victims in Minnesota share that feeling.
In Mankato, three women living at a facility for vulnerable adults in 2015 accused the building caretaker of sexually assaulting them. One of the women uses a wheelchair. Records show the suspect first denied to a detective that he had any sexual contact with the women, then later changed his story to say it happened, but that it was consensual.
Mankato Police sent the case to the Blue Earth County Attorney's Office hoping for attempted rape charges. Charges were declined, with an attorney writing in the police report that the case could not be proved "beyond a reasonable doubt."
In Minneapolis, Melissa Miyashiro was certain she had a confession from the man she accused of raping her, and that it would lead to criminal charges.
In a conversation recorded with a detective present, the man admitted more than once that he did not listen to Miyashiro when she told him to stop, according to the police file and audio provided to the Star Tribune.
"I'm falling apart," she told him early in the call, her voice shaking. "I don't understand why you didn't listen to me when I said no."
"I don't know either," he quickly responded, adding "It was completely wrong of me."
Throughout the nearly eight-minute phone call, she continued to press him as he repeatedly admitted that he couldn't explain his actions.
"You know without permission it's rape. It's what that is," she said.
"I do," he replied. "And I'll never forgive myself for it."
The Hennepin County Attorney's Office declined to charge the man. Miyashiro said a victim advocate told her that prosecutors turned down the case because she didn't fight back or leave the house.
'I don't understand why you didn't listen to me when I said no'
With a detective present, Melissa "Rabbitt" Miyashiro recorded a call with man she accused of rape. Listen below to parts of her call, which has been edited for length.
Warning: contains graphic language.
The jury would say: "Why didn't you leave?' " Miyashiro recalled the advocate telling her. " 'The defense would be able to put grains of doubt in the minds of the jury.' "
In a statement, Chief Deputy Hennepin County Attorney David Brown did not specifically say why charges were declined, but said two different reviews of the case "required a thorough evaluation of all the evidence included in this investigation. That included the recorded apology which was not an admission of this crime."
In an interview shortly after the "Denied Justice" series launched, Hennepin County Attorney Mike Freeman said his office was examining 40 cases from this year that have not been charged; he also vowed to hire more prosecutors to help handle rape cases, and work more closely with law enforcement.
Prosecutors are not required to explain to victims or anyone else why they decide not to file charges in a case. Their communications with police are protected under attorney-client privilege. Many victims who spoke with the Star Tribune about their cases said they never got a chance to discuss the details of their case with prosecutors.
Ramsey County Attorney Choi said prosecutors are bound by an ethical obligation to not charge cases that they don't believe they can prove beyond a reasonable doubt. The Hannah Traaseth case illustrates that because initial inconsistencies in her story would raise doubts in the mind of jurors, he added.
"Otherwise, we will have a system where prosecutors charge suspects because we merely think they are guilty without the evidence necessary to prove that to be true," Choi said. "Certainly, prosecutors operating under this type of standard would at times convict the guilty and at times convict the innocent — an outcome none of us would want."
Prosecutors often refer to the American Bar Association's ethical standard for filing criminal charges, which says that should occur only if there's probable cause of a crime and evidence that is "sufficient to support a conviction." Roger Canaff, who prosecuted rapes for more than a dozen years in New York and Virginia and now trains law enforcement on the topic, said that standard should not be interpreted to mean that charges should be filed only when victory in court is likely.
"Prosecutors need to expand their view of what 'evidence sufficient to support a conviction' means," Canaff said. "It can be the testimony of the victim, if it's compelling enough."
To sex crimes investigators, having to repeatedly tell rape victims that their case was rejected can be "demoralizing," said Andy Skoogman, executive director of the Minnesota Chiefs of Police Association.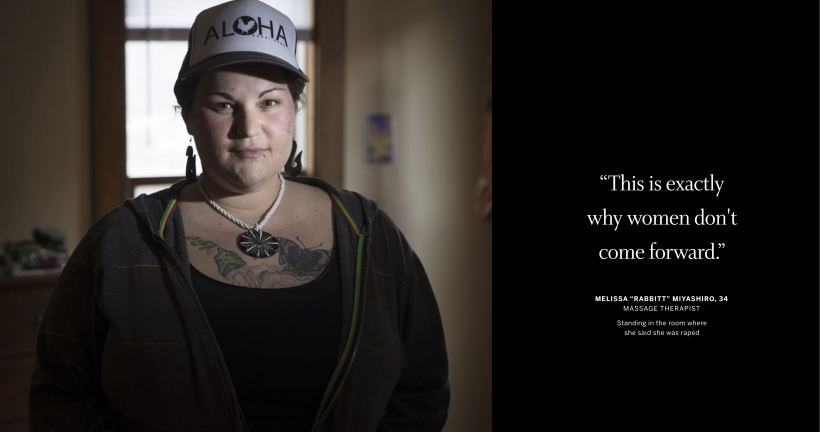 Dan Drake, a detective in Rogers, Minn., has experienced that frustration.
In 2017, Dani Michels reported being raped by an ex-boyfriend. She was 15 at the time. He was 18.
"I believed the elements of the crime were there," Drake said.
Michels said she was too drunk to consent to sex after a night of drinking at the man's house. A witness confirmed that Michels was so drunk she was vomiting.
"I couldn't hold up my head," Michels told the Star Tribune.
According to Drake's report, Michels said the man covered her mouth because she was too loud. She told Drake that she had fallen down and hit her head, and had scrapes on her arm.
In his interview, the man told the detective that Michels "clearly wanted to have sex," according to the report. He acknowledged in the report that he took Michels into the shower and that she was so drunk "that she was just dead weight."
"He had sex with her while she was in an extremely intoxicated state by his own admission," Drake wrote.
Drake sent the case to the office of Hennepin County Attorney Freeman. The detective told the teenager and her mother that he expected the ex-boyfriend to be charged.
Months later, Freeman's office left a voice mail with the girl's mother: They were declining to prosecute.
"When I heard that, I didn't understand. I started crying," Michels said.
When Drake called the prosecutor who reviewed the case, he said he was told that the county had a policy of not charging cases that involved juveniles who had previously been in a relationship with the accused.
"To be honest, I was pretty upset about it," Drake said. "I thought there would be another victim, and sure enough there was."
This time, the girl was 13.
In January, that girl reported that she was awakened by the same man as he raped her. When Drake questioned him again, he admitted to having sex with her and knowing that she was underage, according to a court complaint.
He was charged, convicted and sentenced to six months in jail and a stayed three-year prison sentence. He did not respond to a request seeking comment.
Freeman declined to discuss the case and referred inquiries to his chief deputy, David Brown.
Brown denied that the Hennepin County attorney rejects rape cases involving people who had a prior relationship. Citing victim privacy, he declined to talk specifically about Michels' case.
He said in all cases, his office considers whether there is evidence to prove a case beyond a reasonable doubt.
"It's wrong for us to go to trial if we don't have enough evidence," he said. "Letting a jury decide — that's how you get wrongful convictions."
Drake said he thinks the man was likely emboldened by the decision not to charge him in the Michels case.
"I think it's reasonable to assume that if somebody doesn't face consequences for their actions, it's likely they might commit that action again."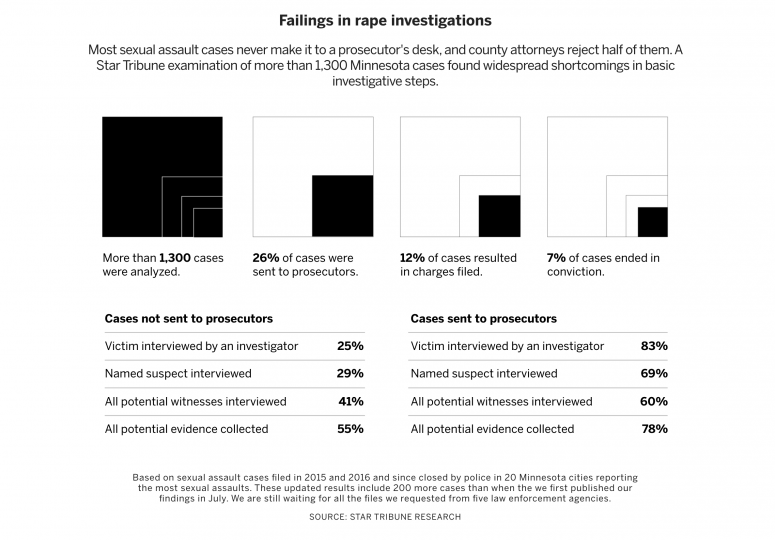 The Star Tribune's analysis of sexual assault cases filed in Minnesota in 2015 and 2016 found widespread failings in police investigations: evidence that was not collected, key witnesses or even suspects who were not interviewed; cases that were closed if the victim expressed any hesitation about going forward with a complaint.
In Traaseth's case, investigators from two law enforcement agencies in different states moved aggressively to find the two men who she said raped her.
Her life had been difficult. She said she was sexually abused by a family friend when she was 9. Her mother died from cancer a year later. Depressed, she turned to pot, pills and alcohol. "Anything to take away the pain," she said.
She started running away. She got into trouble with police when she was caught drinking.
On New Year's Eve in 2015, while her father slept in the next room of their Wisconsin home, Traaseth texted a man she knew only through Facebook.
"I just don't want to be alone," she wrote him.
She sneaked out of her house and he picked her up. They picked up another man, who asked her how old she was. She lied and said she was 14. They took her to a home in Maplewood. They smoked pot and gave her something to drink that she said left her feeling paralyzed.
She begged to go home, but said they threatened to throw her in the snow. It was 16 degrees that night.
The two men took turns raping her for about two hours, she said. They laughed as she cried, repeatedly telling them no.
At about 5 that morning they drove her home. They warned her not to tell anyone about what happened, saying they knew where she lived.
She took the threat seriously, and said nothing. But her father knew something was wrong. She relented and told him she was raped. He called police.
In her first interview, Hannah Traaseth did not tell investigators all the details of what happened. She was worried for her safety, wanted to put it behind her, and she also feared they wouldn't believe her because of her history of running away.
"I still need to investigate this," the officer told her, according to his report. "I asked her to please tell me what happened."
She told him that two men raped her at a party, but lied about where it occurred. She said it happened at the home of one of the suspects in another Wisconsin town. Police collected her clothes from that night, which she never washed.
She hoped police would move on. In most cases they do. This time they didn't.
"It's a juvenile sex assault," said Veronica Koehler, a police detective in New Richmond, Wis., "I can't not investigate."

With Traaseth initially refusing to cooperate, Koehler got a warrant to search her Facebook account. She got the messages exchanged that night — and a name. But when police ran into dead ends, they went back to Traaseth . Eventually, with the encouragement of a school counselor, Traaseth told them what she said was the truth.
Koehler got a picture of the suspect's Maplewood home and showed it to the teenager. She confirmed that's where she had been taken.
Maplewood Police then took over. After interviewing Traaseth, detective Alesia Metry issued warrants for the suspects' arrests. One refused to talk, and the other denied ever being around her. They were both released.
Three months later, DNA test results came back. Samples taken from Traaseth's underwear matched those from the suspects. Police sent the case to the Ramsey County Attorney, thinking the men would be charged.
They never were, and the Traaseths demanded to know why. They were told that Hannah's initial decision to lie about the details of that night hurt her case. Eventually, prosecutors wrote a letter that listed several reasons for not filing charges in Hannah's case.
"If we were to pursue this case, all of those versions would have to be disclosed to the defense," Assistant County Attorney Richard Dusterhoft wrote to the Traaseths in February this year. "She would be confronted and cross examined, in open court and in public, by each of her versions of events and her credibility would be impeached."
With Traaseth initially refusing to cooperate, Koehler got a warrant to search her Facebook account. She got the messages exchanged that night — and a name. But when police ran into dead ends, they went back to Traaseth . Eventually, with the encouragement of a school counselor, Traaseth told them what she said was the truth.
Koehler got a picture of the suspect's Maplewood home and showed it to the teenager. She confirmed that's where she had been taken.
Maplewood Police then took over. After interviewing Traaseth, detective Alesia Metry issued warrants for the suspects' arrests. One refused to talk, and the other denied ever being around her. They were both released.
Three months later, DNA test results came back. Samples taken from Traaseth's underwear matched those from the suspects. Police sent the case to the Ramsey County Attorney, thinking the men would be charged.
They never were, and the Traaseths demanded to know why. They were told that Hannah's initial decision to lie about the details of that night hurt her case. Eventually, prosecutors wrote a letter that listed several reasons for not filing charges in Hannah's case.
"If we were to pursue this case, all of those versions would have to be disclosed to the defense," Assistant County Attorney Richard Dusterhoft wrote to the Traaseths in February this year. "She would be confronted and cross examined, in open court and in public, by each of her versions of events and her credibility would be impeached."
---
Part 6: A Victim Heard, Justice Served

What happened when an investigator, an advocate and a prosecutor took a victim seriously from the start
MOUNTAIN IRON, MINN. — The telephone rang after dinner: A young woman was at the hospital, bruised and frightened, saying she had been raped.
Investigator Steve Heinrich told his family not to wait up. He headed out the door, into a case fraught with all the challenges that can complicate sexual assault investigations: The victim had a history of drug use and behavioral problems. She had been drinking with her assailant and had blacked out during the assault. The suspect insisted the encounter was consensual.
Hundreds of rape cases in Minnesota end right there, with a victim's first police report, according to more than 1,300 case files reviewed by the Star Tribune. Time after time, documents show, law enforcement officials say no to victims who come forward to report an assault.
But this time, a caring cop, a confident prosecutor and a devoted advocate of victimized women on the Iron Range proved it's possible to get justice even in the most difficult cases.
And they started simply by saying yes.
• • •
Alesha Erickson is visibly anxious when she opens the door to her cramped apartment in this small town on the edge of U.S. Steel's vast Minntac mine pits. She has white-blonde hair, large eyes like pools of rainwater and a gentle manner that makes her seem far younger than 33.
For much of her life, Erickson has suffered from anxiety so severe that she struggled to make friends or, sometimes, even leave the apartment where two cats are her loyal companions. The disorder emerged in high school, according to her father, who said his daughter has also struggled over the years with drug use and parenting of her two children.
But by 2016 she was making progress. She was driving on her own again and even picked up a job application.
One night that summer she went out with her dad to the town's annual "Merritt Days" festival, to hear the alt-rock band Sister Hazel. Kevin Erickson, a mechanic and trucker, dotes on his daughter, dropping by her place regularly for lunch and helping her run errands.
At the end of the night, as he dropped her off, they were approached by a man she had seen around her apartment complex. He asked for a light as her dad drove off. Alesha Erickson ran up to her apartment, brought back a lighter and a strawberry-flavored cigar for herself, and worked up the courage to talk to him.
His name was Aaron. He had a bushy mustache. He'd had a fight with his girlfriend and was happy for the company.
For Erickson, making such a connection was a breakthrough.
"I thought I was finally getting a friend. I was excited," she recalled.
Aaron asked whether she had anything to drink, Erickson said, and so they went up to her apartment. They talked, drank some tequila shots and beer, and played Halo 4 on her Xbox. They even kissed on her couch.
Then, to her surprise, he bit down hard on her breast. Frightened, Erickson cried no, got up and went to the kitchen. Not sure what to do next, she poured another drink.
When they started talking again, she told him she had a disability and lived on public assistance, about $700 a month.
This enraged him, she recalled, and without warning he struck her in the face, threw her against a wall and began choking her. She thinks the impact knocked her out. The next thing she remembers, according to her police statement, is waking up in her bed, naked, with Aaron raping her as her head banged against the wall. Sobbing, she yelled for him to stop. He struck her in the back. She remembered turning and seeing a smile on his face.
Erickson said she blacked out again, and when she woke up he was gone. His white undershirt was on the floor.
On Monday afternoon Erickson's father came to check on her. He found her still in bed, red marks on her face and neck. "I knew something was wrong right away," he said.
They drove to the hospital, where Erickson finally told a doctor that she had been raped. All the while, she was fighting back anxiety and shame. What if police didn't believe her because she'd been drinking? What if Aaron got mad and came for revenge?
The staff called 911.
When Sheriff's Deputy Jeremy Belleville arrived, Erickson told him she had been raped by a man she knew only as Aaron. She said he worked at Walmart and lived somewhere in her apartment complex.
Heinrich, the investigator on call that night, arrived at the hospital a little later. Out in the parking lot, Belleville briefed him on Erickson's account, noting that he had struggled to get much information from her.
They divided up the evening's work. Belleville would try to find "Aaron." A Facebook search quickly produced an Aaron McCulloch who worked at the local Walmart. A manager there provided the last address they had for him — the same apartment complex where Erickson lived. A second deputy went to fetch her stained bedsheet, which was about to be washed at her parents' house.
Heinrich approached Erickson, still in her hospital gown, for a more detailed interview.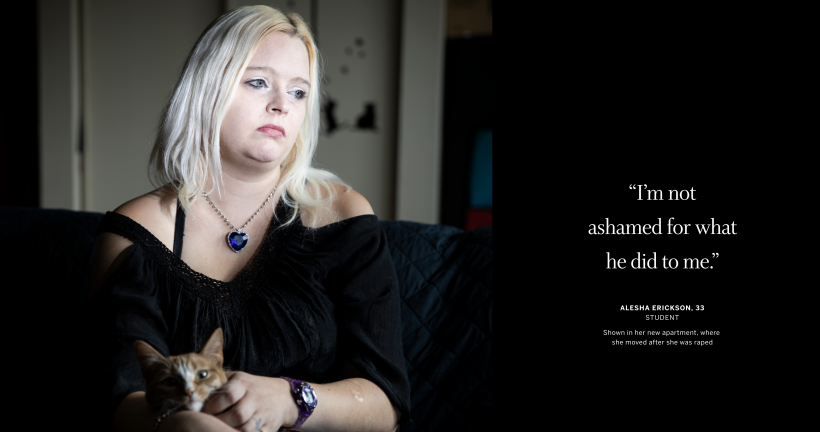 Even in plain clothes, at 6-foot-1 and with a shaved head, Heinrich has a formidable presence. But the 51-year-old investigator is also a father of 10, including seven foster children, some with disabilities. He guesses he has handled about 50 sexual assault cases in his career, though he hasn't taken much specialized training in adult sex crimes. His specialty is computer forensics and arson, but he's known for a calm, nonjudgmental interviewing style that sets people at ease.
"He's always been very caring with crime victims," said Jeanne Olson, a St. Louis County victim's advocate.
Heinrich told Erickson he was sorry for her ordeal, and they chatted a bit about the street dance. Then he explained that he had to ask her some difficult questions.
"I talked to her almost like she was one of my kids, and she came forward with a lot more information," Heinrich remembered.
By the time the detective left the hospital he had gleaned a lot of details. When he arrived with the deputies at Erickson's apartment, everything matched her account, he said. The Xbox was loaded with the video game she had named. The liquor bottles were where she had described them. The suspect's white tank top was there, too.
Just after 10 that night, Heinrich's team knocked on McCulloch's door. Out in the hallway and away from his girlfriend, McCulloch, 24, admitted that he had been in Erickson's apartment drinking, according to the police report.
But he insisted nothing sexual had happened. Erickson had started acting strangely, he said, and he had left.
"Is there any reason I might find your DNA on her bedsheets?" Heinrich asked.
McCulloch's head dropped. Then, police and court records show, he whispered that they might find "pre-ejaculate."
While in custody down at the St. Louis County jail, McCulloch surprised Heinrich by agreeing to talk without an attorney. This time he admitted they tried to have sex, but he said he couldn't maintain an erection. Erickson was crazy, he said.
Heinrich finished the interview, worked on his report, and then went home.
It was 6:30 a.m. He had to be back on duty at 7.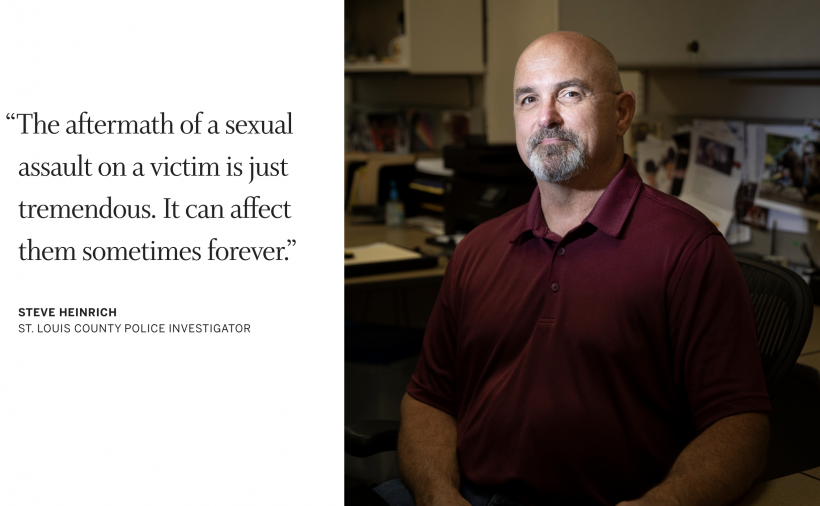 In almost every way, the investigation of Erickson's rape was handled faster and more thoroughly than most sex crimes in Minnesota.
The Star Tribune review of Minnesota sexual assault reports from 2015 and 2016 found that, in three-fourths of the cases, detectives never visited the scene of the reported crime. In more than half the cases, they didn't formally interview the victim or question the suspect named in the case.
Only one in four of the cases was ever forwarded to a prosecutor.
Those lapses in basic police work can doom a case, veteran investigators say. Because sexual assault often occurs behind closed doors and with no witnesses, corroborating a victim's account with physical evidence — even a detail such as the game loaded on an Xbox — is crucial to winning cases.
"There's no such thing as a he-said, she-said case," said Carrie Hull, an Oregon police detective and instructor who has won national recognition for her work on rape investigation techniques. "When you say that, what you're telling me is that you interviewed two people, and that's it."
• • •
Heinrich's report landed on the desk of prosecutor Sharon Chadwick in the St. Louis County Attorney's office.
A 56-year old lawyer with clipped gray hair, Chadwick has long handled juvenile delinquencies, child protection and child support cases. But for that one year, Chadwick said, she had transferred to the criminal division to try her hand prosecuting adult felonies.
Chadwick immediately saw the hurdles: The defense would seize on Erickson's drinking, her past drug use and the fact that she had lost custody of her son and daughter, who are being raised by her parents.
Yet Chadwick felt certain Erickson would strike a jury as a trustworthy witness.
She also knew they could hold McCulloch for only 36 hours without charges. Even though the DNA lab results weren't back from Erickson's sexual assault exam, Heinrich's team had begun gathering crucial evidence and McCulloch had told conflicting stories.
Chadwick charged him with three felonies. It would be the only adult sexual assault case Chadwick would take to a jury trial that year.
"I think I was probably fairly naive," Chadwick reflected. "I thought it was a slam dunk."
As Chadwick worked on the case against McCulloch, Jeanne Olson looked after Erickson.
Olson runs the Sexual Assault Program of Northern St. Louis County. At 62, she has become something of an Iron Range institution, cruising the courthouse and police department with a black planner jammed in a worn tote bag, her eyes always hidden behind dark glasses. An old case of Lyme disease left her with light sensitivity so extreme that she wears sunglasses even in court and in her dimly lit office above the police department.
Olson took Erickson under her wing, texting her regularly to see how she was holding up, driving her to meetings and referring her to a good therapist. Olson, who speaks with the husky voice of a smoker, calls herself the "nagging advocate," an ally who reminds victims of their own strength.
The trial was set for March 2017, seven months after the incident. Erickson was terrified at the thought of facing McCulloch in a courtroom. Even with Olson's support, she had fallen back into a state of deep anxiety. She was afraid to leave her apartment and walk down the hall to the laundry room. Her father was washing her clothes and buying her groceries.
"I was scared somebody else could hurt me," she said. "I hated it."
On the first day of the trial, when Kevin Erickson drove his daughter to the courthouse, he had to coax her out of the car. But she knew she had to testify, she said, or McCulloch might hurt someone else.
Even today, the echo of her heels clicking down the tile floor of Virginia's 100-year old courthouse still rings in her head. She gripped a worry stone during her testimony.
Chadwick, too, was nervous. She likes to gird herself for court by humming a favorite movie theme song. For McCulloch's trial it was "Danger Zone" from the film "Top Gun." A colleague played it from his computer.
The trial transcript shows that McCulloch's lawyer tried to cast the incident as a failed sexual encounter with a lonely, troubled woman. He brought up Erickson's past drug use, noted that she had spent some of her limited income on tequila, and said her apartment bore no sign of a fight that night.
But Chadwick's case was strong. Lab tests had found a match between McCulloch's DNA and semen found in Erickson's cervix. Heinrich's team had collected important physical evidence. And Erickson, for all her fears, proved compelling on the witness stand.
The trial ended after five days.
The jury, eight women and four men, parsed every word of the rape charges over two days, according to foreman Justin Champa. They were deadlocked most of the time — 6-6 at one point — with all the men pretty firmly favoring conviction, he said. A few of the women gave virtually no credence to any of Erickson's testimony, Champa said, but he found the prosecution's physical evidence compelling.
"In my eyes he was an absolute rapist. The evidence bore that out," Champa said. The game changer for him, he said, was that DNA from Erickson's sexual assault exam proved McCulloch had lied to police when he said they didn't have sex. There was semen everywhere, he said: "His credibility to me was shot."
Champa, a 41-year-old father who works in construction sales, said he tried to keep jurors focused on the legal elements of first-degree criminal sexual conduct with force or coercion: Was there intentional penetration without consent; did it cause physical injury or severe mental anguish; and did the defendant use force or coercion?
They got to "yes" on that first charge. They acquitted McCulloch on the second charge, which involved mental impairment or physical helplessness of the victim.
"I'm proud, at least, that we were able to take a rapist off the street," Champa said. "As a brother, father and a son … this situation is worst case."
When the verdict came down Erickson and Olson were ecstatic.
"He's going to go away and can't do this again to anyone else," Erickson said.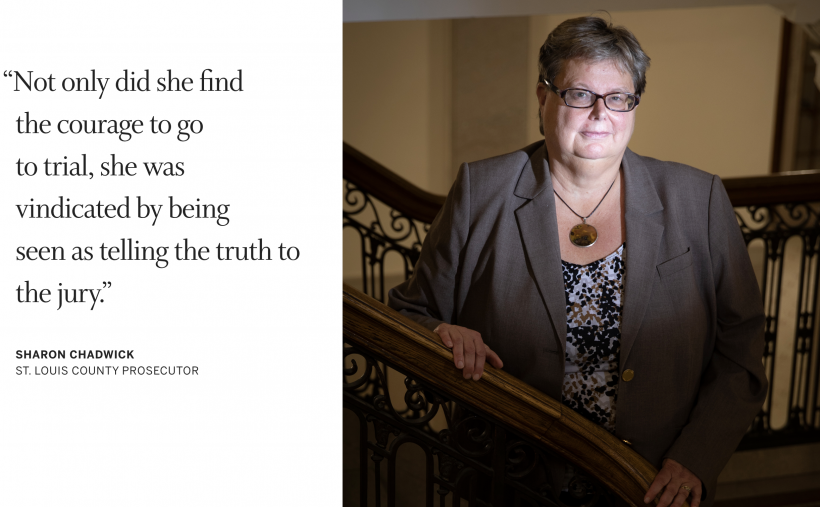 The verdict, like the investigation, made Erickson's case an outlier. Of the 1,375 Minnesota sex assault cases reviewed by the Star Tribune, just 110 ended in a conviction.
This time, everything worked.
Olson had kept Erickson on board, providing important assistance to the prosecution. About 40 percent of Minnesota sexual assault victims drop out of their case at some point, making it hard for detectives and prosecutors to build a case. Erickson trusted Heinrich because he listened and believed her. His close questioning of McCulloch produced inconsistencies that helped the prosecution, Chadwick said. McCulloch's insistence that they "sort of" had sex begged credulity, she said, and crucially, it was contradicted by the DNA results.
But in the end, Chadwick said, Erickson's performance on the witness stand proved critical.
"There was just no guile about her. [She] came across as being a very caring person who … took responsibility for all the mistakes that she made. I think that made her compelling."
If anything disappointed Chadwick, it was McCulloch's eventual prison sentence. Under state guidelines, his conviction called for 144 months in prison, or 12 years. At sentencing, District Judge John DeSanto reduced it to 7 ½ years, an unusual departure from the sentencing guidelines.
DeSanto outlined his reasoning in a nine-point memo. The first one, Olson said, shocked her:
"The victim … initiated the sexual contact with the Defendant by inviting him to her apartment for drinks (shots of tequila and beer) and video games on [her] living room couch, during which [she] testified at trial that she voluntarily and consensually engaged in kissing and sexual touching with the Defendant."
To Olson, it sounded like unvarnished victim-blaming.
"I literally had to put my hand over my mouth because I wanted to stand up and shout," she said.
In an interview, DeSanto said that blaming Erickson was never his intention.
"I could just not see this [case] as onerous as the typical first-degree criminal sexual conduct … given the facts as a whole."
In an e-mail from the state prison at Moose Lake last month, McCulloch insisted he is innocent.
"I am neither a rapist nor a violent drunk," he wrote.
Because he maintains he is innocent, he hasn't been allowed into what is otherwise mandated sex offender treatment.
"I have lost everything and have been forcibly removed from my life over a one-night stand," he wrote.
For Erickson, the experience proved empowering. She was heard. She was believed — by police, by prosecutors and by jurors.
And it has changed her life. She has moved to a new apartment, continues seeing a therapist and takes Tai Chi classes at the Y to help master her anxiety. She even won a grant to enroll in Mesabi Range College.
Walking through the school's front doors for the first day of class this fall nearly paralyzed her again, she said, like the day she entered the courthouse to face McCulloch.
Still, she says, "I made it."
Erickson pulls out a class essay she has just written about the trial and the verdict, "Strength Within Fear," and reads aloud:
"A wash of relief floods over me, being able to make it through, able to make it through this difficult journey for justice.
"I'm not ashamed for what he did to me. It's not my fault. Now, I'm finally moving forward with my life. I'm never giving up."
She pauses at the end, looks up, and smiles.
---
Part 7: Convicted for Rape, Free from Prison Time

Felons spend less time in prison here, and the state says that's by design
Emma Top and Nicholas Shumaker grew up together in South Dakota and went to the same high school, both playing on the band's drum line. She felt so safe in his presence that she fell asleep next to him in a Golden Valley motel while they were chaperoning a band trip in the summer of 2016.
When she woke up, he was raping her.
A jury found Shumaker guilty of felony sex assault in late 2017. Minnesota's sentencing guidelines called for four years in a state prison housing other violent offenders. Instead, a Hennepin County judge gave Shumaker a year in a county jail. He was out in nine months for good behavior.
"I felt like for what he had done, he basically got a slap on the wrist," said Top, who is now 22.
Rape charges and convictions in Minnesota are rare. Yet even when they do occur, there is often a small price to pay — especially when the assailant knows the victim.
Only about half the defendants convicted of felony sexual assaults in acquaintance cases receive prison time, according to a Star Tribune analysis of state court records from the past decade. In cases where state sentencing guidelines recommend prison, offenders who knew their victims were twice as likely to receive a reduced sentence as those who did not.
Most rape victims know their attackers. In Minnesota, for example, only 7 percent of felony convictions during the past decade were for rapes committed by a stranger. Victims say lighter sentences for rapes committed by friends, former partners or others they know magnified the deep humiliation and anguish they experienced at the hands of people they trusted. Some regret ever reporting their assaults to police in the first place.
One woman, a government records clerk, was raped in 2013 by two men she knew after a festival in southeastern Minnesota. Five years later, both men pleaded guilty to felony sex assault.
Neither man spent a day in jail, records show. As part of the plea agreement, one attacker's charge will be dismissed if he completes probation.
"I went through five years of hell for pretty much nothing," said the 40-year-old woman, who asked not to be identified by name.
In another case, Kate, who is 28, was having drinks with friends in her Minneapolis apartment. One of the men raped her later that night after she fell asleep in her room.
Records show that he pleaded guilty in November 2017 to third-degree criminal sexual conduct, which calls for about four years in prison. He was sentenced to 60 days in a county jail and was out in about a month.
"I don't see how knowing someone … changes what I went through," Kate said. "He gave me a life sentence. I think about it every day."
Giving offenders lighter punishment in acquaintance rapes only reinforces the myth that those cases are less serious, said Tom Tremblay, a retired police chief in Vermont who served as the state's public safety commissioner. He now consults with police departments nationally on investigating sex crimes.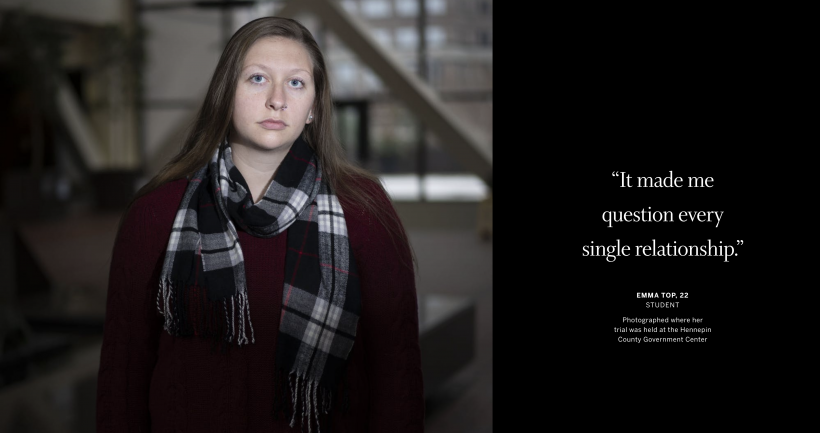 Other states that also rely on sentencing guidelines require much harsher minimum punishments in sexual assault cases involving penetration.
In Kansas, the minimum sentence for a rape is 12 years. In Oregon, the minimum starts at about eight years. In Minnesota, the minimum recommended sentence is about three years.
North Carolina calls for a minimum of nearly five years in prison for rape. And unlike Minnesota, judges cannot deviate from the guidelines and send rapists to a county jail instead.
Rape is "always prison" in Ohio, said Mary Katherine Huffman, a judge who presides over sex assault cases in Montgomery County, which includes Dayton.
Ohio doesn't allow probation for rape, Huffman said. "And I don't know that I would if I could."
Minnesota has made a deliberate choice to send fewer criminals to prison than most states. Its sentencing laws were designed to create consistent punishments across the state, while reserving prison space for the most violent offenders, said Richard Frase, co-director of the University of Minnesota's Robina Institute of Criminal Law and Criminal Justice.
As a result, felons in Minnesota spend less time in prison than in most other states, whether the crime is robbery, aggravated assault or rape. One reason is that keeping more people in the community, where they have ties, is likely to have a better overall impact than keeping them locked away forever, said Brad Colbert, a professor at Mitchell Hamline School of Law. "The most effective deterrent is the certainty of the punishment, not the length of the sentence."
Less time behind bars, with more time for treatment, is also the best way to reduce recidivism, said Robin Wilson, a psychologist appointed to evaluate the Minnesota Sex Offender Program.
"Sentencing should be dispassionate," Wilson said. "We shouldn't let the nature of the crime lead us to potentially over-sentencing."
But victims, their relatives and advocates are not the only ones who question the lenient sentences sometimes given to rapists. Police and prosecutors can express similar frustration.
"Probably the part that drives me the most nuts is sentencing," said Apple Valley detective Sean McKnight. "Sometimes it's just probation. Sometimes it's like, 'This is a bad human being. Why can't you see this?' "
Top officials of the Minnesota Sentencing Guidelines Commission said the benchmarks have been in place for years and reflect the wishes of state lawmakers.
Nate Reitz, a former prosecutor who runs the commission, said the sentencing grid for sex offenders has not changed since 2006, when it was adopted at the direction of the Legislature.
"That was their statement, that these are appropriate sentences for the typical cases," Reitz said.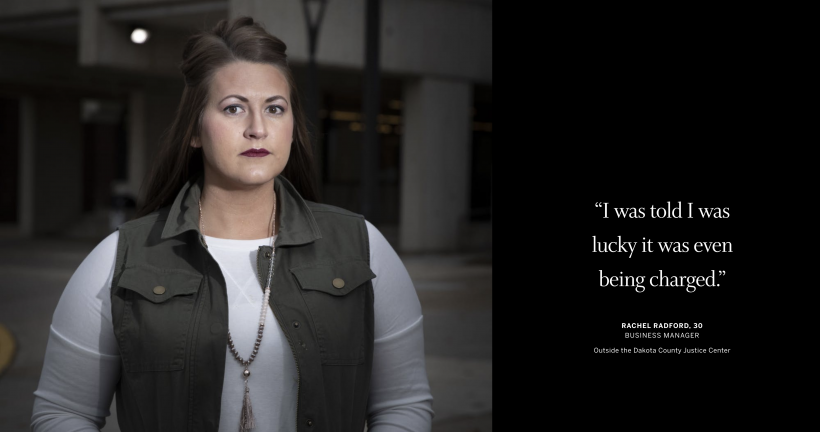 Some of the light sentences that outrage advocates — and survivors like Rachel Radford — can be traced to the original charges filed by prosecutors.
"It still puts a wrench in my stomach that I am considered 'lucky,' " said Radford, who was assaulted by a friend last year.
Radford reported her sexual assault the day it happened, in April of 2017. She told a Farmington detective that she had been out having a few drinks with a friend, 28-year-old Kyle Devries, and went back to his home in the early morning hours.
Radford, 30, told police that Devries raped her after she said no dozens of times and fought him for an hour.
She texted Devries later that day: "Last night was not okay and I will never forgive you for it. … you weren't listening to how many times I said 'no.' "
"I know, I'm sorry I wasn't thinking with my head," Devries responded, according to the police report.
A detective examined Devries' court record and found that he had been convicted in 2011 of criminal sexual conduct in a case involving a 15-year-old girl, when he was 19.
When Radford met with Dakota County prosecutors in January, she said they told her Devries would again be charged with a gross misdemeanor sex crime, punishable by only up to a year in jail.
"At the time I was told I was lucky it was even being charged," she said.
Assistant Dakota County Attorney Phil Prokopowicz said prosecutors decided against felony charges "based on facts and circumstances of the case, including the relationship between the victim and defendant, combined with additional investigation performed."
Radford said she was later told that Devries might not serve any time in jail if he took a plea deal. But in July, Devries pleaded guilty, getting a 30-day sentence. He got out in 20 for good behavior.
If he completes his two-year probation, the crime will be reduced to a misdemeanor, records show.
Devries did not respond to a request for comment.
Prokopowicz said he thought Radford was satisfied with the outcome.
"We have e-mails saying she's extremely pleased," he said.
But Radford told the Star Tribune that she was pleased only because she had earlier been told her attacker might escape jail time altogether.
Today, she said there are still people who don't believe that she was sexually assaulted.
"They say if he really did rape you, then he would have gotten prison," she said.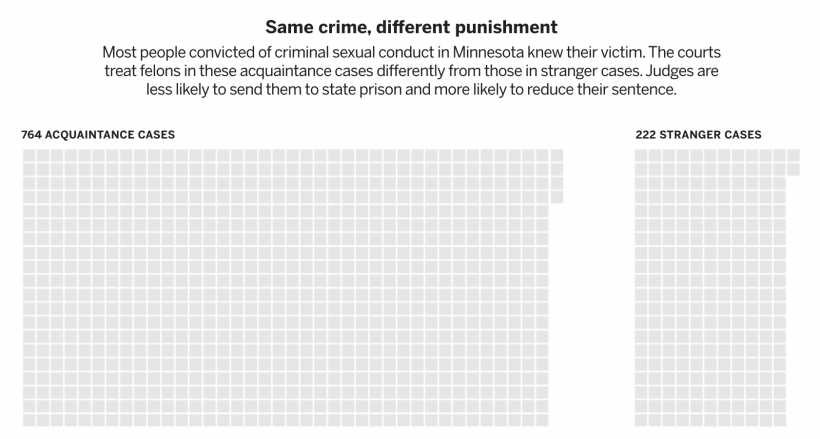 In Minnesota, convictions for sex crimes involving adults are rare. A Star Tribune review of almost 1,400 sex assault cases over two years found that only a quarter of the reports received by police ever get to prosecutors. Fewer than one of every 10 reports results in a conviction.
To examine how rapists are being punished, the Star Tribune analyzed sentencing data on more than 3,600 felony sex cases, involving victims age 13 and older, from the past decade. About 65 percent of those convictions were for statutory rapes, where the victim was too young to legally consent to sex. In most of these cases, Minnesota's sentencing guidelines call for jail and probation rather than state prison.
That doesn't mean underage cases are not serious, said Washington County Attorney Pete Orput, who is on the state's sentencing guidelines commission. But statutory rape can be easier to prove because the suspect can't claim consent as a defense. "It's a bird in the hand," Orput said. "If you think he did it, just take the statutory and get him on the [sex offender] registry."
Of the remaining cases, the majority were rapes or sexual assaults where the assailant and victim were acquaintances, partners or spouses. About 70 percent of those cases were serious enough that state sentencing guidelines called for prison time.
However, only half the offenders were actually sentenced to prison time.
Many of the sentences came as a result of a plea negotiated with the defendant, where prosecutors could at least get a conviction in exchange for a lighter sentence and avoid the risk of losing at trial. In other cases, offenders in acquaintance rapes have little to no criminal history, which contributes to a lighter sentence.
But the less harsh sentences may also reflect social stereotypes that acquaintance rapes involve less force or violence.
"It gets written off as OK because we blame the victim's behavior," said Rep. Jamie Becker-Finn, a DFL House member from Roseville and assistant Hennepin County prosecutor.
Light sentences for rapes have ignited public outrage across the country in recent years. In 2016, for example, former Stanford University swimmer Brock Turner spent three months in jail for raping an unconscious woman he found behind a dumpster after a party. The judge who handed down that sentence lost a re-election bid, and California lawmakers reformed the state's rape laws, requiring mandatory minimum sentences.
Cases like Turner's — where a rapist is sent to jail instead of prison — happen frequently in Minnesota. The Star Tribune found 227 cases over the past decade of perpetrators convicted of a felony sex assault where sentencing guidelines recommended prison, but who instead spent less than a year behind bars in a jail.
In December 2014, for example, former St. Cloud State University swimmer Raul Navarro raped another swimmer after a party. Three years later, Stearns County Judge Andrew Pearson found Navarro guilty of third-degree criminal sexual conduct. It carried a presumed sentence of nearly four years in prison.
Pearson gave Navarro 90 days in jail and 15 years' probation over the objection of the prosecutor, saying he was "amenable to probation."
Pearson did not respond to a request for comment.
The victim in the case, Amber, who asked that her last name not be used, said she hopes the probation is a long enough time to make sure Navarro never offends again.
"I would've loved more than anything to see him rot in prison," she said, "but for my own mental health and peace of mind I've had to learn to accept the sentence he received and hope that he learns from it."
Navarro did not respond to a request for comment.
After Hennepin County charged Nicholas Shumaker with criminal sexual conduct in February 2017, Emma Top said her prosecutor prepared her for the worst. Conviction was a 50/50 chance, and to get there, Top would have to tell her story over and over again.
At trial, Top's underwear was introduced as evidence to corroborate her description of what she was wearing that night. When Top testified, she shook and held back tears as Shumaker's defense attorney questioned her story, trying to raise doubts in jurors' minds about her account.
"I was so scared no one would believe me," she said.
But the jury did, and found the 23-year-old Shumaker guilty last October.
At a sentencing hearing in December 2017, Top told Hennepin County Judge Kathryn Quaintance that being assaulted by her best friend took away her sense of security and that she felt she could no longer trust anyone.
"I didn't sleep alone in my own bed for months," she said while reading her victim impact statement. "I was scared of the dark, scared of being alone, scared of being in a room or house with the door unlocked. He made walking on the street exhausting."
When Quaintance delivered Shumaker's sentence, it stunned Top.
"The professionals in this case generally agree there is no purpose served by Mr. Shumaker going to prison, that it will not change him in any positive way, that it will not help Ms. Top," Quaintance said from the bench.
The Hennepin County prosecutor, Sarah Hilleren, didn't hide her frustration, shaking her head in disbelief.
Quaintance admonished her from the bench.
"Ms. Hilleren, please try to contain your displeasure at my sentence," she said.
A month later, Top sent the judge an e-mail.
"I felt betrayed, victimized, and humiliated," she wrote. "I felt as if I were stuck in a never-ending stereotype of society's rape victim, and you fed right into it."
She said Quaintance never responded.
Quaintance declined to comment for this story.
Today, Top said she's still pained by the outcome.
"I wanted him to understand that what he did was wrong," she said. "Instead, it felt like he got away with what he did."
---
Part 8: A Better Way to Investigate Rape
New training, improved outcomes led to statewide reform
West Valley City, Utah — Detective Justin Boardman had a reliable way of clearing many of the rape cases that crossed his desk.
When the only witness was the victim, he would call her, warn that it was a "he said, she said" case that would be tough to investigate, and hope that she would drop it.
Usually, she did.
Then one day, Boardman ducked into a class on the trauma caused by rape. He heard scientific explanations for why rape victims could not scream or fight back, and why they often initially struggled to remember details of the crime.
Soon he realized that he had closed dozens of cases in which the victim likely was telling the truth. It shook him to the point of tears.
"I did a lot of damage," he said.
Chastened, the veteran detective helped the police department in Utah's second largest city transform the way it investigated sex crimes. Within a year, the number of cases sent to prosecutors by West Valley City police doubled. Convictions tripled. Inspired in part by that success, Utah's Republican-led Legislature adopted reforms last year that will require all new officers to be trained in brain trauma, and make available more specialized three-day training to all detectives who investigate sex assault cases.
Utah's shift is a promising sign of how a state can do more to help rape victims get the justice that so often eludes them — if everyone involved is working with the same priorities.
But the changes were eight years in the making. Police chiefs, lawmakers and victims of sexual assaults here didn't know how badly the system was failing until a police officer responding to an attack on a young woman asked a nurse, "Was she really raped?"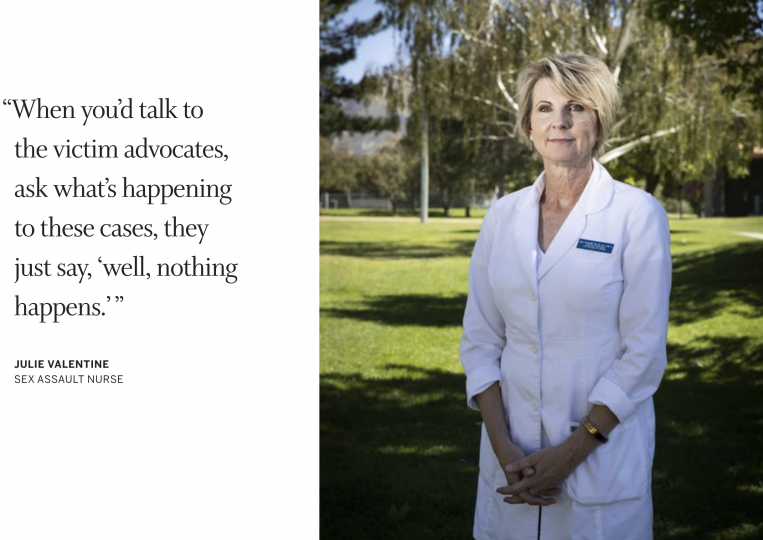 The question came at the end of a long night.
Julie Valentine had conducted hundreds of sex assault exams working as a nurse in a Salt Lake City-area hospital. Her patient one evening eight years ago was like so many of them: a traumatized 17-year-old girl raped at a party.
Valentine said her heart broke knowing that the girl's life would never be the same. But when the police officer sent to pick up the sexual exam kit questioned whether a rape had even occurred, Valentine became angry. After a sleepless night, she began asking herself some questions.
Why had she been called as a witness in only one case? What happened to all those other women who had reported their assaults to police?
Valentine, who was studying for her Ph.D. while working part-time as a sex assault nurse, decided to find out. She pulled 270 sex assault case files from across Utah, trying to document what happened after each case was reported. Her findings, published in early 2014, surprised even her.
Police in Utah rarely handed sex assault cases over to prosecutors, and when they did, charges were routinely declined. Utah had one of the highest rates of sex assault reports in the country, yet only 6 percent of the police cases led to a conviction.
"That was the match that lit the bonfire," Valentine said.
Media attention on Valentine's report outraged advocacy groups and the public. Politicians vowed reforms, but it would be years before they would come. Some law enforcement leaders pushed back, calling the study flawed and defending their practices.
"It's a very narrow study," the Salt Lake District Attorney said at the time.
The Salt Lake City police chief said his investigators were "passionate" about solving the crimes.
But one prosecutor knew Valentine was right.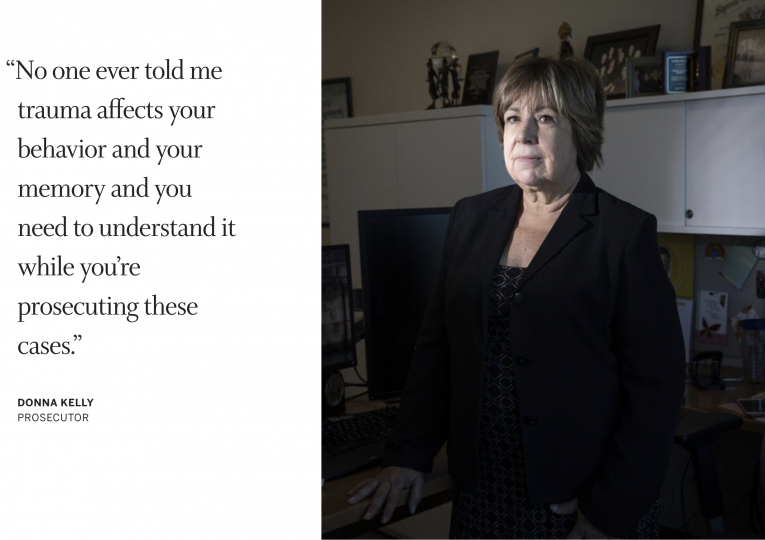 By 2012, Donna Kelly thought she had learned all there was to know about prosecuting sex crimes.
Kelly had tried cases for more than 20 years, first in Oregon and eventually in Provo, Utah, home to Brigham Young University. After taking a new job for a state agency to train police and prosecutors, she flew to San Diego to attend a national conference on violence against women. Some sessions focused on an emerging area of brain science: How the trauma of rape and other forms of assault can affect a victim's behavior.
Kelly thought she would be wasting her time. Instead, "I was stunned by what I didn't know," she said.
She went back to her hotel room and started replaying cases in her head. It had never made sense to Kelly when victims often couldn't explain why they didn't scream or fight back.
Now it did. Under stress, the brain can shut down and a victim freezes in place, out of fear or as a means of self-preservation.
"Trauma makes it so they can't scream," she said.
It frustrated Kelly when victims couldn't recall details as simple as the color of their rapists' shirts. Now she understood that they weren't recording those memories.
Kelly realized that the same behaviors that she had cited to dismiss many of the cases that crossed her desk could instead be used as evidence that the rape happened. And if police truly understood the effects of trauma, they would arrest and charge more rapists.
She returned to her new training job "a woman possessed," she said. Her classes now focused extensively on what she learned.
One day, a skeptical detective sat in the audience.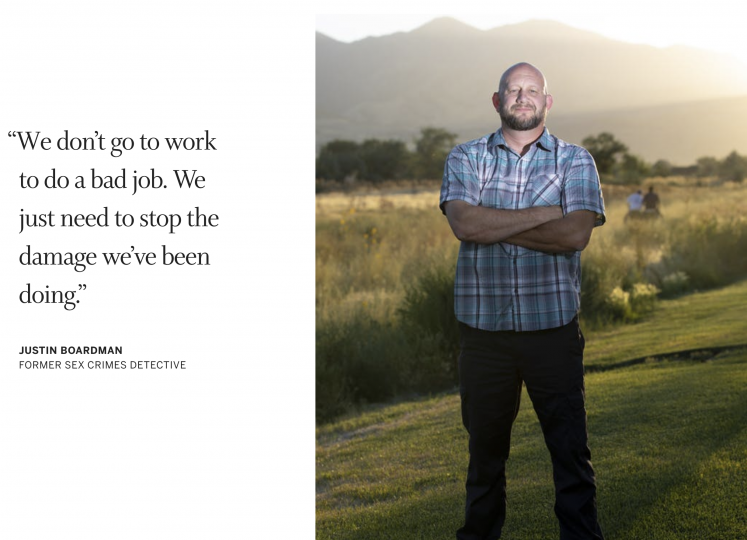 Justin Boardman became a police officer at 33, after stints selling clothes and furniture. He was good at catching shoplifters, which led to work as a security guard in West Valley City department stores. The police officers he met urged him to go to the police academy.
Soon he was in uniform with the West Valley City Police Department. At just over 6 feet tall with a shaved head, Boardman looks the part. He was often so quick to use force on a suspect, he said he earned the nickname "Over Boardman."
He said his use of force was always justified, "but honestly, I was just scared."
But Boardman also had some quirks that could help put victims and suspects alike at ease. He would wear colorful knee-high women's socks under his uniform and sometimes would drive with a rubber chicken in the passenger's side of his squad car to get laughs.
After working patrol for eight years, Boardman was made a detective with West Valley's special victims unit.
West Valley City is a sprawling, diverse suburb of Salt Lake City. Its police department is one of Utah's largest and busiest, and Boardman excelled at working child sex abuse cases. In his first year, his peers named him detective of the year.
But when it came to adult rapes, Boardman admits he had no idea what he was doing.
He would tell victims that their cases would never go anywhere. If victims didn't call him back in a few days, he would close a case by noting the victim "refuses to cooperate."
He thought cases where victims had memory gaps or didn't fight off their attackers were impossible to prove.
"You just closed them out," he said. "No one believed them."
That's just the way his department trained him, he said. One of his supervisors, he recalled, told him, "You'll know a real rape when you see one."
Then came the day in 2013, when Boardman heard Donna Kelly speak. Suddenly, the behavior of the victims in many of his cases started to make more sense. Eager to learn more, he went to another course she taught.
Then, while cooking dinner one night, he started thinking about all the victims he had doubted over the years. He even booked one woman into jail because he thought she was lying about being assaulted.
Guilt washed over him. He knew he had ruined victims' lives.
"I had felt like I was doing a good job. I wasn't," he said.
Boardman was so distraught that he considered stepping down as a detective and returning to patrol. He said Kelly and victim advocates persuaded him to stay and put his new insight to work.
One of the first things he and Kelly did was develop a simple, one-page set of guidelines that he and other detectives could use when interviewing rape victims: Approach the victim in a compassionate, empathetic way. Tell the person that it's OK if they don't remember or don't know. Ask open-ended questions and don't interrupt. Ask what they felt during an assault. Ask them about sights, smells and sounds to jog memories. If tough questions need to be asked, explain why. When done, explain the next steps.
Lee Russo came to the West Valley City police department in 2013 with a reputation as a reformer. It was badly needed, and not just for the way the department handled sex crimes.
A West Valley City officer had been charged for shooting an unarmed woman. And before that, the department was heavily criticized for its handling of the 2009 disappearance of Susan Powell, a mother of two suspected to have been killed by her husband, who was never charged. Two years later, the husband murdered their two children before killing himself.
As part of changing West Valley's culture, Russo told his officers that he had an open door. Boardman took advantage of it, sharing concerns about how patrol officers and detectives handled sex assault cases. Rapists were going free, he said.
Boardman described the different ways the department could handle these cases. He suggested the department contract with Valentine to audit whether the new approach led to more arrests, charges and convictions.
Russo said yes to both the change in interviews and to Valentine's study. And he went even further, mandating that all his more than 200 sworn officers be taught how trauma affects victims.
"When he brought that forward to me, it made complete sense," Russo said.
Not everyone was open to the new approach. Boardman said some of his superiors were "old school" and opposed his ideas, forcing him to go directly to his chief.
Russo ordered other reforms. Victim advocates needed to be involved as soon possible. All cases needed to be screened in person to make sure the investigations were thorough. All rape kits had to be tested.
Other, more subtle changes were made. Instead of interviewing victims in the same cramped bare room where they interrogated suspects, officers renovated a larger, more home like space outfitted with couches and table lamps.
Russo's goal was wider than justice for the victim. He wanted to help them recover from their assault.
"It went far beyond just simply an investigation, identifying a suspect and getting it sent to prosecution. It was about healing for the victim," he said.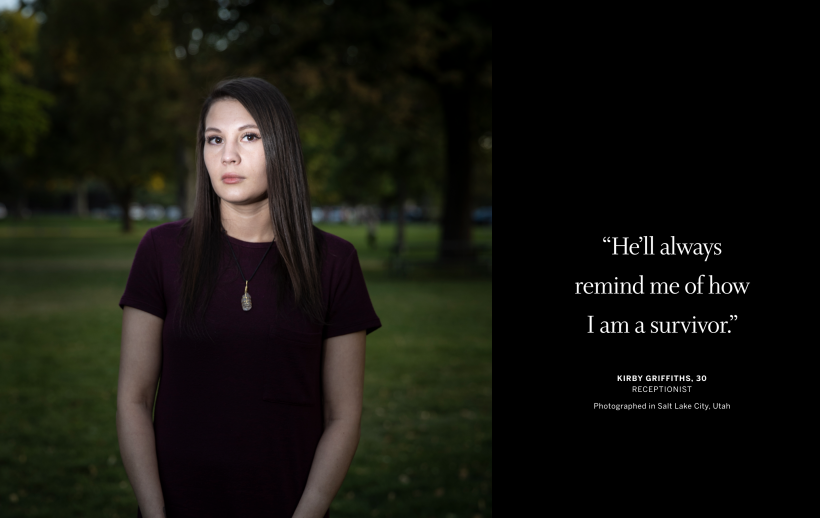 Kirby Griffiths felt like a frantic mess. She had waited three days to report her rape. Sitting across from Boardman in the newly remodeled interview room, she doubted he would believe her.
Boardman asked Griffiths to tell her story. He asked what she remembered about the room and about how she was feeling at the time.
"The questions that Justin asked me, it really triggered a lot of things that I had not thought about," Griffiths said.
She described being pinned against a sink in a small bathroom. She remembered the man kicking red floor mats with his feet, realizing then that she was going to be raped.
Then she described fighting so hard "for a week it felt like I was in a gym."
The interview pointed Boardman toward evidence that he otherwise might have missed, he said. He got a search warrant and corroborated the size of the bathroom and the red rugs on the floor. He noted a photo taken of a bruise on Griffiths' inner thigh, made from a thumb print.
The district attorney filed attempted rape charges. In October 2016, the man pleaded guilty.
By sentencing, Griffiths said almost all of her friends had abandoned her, siding with the attacker. In the courtroom, he appeared to be surrounded by supporters. She had advocates and Boardman.
"You're so strong," she recalls him telling her. "You've got this."
The courtroom quieted as she read a statement describing how the assault destroyed her life. She lost friends. She gave up modeling and struggled to work. She felt worthless. She lives in fear, never letting anyone come into her home anymore. She was sometimes too afraid to even walk to her car.
As she spoke, Griffiths felt something new: strength. Finally, she was able to overcome her fear of confronting the man who had admitted assaulting her.
When she finished, some of the spectators in the gallery embraced her. They were victims, too, but their cases had gone nowhere. They thanked her for her courage.
Griffiths then watched a bailiff handcuff the man who attacked her and walk him out of the courtroom.
"It was the most exhilarating moment of my life."
When Julie Valentine, now a professor, finished her audit of sexual assault cases investigated by West Valley City police, Russo had one word to describe it: "relief."
The percentage of cases prosecuted quadrupled, from 6 to 24 percent. The percentage of cases that ended with a conviction tripled, from 6 to 22 percent.
Valentine's audit of West Valley City consisted of only 64 cases and, because of the study's design, it's not possible to know which of the department's reforms led to the improved outcomes.
But, said Russo, "It was so validating after taking such a risk."
The reforms also drew strong reviews from victims surveyed. Ninety-one percent said they felt respected by the first officer to take their report, while 90 percent said they trusted their detectives.
Valentine's survey of the West Valley City officers showed that before the reforms, 67 percent felt confident investigating a sex crime. After the reforms that rose to 90 percent.
West Valley City isn't the first police department to overhaul its approach to sexual assault cases, but few have produced such dramatic or measurable results.
One of the more notable reform efforts took place in Missoula, Mont., after the U.S. Department of Justice found widespread failings in that city's handling of rape cases in 2012. New policies and procedures resulted in a more positive experience for victims, local professionals say, but prosecution rates didn't improve.
"More victims are reporting, however law enforcement doesn't refer a corresponding number of new cases for prosecution," said Missoula County Attorney Kirsten Pabst.
In Minnesota, where police refer only one-quarter of rape cases to prosecutors, a state task force is working on numerous reforms that could lead to better investigations and more prosecutions. The agency that licenses police also is developing plans for specialized sexual assault training for officers and for a set of guidelines for investigating the crimes.
West Valley City's success spurred Utah lawmakers to pass legislation in 2017 that requires testing of nearly all rape kits. The bill also required the state's police licensing board to develop an advanced training that includes "understanding the impact of trauma on a victim." The Legislature also approved spending $1.2 million on the training, so that departments won't have to pay for their officers to go to the classes.
"My goal is to have all officers across the state get this training," said Scott Stephenson, director of Utah's Peace Officer Standards and Training.
Not a single legislator voted against the reforms.
"We are going to have better justice for victims," said Bob Church, who heads one of the Utah agencies in charge of police training. "We'd love to see this spread across the country."
Chief Russo retired last year. The new chief, Colleen Jacobs, said all new officers and detectives are required to take trauma-informed training, and that detectives still use the guidelines developed by Boardman and Kelly.
Valentine, meanwhile, is at work on another study to see whether West Valley City's improved outcomes have continued. Early results look promising, she said.
Kelly has returned to prosecuting sex crimes. She said she and others are seeing far better investigations by police, which is allowing more cases to be charged. And if a case goes to trial, prosecutors frequently use expert witnesses to explain to juries how trauma can affect a victim's behavior.
Two years after he began pushing for changes in his department, Boardman was sent back to patrol. It wasn't a demotion, but Boardman said he would have preferred to continue working on sex assault cases. Six months later, in 2017, he left the department. He's now one of several consultants who travel the country training officers on brain trauma. In the last of week of November, he conducted two days of sessions open to all officers in Ramsey County.
He said the type of change experienced by West Valley City can happen in Minnesota. But law enforcement will have to admit they're handling cases wrong and have the courage to drastically alter their practices, he said.
"Don't be afraid of taking the risk," Boardman said. "Because we can't do any worse."
---
Part 9: When Rape is Reported and Something Happens
As dozens more women have stepped forward to tell their stories, reforms are underway in Minnesota.
She was a farm girl from Stearns County, still in high school, out on a Saturday night for what was supposed to be a double date.
Instead, she wound up alone in a car with two older boys. They lured her to a dark, empty apartment in the town of Brooten, threw her down and raped her.
She never told anyone except her best friend and, decades later, a therapist.
Now, at 71, she felt moved to tell her story after reading the accounts of dozens of other women who survived sexual assault.
"Back in those days, if you were raped you kept it quiet." If word got out, " 'No decent guy,' as my mother put it, 'would ever want you.' "
To this day, when she's alone she sleeps with a knife under her pillow.
Joan, who asked that her last name not be used, is one of almost 100 Minnesota women who felt compelled to share their stories of being sexually assaulted after the Star Tribune began documenting chronic errors and widespread failings in the way Minnesota police, prosecutors and judges handle rape cases.
The reports, along with video testimony of dozens of women, galvanized victims of sexual violence, lawmakers and law enforcement officials alike. The 2019 Legislature will consider sweeping measures to fix "systemic failures" identified by a state task force in the way the criminal justice system handles sex assault cases. The board that licenses all police officers is recommending new specialized training and clear investigative protocols, and local police departments and county attorneys are dedicating more staff and other resources to sex assault cases.
"We have a once-in-my-lifetime opportunity to really make some changes in how these victims are addressed," said Nancy Dunlap, an investigator at the Hennepin County Attorney's Office and former head of the Minneapolis Police Department's sex crimes unit. "We have to admit that what we are doing is not working and be open to a better approach."
Kristen Houlton Shaw, executive director of the Sexual Violence Center in Minneapolis, said more women are reporting assaults and seeking assistance from her staff as a result of heightened awareness, and more people are applying to be volunteer-advocates.
Meanwhile, some of the women who told their stories have seen renewed interest in their cases. In St. Paul, Cherrelle McGowan, who said she was assaulted while on a date, learned that Ramsey County prosecutors had reopened her case and charged the man with first degree sexual misconduct. In Chisholm, police reopened the case of Katie Finch, who reported being raped by an acquaintance after an evening out with friends, and sent it to prosecutors.
Two other women, Emily Schlecht and Brooke Morath, met and became friends. They are forming a nonprofit to provide short-term housing for sex assault victims — a safe place to collect themselves after going to the hospital for a rape kit.
"We would be the first in the country as far as we are aware of," said Schlecht.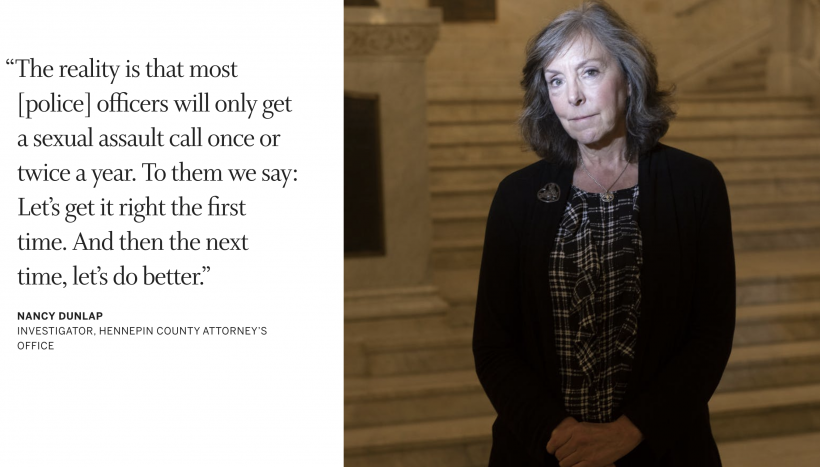 The experiences described by the dozens of rape victims struck a familiar chord with dozens more who stepped forward to talk about how they were treated when they went to police.
"I felt like the suspect," said Tiffany Boe, who reported being raped on her own bed in St. Cloud in 2015. The suspect denied having sexual contact with her, and police never tested Boe's bedding for his DNA, according to records reviewed by the Star Tribune.
Many of the survivors said they had felt alone in their struggle.
"I literally thought this only happened to me," said 29-year-old Casey Gillespie, who reported that a co-worker's friend raped her while she was passed out in a Golden Valley apartment in 2017. A detective closed the case as "unfounded," meaning the police concluded that no crime occurred. "I was devastated," Gillespie said. "I felt like it was a waste for me to ever do anything."
In a statement, the Golden Valley Police Department said investigators found video and photographic evidence to support the suspect's account. "Detectives assigned to investigate sexual assaults," it said "have the challenging responsibility to ask difficult questions of all individuals involved."
Katie Hirsch described how a Minneapolis police officer laughed at her when she attempted to report her 2015 rape. He found a piece of scratch paper to take notes, she said, only when she urged him to record her account. The victim advocate who accompanied her was shocked, she recalled. She never heard from the police again.
"It was just awful," Hirsch said.
Minneapolis police said they could find no record of a complaint filed by Hirsch, and they encourage citizens to report unprofessional conduct by officers.
Of cases reviewed by the Star Tribune, only one in four was ever sent to a prosecutor.
And when police did forward cases for prosecution, some 80 percent never resulted in the filing of criminal charges — even in cases with DNA evidence, confessions or multiple victims.
Overall, less than one out of every 10 sex assaults reviewed by the Star Tribune resulted in a conviction.
A retired Twin Cities area prosecutor described her rage and bewilderment when she found herself on the other side of the justice system in 2010. Her daughter, then only 14, was lured away from a shopping mall by a group of young men who took turns raping her in a St. Paul house. The mother asked not to be named to protect her daughter, who is still struggling to heal.
In the initial police report, her daughter recalled crucial details, including the fact that one of the rapists had a gray-colored glass eye.
She pressed St. Paul police for two years to investigate the case. The detectives never even interviewed her daughter, she said.
When she learned this year that Ramsey County Attorney John Choi was investigating neglected rape cases, she e-mailed his office. Finally, eight years after her daughter's harrowing experience, a St. Paul police detective called. He apologized and acknowledged that more should have been done, she said.
Her daughter did not want her case reopened, she said. It remains closed.
"I am ashamed to admit this justice system, which I so dearly loved and defended, was so incompetent and negligent when my family desperately sought its help and protection," the former prosecutor said.
Even in the rare cases that led to convictions, victims described an exhausting struggle that shook their confidence in law enforcement.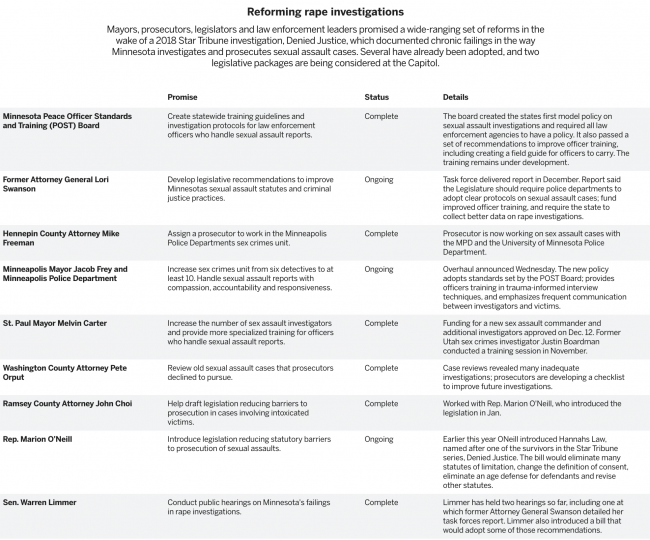 After being raped by a stranger as she walked to her Minneapolis home early on a Sunday morning in August 2015, Catherine Davlin notified police immediately. When she was alerted later that day that someone was using her credit cards less than a mile away, she called her local precinct. She said they told her it was an issue for the sex crimes unit, which couldn't help her until Monday.
Minneapolis Police didn't identify Davlin's rapist, a young man named Mika Dalbec, until a year and a half later — and then only with a lucky break. Her ID turned up in Dalbec's apartment, discovered by his landlord. By then, Dalbec had been charged and convicted in two other rapes.
Dalbec pleaded guilty in Davlin's case and ultimately served prison time. But the court process, she said, was grueling and demeaning.
"Everything about the process was revictimizing," Davlin told the Star Tribune. "It is completely broken."
When asked for comment about Davlin's case, Minneapolis Police spokesman John Elder said it highlighted the importance of treating victims with respect and skill.
"A criminal conviction without compassion, professionalism and empathy is not a complete success," Elder said. He added that Minneapolis' new police chief, Medaria Arradondo, plans to emphasize "procedural justice," a focus on the way police treat people who report crimes.
Safia Khan of the Minnesota Coalition for Battered Women said the survivors' stories, the new data and the public's response have changed attitudes towards sexual assault and the justice system.
"It created a pivotal moment and I think in 20 years, we will look back and put our finger on this being the catalyst for a lot of change," Khan said. "I think it's basically created accountability in a way that we just haven't seen before."
A Wisconsin woman named Jennifer, who asked that her last name not be used, approached the Star Tribune with her story after reading the accounts of other sexual assault survivors.
Jennifer said she's a mother of two, and was raped four years ago in St. Paul. She reported the assault to police, but the man was never charged with a crime.
A spokesman for Choi, the Ramsey County attorney, said prosecutors reviewed the case, including forensic evidence, and couldn't prove that a sexual assault took place.
Jennifer said she decided to speak out in the hope that it would help others find justice.
"It's not something I can easily talk about," Jennifer said. "But if my story can drive any sort of change … if it can prevent this from happening to anyone else, then that's why I'm here."
But they also say they aren't taking anything for granted.
Teri Walker McLaughlin, executive director of the Minnesota Coalition Against Sexual Assault, encouraged individual Minnesotans to re-examine their own attitudes toward rape and sexual behavior. That's because victims often disclose their assault to family and friends first.
"If we aren't doing a good job in our homes and … communities, it's not going to even get to law enforcement," she said. "We all need to do better."
---
Video: Survivors Tell Their Stories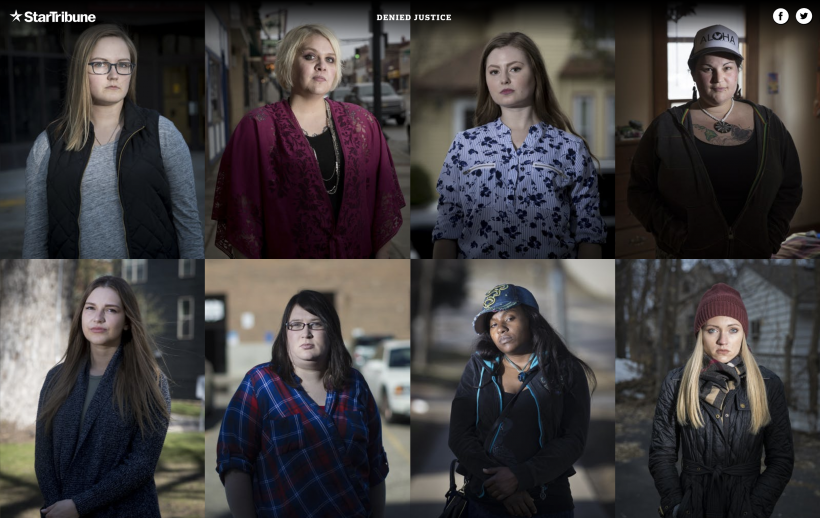 Click here to watch video interviews with women who describe their experiences reporting sexual assaults to police in Minnesota – and how that has affected their lives.